Jennifer Lawrence just made it abundantly clear she hasn't been too happy with E! Network lately.
Chatting with Howard Stern about her new film, "Red Sparrow," and the Academy Awards coming up March 4, Lawrence dug into the entertainment network's handling of pay inequity and the negative effects of one of its most notable shows, "Fashion Police."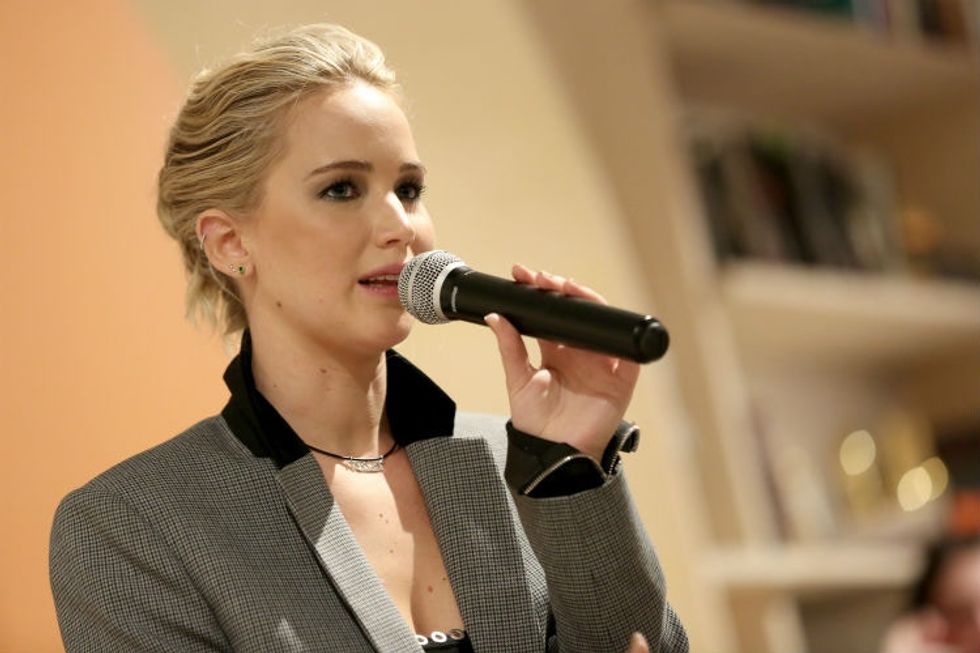 Photo by Monica Schipper/Getty Images for The Win.
<p>Last year, former E! News co-host Catt Sadler discovered her male counterpart, Jason Kennedy, was earning <a href="https://www.upworthy.com/jaw-dropping-pay-inequity-pushed-catt-sadler-to-quit-e-news">nearly double</a> her pay, even though they had similar levels of experience and on-air responsibilities. After the network refused to raise her salary to an even remotely comparable figure, Sadler quit. </p><p>"I have two decades experience in broadcasting and started at the network the very same year as my close friend and colleague that I adore," Sadler said in a <a href="https://www.upworthy.com/jaw-dropping-pay-inequity-pushed-catt-sadler-to-quit-e-news">statement</a>. "But how can I operate with integrity and stay on at E! if they're not willing to pay me the same as him?"</p><p>More than two months after the incident, Lawrence still hasn't forgotten about Sadler's treatment.</p><h2>"They aren't bringing another co-star up," she told Stern, noticing E!'s hesitancy to embrace another female host.</h2><p>She <a href="http://www.vulture.com/2018/03/jennifer-lawrence-unsure-if-shed-talk-to-seacrest-at-oscars.html" target="_blank">continued</a>, "They keep cycling these women and I am going, 'Is that so you don't have to pay another woman equally to Jason [Kennedy]? Is this just a way to still maintain that you are not paying women equally?'"</p><p>Lawrence <a href="http://people.com/tv/jennifer-lawrence-and-catt-sadler-team-up-for-a-metoo-docuseries/" target="_blank">let slip</a> in February that she's executive producing a docuseries about the #MeToo movement alongside Sadler.</p><p class="shortcode-media shortcode-media-rebelmouse-image"><img type="lazy-image" data-runner-src="https://assets.rebelmouse.io/eyJhbGciOiJIUzI1NiIsInR5cCI6IkpXVCJ9.eyJpbWFnZSI6Imh0dHBzOi8vYXNzZXRzLnJibC5tcy8xOTM0NjIwMy9vcmlnaW4uanBnIiwiZXhwaXJlc19hdCI6MTY2NDI2NjMxOX0.z5UrXUEkpVkwyD6w3FIJvqs_LBDdu2cmtTO_XmpNw_o/img.jpg?width=980" id="e53ad" class="rm-shortcode" data-rm-shortcode-id="f57e936003fc32e49d4c0a94f494dce4" data-rm-shortcode-name="rebelmouse-image"><small class="image-media media-caption" placeholder="add caption...">Photo by AFP/Getty Images.</small></p><p>Lawrence laid in to her aversion to E! after noting she <a href="http://people.com/movies/jennifer-lawrence-ryan-seacrest-oscars-red-carpet/" target="_blank">may turn down</a> an Oscars red carpet interview with the network's Ryan Seacrest, who's fending off allegations that he sexually assaulted a former E! stylist. She isn't too fond of the network's "Fashion Police," either, claiming "There was a time [the show's panelists] <a href="http://www.vulture.com/2018/03/jennifer-lawrence-unsure-if-shed-talk-to-seacrest-at-oscars.html" target="_blank">were just mean</a> about people's bodies."</p><p>"There is a lot to think about with E!" Lawrence mulled over.</p><h2>The Oscar-winning actress has been an outspoken critic of Hollywood's gender pay gap for years.</h2><p>She first made waves on the issue in 2015, penning an essay in Lenny newsletter, "<a href="https://www.lennyletter.com/story/jennifer-lawrence-why-do-i-make-less-than-my-male-costars" target="_blank">Why Do I Make Less Than My Male Co-Stars?</a>"</p><p>"I didn't want to seem 'difficult' or 'spoiled,'" Lawrence wrote of deciding against negotiating higher pay for her work on "American Hustle." Society expected her to prioritize her own likability — something that doesn't happen as much with men — the essay suggested. "At the time, that <a href="https://www.upworthy.com/jennifer-lawrences-spot-on-blunt-take-on-hollywoods-gender-pay-gap">seemed like a fine idea</a>, until I saw the payroll on the internet and realized every man I was working with definitely didn't worry about being 'difficult' or 'spoiled.'" </p><p>"I'm over trying to find the 'adorable' way to state my opinion and still be likable!" Lawrence concluded in her piece. "Fuck that."</p>