"Do it. Just say something. No, don't. Don't stare," actress Alyson Stoner wrote of her fumbling, adorable first thoughts while falling for someone new. "Side-hug and leave."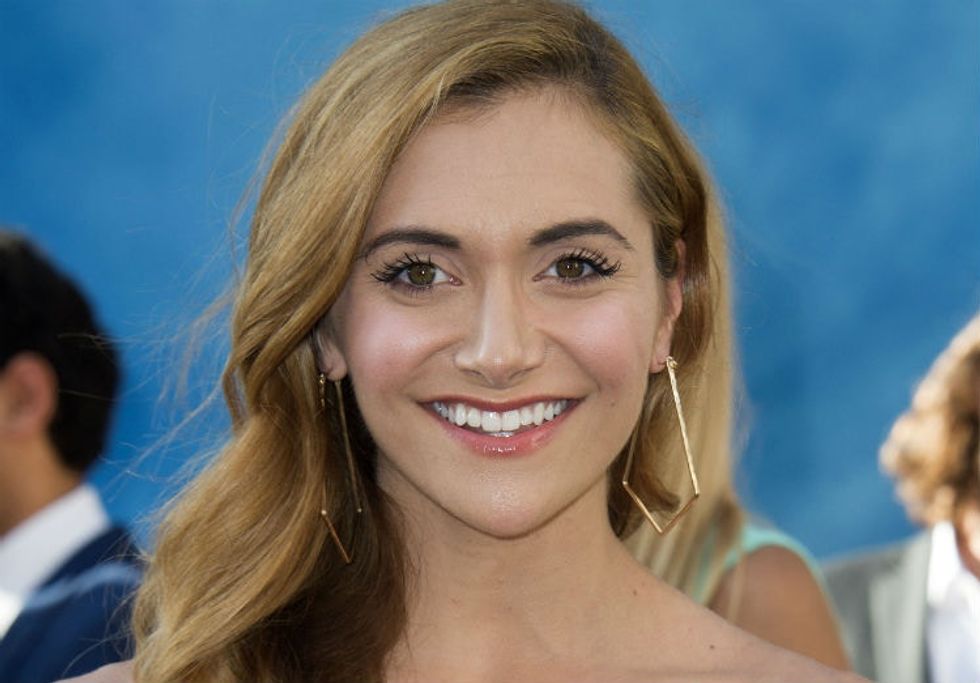 Photo by Valerie Macon/AFP/Getty Images.
The now-24-year-old was crushing (and crushing hard) on a dance instructor she'd met at a new workshop. There was just one small — well, overwhelming and disorienting — issue: The instructor was a woman. And these new, uncomfortable feelings were puzzling for Stoner, to say the least.
<p>In a powerful new essay in <a href="https://www.teenvogue.com/story/alyson-stoner-when-its-right" target="_blank">Teen Vogue</a>, the actress and dancer — known for her roles in Disney Channel's "The Suite Life of Zack &amp; Cody," and films like "Cheaper By the Dozen" and the "Step Up" series — reflected on the first time she fell in love with another woman.<strong> It's a story that's equal parts heart-wrenching and delightful.</strong></p><div id="065fe" class="rm-shortcode" data-rm-shortcode-id="N743JK1559346756"><blockquote class="twitter-tweet twitter-custom-tweet" data-twitter-tweet-id="979764909784182784" data-partner="rebelmouse"><div style="margin:1em 0">Today's a special day. 🦋🌈 What It Was Like To Fall In Love With a Woman - written by me. https://t.co/cPipgqbSVi</div> — Alyson Stoner (@Alyson Stoner)<a href="https://twitter.com/AlysonStoner/statuses/979764909784182784">1522429132.0</a></blockquote></div><h2>First came all the relatable feelings of irresistible puppy love.</h2><p>"My heart raced wildly and my body grew hot," the actress wrote, describing a moment when the instructor corrected her form in class. <strong>"Was I nervous to fail in front of an expert? Was I breathing heavily from being out of shape?"</strong></p><p>But these butterflies, Stoner soon <a href="https://www.teenvogue.com/story/alyson-stoner-when-its-right" target="_blank">discovered</a>, went far beyond sisterly or platonic love. The train had already left <em>girl crush</em> station.</p><p class="shortcode-media shortcode-media-rebelmouse-image"><img type="lazy-image" data-runner-src="https://assets.rebelmouse.io/eyJhbGciOiJIUzI1NiIsInR5cCI6IkpXVCJ9.eyJpbWFnZSI6Imh0dHBzOi8vYXNzZXRzLnJibC5tcy8xOTM0NzAyMy9vcmlnaW4uanBnIiwiZXhwaXJlc19hdCI6MTYwNzcxODQ2NX0.yN092_5fVWM_TPIOElmnhqt3qyl9EDqoJkLWlCgxsbI/img.jpg?width=980" id="3f024" class="rm-shortcode" data-rm-shortcode-id="0c7a479731b4992d4a55cfbe2934ac02" data-rm-shortcode-name="rebelmouse-image"><small class="image-media media-caption" placeholder="add caption...">Stoner has some fun on a red carpet in 2017. Photo by Phillip Faraone/Getty Images for Awesomeness.</small></p><p>The two women started to hang out outside of class. They began opening up to one another. They Netflixed (and <em>chilled</em>). Pretty soon, it became abundantly clear: "OK, we were in a relationship," Stoner <a href="https://www.teenvogue.com/story/alyson-stoner-when-its-right" target="_blank">wrote</a>. <strong>"I fell in love with a woman."</strong></p><p>But, unfortunately, it just wasn't that simple. </p><h2>Stoner, a person of religious faith, had to unpack <em>many</em> confusing thoughts. She even attempted conversion therapy to avoid embracing these new feelings. </h2><p>"Like many, I had internalized some of the harmful beliefs and misconceptions about LGBTQ people and identities," Stoner wrote. </p><p>She dissected all the factors that could have led her down this road. Was it because she'd experienced abuse from men before? Was it because she was surrounded by open-minded artists and she — even on a subconscious level — wanted a queer identity to help fit in? "Maybe I actually want to be her, and I'm mistaking idolization for romance," she <a href="https://www.teenvogue.com/story/alyson-stoner-when-its-right" target="_blank">wrote</a>. </p><p>Stoner prayed. She turned to reading — both "contemporary and ancient" texts — hoping the words would leap off the page and make it all make sense. She didn't have many queer-affirming voices telling her these feelings were totally normal and perfectly OK.</p><p><strong>"Certain pastors and community members tried to reverse and eliminate my attraction to her," </strong>she wrote in <a href="https://www.teenvogue.com/story/alyson-stoner-when-its-right" target="_blank">Teen Vogue</a>. </p><p>Conversion therapy — a harmful practice that aims at altering a person's sexual orientation — has been discredited by every mainstream medical and mental health organization in the U.S., according to the <a href="https://www.hrc.org/resources/the-lies-and-dangers-of-reparative-therapy" target="_blank">Human Rights Campaign</a>. Not only does it <em>not</em> work, but it can lead to depression, anxiety, and suicide for young people at risk. </p><p class="shortcode-media shortcode-media-rebelmouse-image"><img type="lazy-image" data-runner-src="https://assets.rebelmouse.io/eyJhbGciOiJIUzI1NiIsInR5cCI6IkpXVCJ9.eyJpbWFnZSI6Imh0dHBzOi8vYXNzZXRzLnJibC5tcy8xOTM0NzAyNC9vcmlnaW4uanBnIiwiZXhwaXJlc19hdCI6MTYwOTgxMTkxOH0.QAp1K-YPJzhiwsx7eXh2t6IT8gQDVRIv0nhzylE8138/img.jpg?width=980" id="17735" class="rm-shortcode" data-rm-shortcode-id="5426e900fa8d13cb77dc907675593f75" data-rm-shortcode-name="rebelmouse-image"><small class="image-media media-caption" placeholder="add caption...">Photo by Alberto E. Rodriguez/Getty Images.</small></p><p>"Some people in the industry warned me that I'd ruin my career, miss out on possible jobs, and potentially put my life in danger if I ever came out," Stoner wrote. "My dream and all I'd worked tirelessly for since the age of 6 was suddenly at risk by my being ... true to myself." </p><h2>Finally, after hitting what felt like rock bottom, things began falling into place for Stoner. </h2><p>"I'll never forget the night I finally collapsed on my bed with tear-stained cheeks, saying, 'God, if I'm evil, then I accept this and give up,'" Stoner wrote. "I've believed you are loving, but I don't want to live a lie."</p><p>Instead of devastation, however, the breakdown filled her with <a href="https://www.teenvogue.com/story/alyson-stoner-when-its-right" target="_blank">a sense of hope</a>. She began seeing the world around her — "life, God, love, humanity, and (literally) everything" — in a new light. </p><p><strong>"I, Alyson, am attracted to men, women, and people who identify in other ways," </strong>she finally felt comfortable proclaiming. "It is the soul that captivates me."</p><p>Stoner is one of a growing number of young Americans who feel comfortable coming out as LGBTQ. </p><p>According to <a href="https://www.thecut.com/2017/01/an-increasing-number-of-adults-in-the-u-s-identify-as-lgbt.html?" target="_blank">Gallup analysis</a> published last year, 10 million Americans — or 4.1% of U.S. adults — identify as lesbian, gay, bisexual, transgender, and/or queer. That's up from 3.5% in 2012. Millennials, the analysis found, were the most likely age group to identify as LGBTQ, reflecting the growing acceptance of queer Americans — particularly among young people. </p><p>Things really are changing for the better, Stoner believes. And if you're wrestling with your sexuality or identity, <a href="https://www.teenvogue.com/story/alyson-stoner-when-its-right" target="_blank">she's got your back</a>. </p><p><strong>"If you're questioning or struggling with your sexuality, gender identity, or anything else, know that I and so many who've gone before us are with you," </strong>Stoner wrote. "Whatever your identity, you are lovable and wonderful and enough. I'm on the other side of some of these battles internally, but it's still a challenge in the outside world. It's OK. Dare to be yourself anyway." ❤️</p>