Most Shared
"The diversity in this program allowed the work to speak for itself and shows that talent has no color."
A new fashion academy in Brooklyn is focusing on designers and models of color.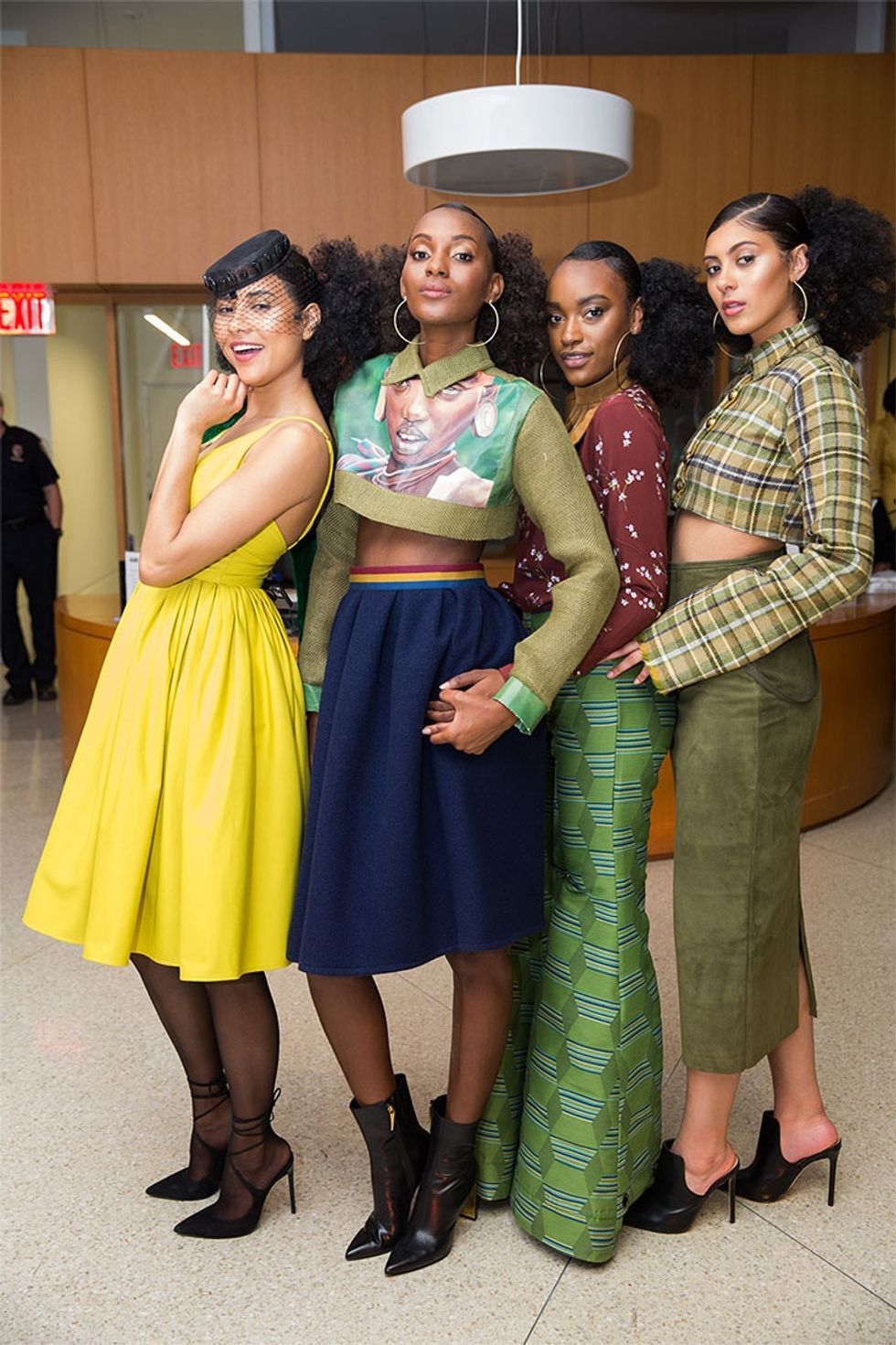 All photos courtesy of the Brooklyn Public Library.
The BKLYN Fashion Academy is a 12-week intensive program that provides 15 aspiring womenswear designers with the necessary tools to succeed in the fashion industry.
<p>Leading the charge on the program's design and curriculum is Brooklyn Library Outreach Specialist Lynnsie Augustin. She developed the program not only to create a space to feature the designers' work, but also to provide them with the business knowledge and skills necessary to succeed in such a highly competitive industry. </p><p>"The BKLYN Fashion Academy became a way for designers to learn all they needed to know to go into business for themselves, as well as provide a space where they could work on their designs and have a stage where they could show them off," writes Augustin in an email.      </p><p class="shortcode-media shortcode-media-rebelmouse-image"><img type="lazy-image" data-runner-src="https://assets.rebelmouse.io/eyJhbGciOiJIUzI1NiIsInR5cCI6IkpXVCJ9.eyJpbWFnZSI6Imh0dHBzOi8vYXNzZXRzLnJibC5tcy8xOTM0NjQ3NC9vcmlnaW4uanBnIiwiZXhwaXJlc19hdCI6MTYyOTc0MzE1MH0.tLyzL22wzqhGcDUM26ItJiYSsH6lkpgAmpKSQyyqta0/img.jpg?width=980" id="dc88d" class="rm-shortcode" data-rm-shortcode-id="85b7d2f1f07dae5b1f89c72ebc63f97c" data-rm-shortcode-name="rebelmouse-image"><small class="image-media media-caption" placeholder="add caption..."></small></p><p>Organized by the Brooklyn Public Library, the program has truly taken off. In addition to providing students with education and tools, the program culminated in the stunning <a href="https://www.facebook.com/BPLBusiness/videos/168464010507102/" target="_blank">Mode En Couleur Runway Show</a> at the historic Brooklyn Library.</p><div><div data-card="facebook" data-reactroot=""><div class="fb-video" data-href="https://www.facebook.com/BPLBusiness/videos/168464010507102/"><blockquote cite="https://www.facebook.com/BPLBusiness/videos/168464010507102/" class="fb-xfbml-parse-ignore"><a href="https://www.facebook.com/BPLBusiness/videos/168464010507102/">Bklyn Fashion Academy Mode En Couleur Runyway Show</a><p>We do not own the rights to this music.</p>Posted by <a href="https://www.facebook.com/BPLBusiness/">BPL Business &amp; Career Center</a> on Friday, May 11, 2018</blockquote></div></div></div><p>Designers showcased all their hard work on the runway to a packed house.</p><h2>The result? <strong>Incredible designs. </strong></h2><p class="shortcode-media shortcode-media-rebelmouse-image"><img type="lazy-image" data-runner-src="https://assets.rebelmouse.io/eyJhbGciOiJIUzI1NiIsInR5cCI6IkpXVCJ9.eyJpbWFnZSI6Imh0dHBzOi8vYXNzZXRzLnJibC5tcy8xOTM0NjQ3NS9vcmlnaW4uanBnIiwiZXhwaXJlc19hdCI6MTYyMjIzNjQ4MX0.H28DaIuXeg4gcDDrWyx-1eHixiIgdtYUsBiENqyIb1M/img.jpg?width=980" id="af20b" class="rm-shortcode" data-rm-shortcode-id="19dcbbf411bbf67bd90eb78021b60383" data-rm-shortcode-name="rebelmouse-image"><small class="image-media media-caption" placeholder="add caption..."></small></p><p>The show was inspired by "Les Sapeurs," <a href="http://www.hipafrica.com/features/les-sapeurs-of-congo/" target="_blank">a Congolese subculture</a> in which individuals committed to the cult of style amid widespread poverty walk the streets dressed to the nines.</p><p class="shortcode-media shortcode-media-rebelmouse-image"><img type="lazy-image" data-runner-src="https://assets.rebelmouse.io/eyJhbGciOiJIUzI1NiIsInR5cCI6IkpXVCJ9.eyJpbWFnZSI6Imh0dHBzOi8vYXNzZXRzLnJibC5tcy8xOTM0NjQ3Ni9vcmlnaW4uanBnIiwiZXhwaXJlc19hdCI6MTYwMzY5MzQ4OX0.7Bwh_mkxURDvE9_cOsPEOKHRwBXqvIFfVOy_WnczKWU/img.jpg?width=980" id="49262" class="rm-shortcode" data-rm-shortcode-id="496cc107c97e0f4992495226bf3a10d8" data-rm-shortcode-name="rebelmouse-image"><small class="image-media media-caption" placeholder="add caption..."></small></p><p>"When this program was created, I wanted to incorporate an aspect of fashion that people may not know about," says Augustin. "It gave the designers a chance to do some research on Les Sapeurs and learn about another area of the world that is dedicated to innovative fashion and creativity. It was a chance to bring awareness and to inspire more creativity."</p><h2>Designer <a href="http://www.jinaki.net/about-montauk/" target="_blank">Sharufa Rashied-Walker</a> believes that this theme could've only happened at a program like the <a href="https://www.instagram.com/officialjinaki/" target="_blank">BKLYN Fashion Academy</a>, where diversity and art that reflects people of color are championed.</h2><p class="shortcode-media shortcode-media-rebelmouse-image"><img type="lazy-image" data-runner-src="https://assets.rebelmouse.io/eyJhbGciOiJIUzI1NiIsInR5cCI6IkpXVCJ9.eyJpbWFnZSI6Imh0dHBzOi8vYXNzZXRzLnJibC5tcy8xOTM0NjQ3Ny9vcmlnaW4uanBnIiwiZXhwaXJlc19hdCI6MTYzMjcxNjc2Nn0.urk8rEWloct8Gl6lZW36ka7HfkkyivRyzIftfc7cETs/img.jpg?width=980" id="25321" class="rm-shortcode" data-rm-shortcode-id="24f87c0da3645fd0b5af8808e5819d5a" data-rm-shortcode-name="rebelmouse-image"><small class="image-media media-caption" placeholder="add caption..."></small></p><p>"There was a sense of security and safety in that space, and it was definitely noncompetitive and loving, and you felt the support," says Rashied-Walker. "[The leadership] definitely made it very clear that they were here to support and to cultivate what we needed and what we wanted. And I think that that was something very special. <strong>I've never personally experienced anything like that before, and I think it definitely was indicative of the fact that it was a majority of color collective."</strong></p><p>Rashied-Walker, who switched to <a href="http://www.jinaki.net/" target="_blank">fashion</a> after a corporate career, found a place of creativity and freedom of expression when surrounded by students that largely looked like her. Yet the students were selected simply by the contents of their applications, not by what they themselves looked like.</p><p>"The BKLYN Fashion Academy was open to all residents of Brooklyn and the selection process was made based on applications and sample garments, so we never got to see the designers' faces until after they were accepted and came to orientation," says Augustin. "I would say the diversity in this program allowed the work to speak for itself and shows that talent has no color."</p><p class="shortcode-media shortcode-media-rebelmouse-image"><img type="lazy-image" data-runner-src="https://assets.rebelmouse.io/eyJhbGciOiJIUzI1NiIsInR5cCI6IkpXVCJ9.eyJpbWFnZSI6Imh0dHBzOi8vYXNzZXRzLnJibC5tcy8xOTM0NjQ3OC9vcmlnaW4uanBnIiwiZXhwaXJlc19hdCI6MTY0MjA3MjQ5NX0.7dIM1_YN6xq7s2xVmw8vabE9lMXIRJv3wrtepUR7Eq0/img.jpg?width=980" id="5ec75" class="rm-shortcode" data-rm-shortcode-id="06719e59a33a1e20918bb319bd49cf06" data-rm-shortcode-name="rebelmouse-image"><small class="image-media media-caption" placeholder="add caption..."></small></p><p>Judging by the incredible designs, it's clear that the work speaks to the talent and brilliance of the students — a welcome shift in the fashion industry.</p>