popular
Outrage over a Handmaid's Tale wedding photo went viral. But it's not as tone-deaf as it seems.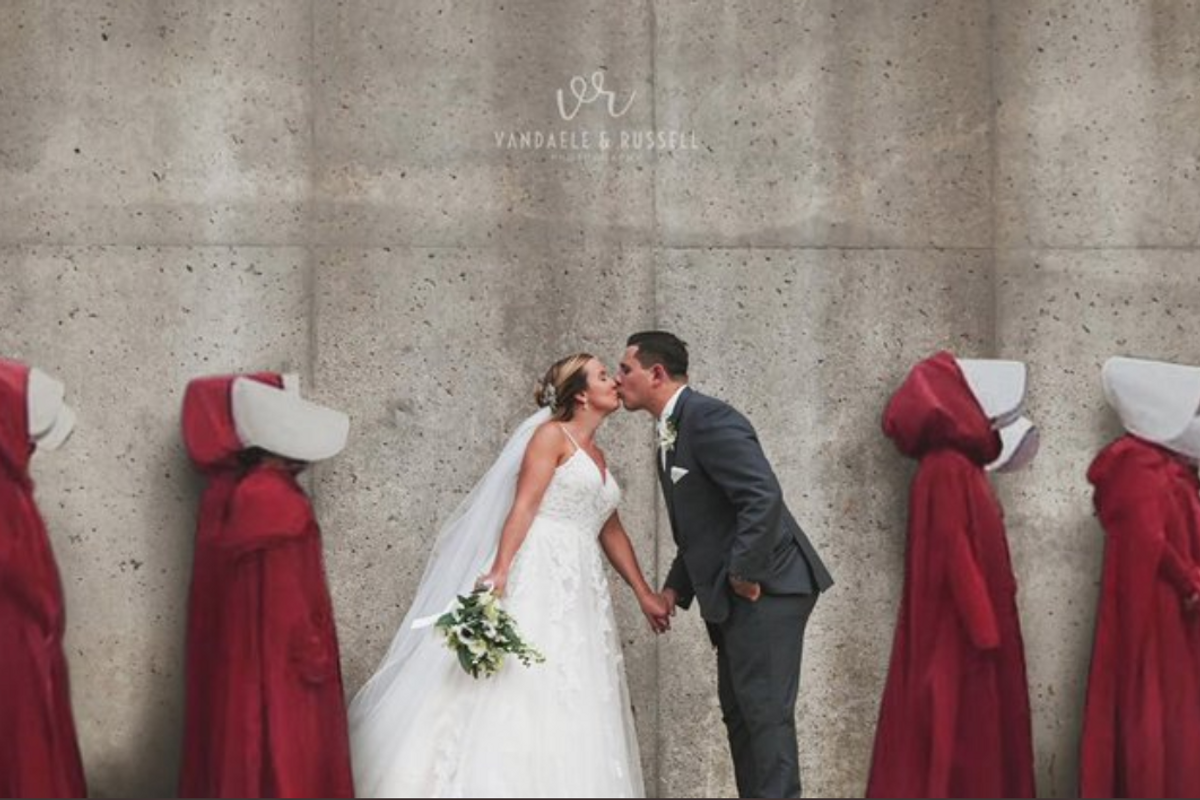 Silent women dressed up as handmaids from Margaret Atwood's dystopian novel Handmaid's Tale have been spotted at protests of women's rights violations all over the world. In London, they were displayed during Donald Trump's visit to the U.K. In America, it was at Brett Kavanaugh's confirmation hearing. "The handmaid's costume has been adopted by women in many countries as a symbol of protest about various issues having to do with the requisitioning of women's bodies by the state," Atwood told the Guardian. The iconic red robes send a powerful message without saying a word. "What the costume is really asking viewers is: do we want to live in a slave state?" The handmaid is the perfect symbol for when you want to smash the patriarchy, not support it. So why did faceless handmaids show up in a viral wedding photo?
---
Wedding photography Facebook page Van Daele & Russell Photography posted a photo of a kissing bride and groom standing against the "hanging wall" seen in the Hulu show. Faceless handmaids stand on either side of the happy couple. "Praise be! Kendra & Torsten are married!" the photographers said in the post.
The photo was taken at Ontario restaurant Cambridge Mill, which served as both the couple's wedding venue and one of the sets for the Handmaid's Tale. While the couple did not have a Handmaid's Tale themed wedding, they're fans of the show and wanted a photo in front of the wall. The handmaids were added in digitally after the photo was taken.
The photo went viral. Many people felt the photo was inappropriate, given what the image of handmaids represents.
The straights are not okay https://t.co/jm7Ody6yY4

— tiny bodega pumpkin (@tiny bodega pumpkin) 1570110399.0
??????????????????????????????????????? https://t.co/zZNzohXZXb

— Thackery Binx (@Thackery Binx) 1570117873.0
OH MY WORD SOMEONE HAS HAD A HANDMAIDS TALE THEMED WEDDING AND I AM HORRIFIED. 😱 https://t.co/Pw0HVENft8

— God loves women (@God loves women) 1570124106.0
"They're fans of the show." Umm, did they watch it with the sound off because WTH would you want a Handmaids Tale… https://t.co/Q3iftQZnmM

— Just call me Shelly (@Just call me Shelly) 1570117620.0
@HelloCVH Everyone knows the core of a successful hetero marriage is having access to sex slaves That's just tradition

— UnknownSubject (@UnknownSubject) 1570117722.0
@HelloCVH "Hey you know that dystopian where women and minorities are oppressed. Let's do a theme wedding!!"

— Marion Daly Shouldn't Be Taken Seriously On Here (@Marion Daly Shouldn't Be Taken Seriously On Here) 1570140882.0
The photo has since been removed from the photographer's Facebook page at the request of the couple.

Now, Shawn Van Daele and Clint Russell, the photographers behind the photo, are saying their critics missed the point of the photo. "This image was created and put out by a pair of 'Gender Traitors' who are no strangers to many of the subplots of oppression, violence, and inequality that run through Margaret's brilliant work," Van Daele told the Huffington Post. As a gay married couple, Van Daele and Russell would be labeled as "gender traitors" if they lived in the repressive Gilead.
Van Daele and Russell feel that emotion has obscured the message. "What's sad is that everyone is reacting exactly as expected – just like in Gilead – and missing the opportunity to think for themselves, to educate themselves, to become engaged activists instead of simply keyboard warriors," Van Daele told PetaPixel.
Instead of outrage, the photographers want to see action. "We'd love to see people out in the streets participating in women's marches, supporting equal rights for everyone regardless of their sexual orientation, and so many other important causes…instead of sitting here scrolling through Instagram and knee-jerking their way through comment threads. So you're all correct – it's gross, disgusting, and a horrible concept that is rampantly becoming more "real' in the world day by day and comment by comment," the photographers said in a statement.
Images are powerful. For all the controversy the couple caused, at least they didn't take their wedding photo on rustic train tracks