Education
A school assignment asked for 3 benefits of slavery. This kid gave the only good answer.
The school assignment was intended to spark debate and discussion — but isn't that part of the problem?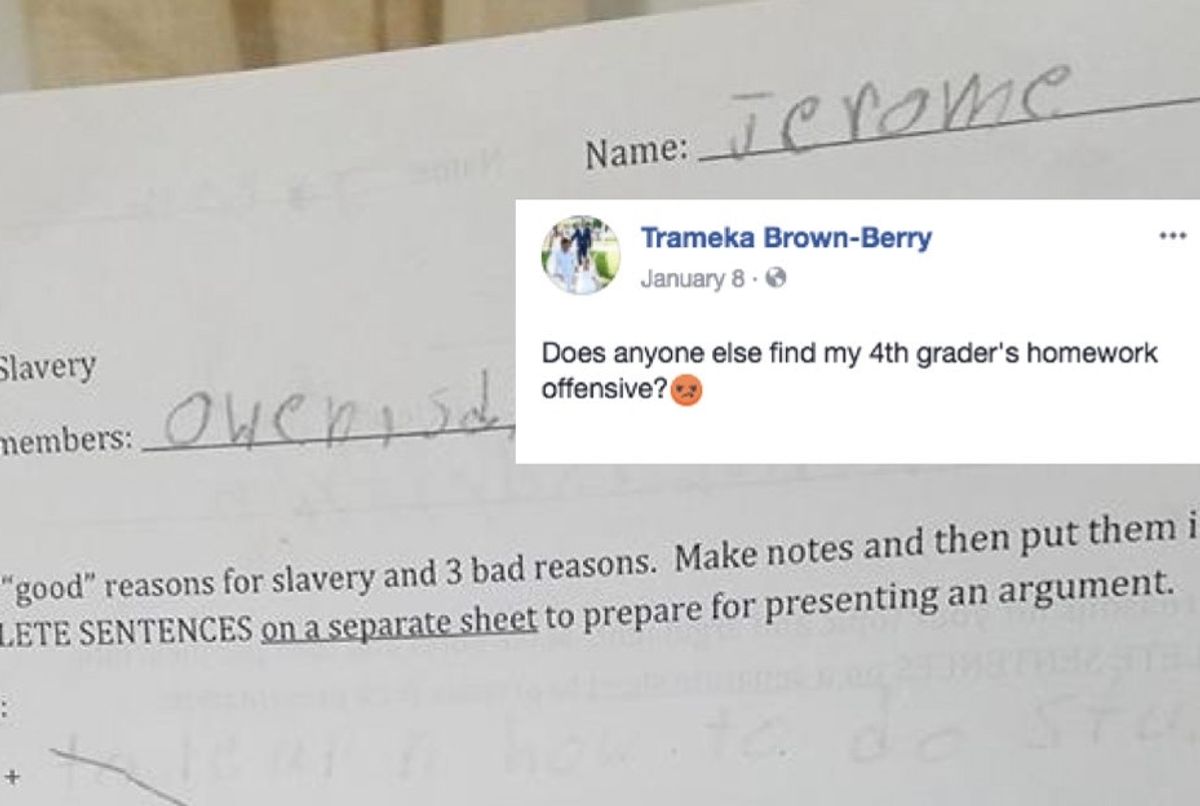 It's not uncommon for parents to puzzle over their kids' homework.
Sometimes, it's just been too long since they've done long division for them to be of any help. Or teaching methods have just changed too dramatically since they were in school.
And other times, kids bring home something truly inexplicable.
---
Trameka Brown-Berry was looking over her 4th-grade son Jerome's homework when her jaw hit the floor.

"Give 3 'good' reasons for slavery and 3 bad reasons," the prompt began.
You read that right. Good reasons ... FOR SLAVERY.
Lest anyone think there's no way a school would actually give an assignment like this, Brown-Berry posted photo proof to Facebook.


In the section reserved for "good reasons," (again, for slavery), Jerome wrote, "I feel there is no good reason for slavery thats why I did not write."
Yep. That about covers it.
The school assignment was intended to spark debate and discussion — but isn't that part of the problem?
The assignment was real. In the year 2018. Unbelievable.

The shockingly offensive assignment deserved to be thrown in the trash. But young Jerome dutifully filled it out anyway.
His response was pretty much perfect.
We're a country founded on freedom of speech and debating ideas, which often leads us into situations where "both sides" are represented. But it can only go so far.
There's no meaningful dialogue to be had about the perceived merits of stripping human beings of their basic living rights. No one is required to make an effort to "understand the other side," when the other side is bigoted and hateful.
In a follow-up post, Brown-Berry writes that the school has since apologized for the assignment and committed to offering better diversity and sensitivity training for its teachers.
But what's done is done, and the incident illuminates the remarkable racial inequalities that still exist in our country. After all, Brown-Berry told the Chicago Tribune, "You wouldn't ask someone to list three good reasons for rape or three good reasons for the Holocaust."
At the very end of the assignment, Jerome brought it home with a bang: "I am proud to be black because we are strong and brave ... "
Good for Jerome for shutting down the thoughtless assignment with strength and amazing eloquence.
This article originally appeared on 01.12.18