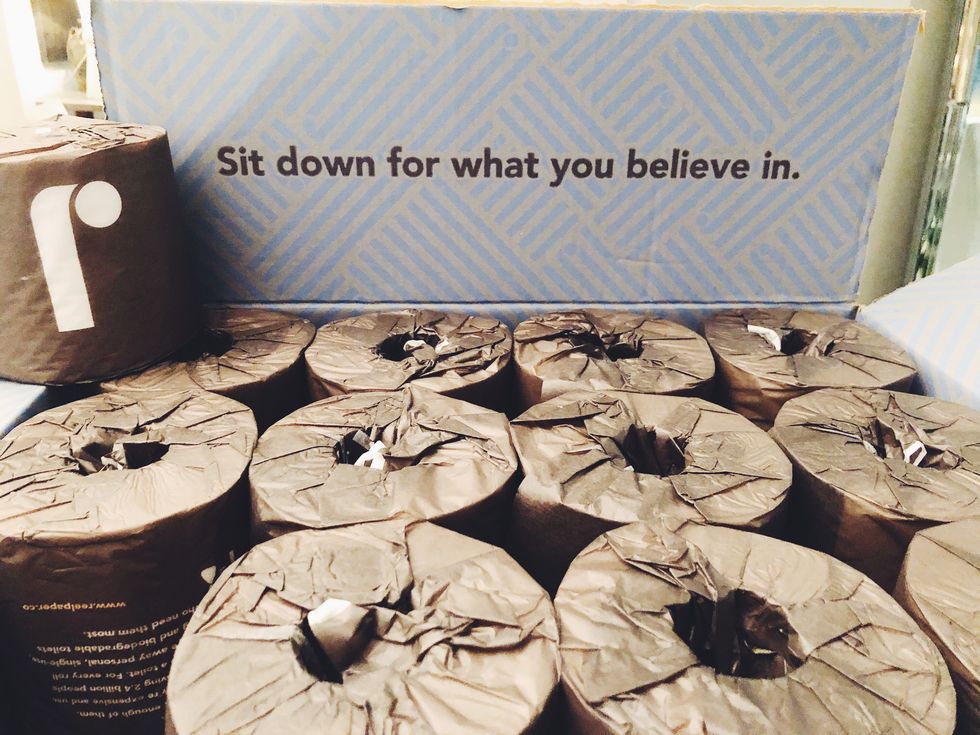 Maybe before the events of 2020, you were taking your toilet paper for granted. But chances are, you aren't anymore. But aside from the shortages earlier in the year, there are larger problems with traditional TP. Specifically, it's pretty bad for the environment. That said, thanks to a company called Reel, it doesn't have to be. That's because their toilet paper is made from bamboo stalks and designed with environmental sustainability in mind.
If you've had any experience with environmentally friendly toilet paper in the past, you might be tempted to stop reading. But contrary to the prevailing stereotypes about eco-conscious TP, Reel is renowned for its quality and comfort -- so much so that the brand has sold more than a million rolls of the stuff and counting. And it's done so without contributing to the monstrous devastation of forests that's associated with the traditional toilet paper industry.
Every roll of Reel toilet paper is made from 100-percent bamboo, and 0 trees. But that's not where the brand's environmental consciousness ends. It even extends to the packaging, which is plastic-free, right down to the tape. No dead trees, no environment-choking plastic, no inks, no dyes, and none of the infamous synthetic compound bisphenol A. Best of all, if you use it, there's no TP-related guilt about the damage your daily bathroom habits might bring to the planet.
Why is using bamboo to make toilet paper better than using trees? For starters, it's the fastest-growing plant in existence, and can grow as much as three feet in just 24 hours. It's harvested once a year and never needs replanting, making it an essentially infinite resource compared to trees, while also using up 30-percent less water. And as you'll feel for yourself once you give Reel a try, bamboo paper is much softer than other papers made from recycled paper or wood fiber, while also retaining bamboo's natural tensile strength, which is said to be even stronger than some types of steel.
Reel
Reel even has ply-counters covered, too. If you were worried that bamboo toilet paper doesn't give you the thickness and quality you're accustomed to in TP, think again, because each role is generally proportioned with three ply for extra softness. In other words: you're not having to sacrifice comfort for the good of the planet, at least not as far as your toilet paper is concerned.
And Reel's environmental friendliness isn't the only good reason to make the switch. The brand also cuts off a slice of their profits for the funding of sanitation projects in developing nations, so you're helping that important cause with each roll you buy (in addition to helping reduce deforestation and pollution).
Each 24-roll box of Reel premium bamboo toilet paper costs $29.99, but if you're paranoid about running out, they also offer a subscription service that sends a new box to your door automatically every four weeks, eight weeks, or 12 weeks, depending on how often you usually buy. Customers have also reported that each roll of Reel lasts longer than regular toilet paper since it gets the job done with fewer sheets -- another point in favor of bamboo paper..
Your toilet paper doesn't have to kill trees or choke the environment with bulky plastic packaging. There is a better way. To find out more, check out Reel at its official site, and say hello to a new era of environmentally friendly toilet paper that's also comfortable, durable, and a pleasure to have around.
*Upworthy may earn a portion of sales revenue from purchases made through affiliate links on our site.
True
In 1945, the world had just endured the bloodiest war in history. World leaders were determined to not repeat the mistakes of the past. They wanted to build a better future, one free from the "scourge of war" so they signed the UN Charter — creating a global organization of nations that could deter and repel aggressors, mediate conflicts and broker armistices, and ensure collective progress.
Over the following 75 years, the UN played an essential role in preventing, mitigating or resolving conflicts all over the world. It faced new challenges and new threats — including the spread of nuclear weapons and other weapons of mass destruction, a Cold War and brutal civil wars, transnational terrorism and genocides. Today, the UN faces new tensions: shifting and more hostile geopolitics, digital weaponization, a global pandemic, and more.
This slideshow shows how the UN has worked to build peace and security around the world:
1 / 12
Malians wait in line at a free clinic run by the UN Multidimensional Integrated Mission in Mali in 2014. Over their 75 year history, UN peacekeepers have deployed around the world in military and nonmilitary roles as they work towards human security and peace. Here's a look back at their history.
Growing your own organic herbs, vegetables, and fruits is a great way to eat healthier and, at the same time, do something good for the environment. Unfortunately, a lot of people assume they can't grow a garden because they don't have enough space, time, or know-how. But that's not actually the case. Or at least, it's not any more. Thanks to an amazing high tech gadget called the Click & Grow Smart Gardens, these days anyone can grow their own organic produce with the touch of a button, no matter where they live.
Fully Automated Gardening? Yes Please
What exactly is the Smart Garden? Click & Grow calls it the Keurig of plants. And that's actually a pretty great description.
The Click & Grow Smart Garden is a fully automated gardening system that lets anybody grow herbs, fruits, vegetables, and flowers year round, in any environment, with absolutely no effort or horticultural knowledge. Like a Keurig coffee maker, all you have to do is insert a pod, fill the tank with water, and press the button. Technology takes care of the rest.
Click & Grow has over 50 different pre-seeded 100-percent biodegradable plant pods to choose from, including tomatoes, peppers, arugula, green leaf lettuce, basil, chives, cilantro, petunias, pansies, lavender, and so much more. You can also buy "blank" smart soil pods and use your own seeds to create your own custom plant pods. The possibilities are almost endless.
You don't have to know anything about gardening to use the Click & Grow Smart Garden. However, if you'd like to learn, the Click & Grow companion app can make you a plant expert. Simply check in with the app daily and it will explain exactly what's happening during each stage of the growing cycle.
The Click & Grow Smart Garden uses advanced horticultural technology specifically designed to speed up growth and maximize yields. This technology includes:
Biodome Sprouting: lids cover the seed pods during the initial growing phase, creating a greenhouse effect that induces faster sprouting.
Grow Lights: professional grade LED grow lights with enhanced light spectra bring about faster germination. These lights turn on and off automatically to mimic the natural light cycle, making sure plants get the exact amount and type of light they need to thrive.
Automatic watering: sensors detect moisture levels and automatically water your plants when needed, with each reservoir tank refill lasting about one month.
Smart Soil: instead of regular soil, Smart Garden seed pods use a proprietary nano material created by Click & Grow. This material keeps soil pH balanced, automatically releases nutrients in sync with the plant life cycle, and contains micro oxygen pockets to give plants ample breathing room and nutrients when the smart soil is wet.
All this tech wouldn't be very appealing if it cost an arm and a leg to run. Luckily, the Click & Grow Smart Garden is incredibly efficient. It uses 95-percent less water than traditional agriculture, while producing faster growing cycles without toxic pesticides or fertilizers. Meanwhile, the Smart Garden's efficient LED grow lights cost roughly $5 to $15 per year to operate. That's probably less than you'd spend on gas going back and forth to the nursery to get supplies for a traditional backyard garden.
Of course, not every prospective indoor gardener has the same needs. Some people just want a minimalist countertop unit to grow their favorite herbs. Others want a full-blown indoor farm. That's why Click & Grow created several different Smart Garden models with variable grow capacities.
As the name suggests, the Smart Garden 3 is capable of growing three plants at a time. Measuring just 12 inches wide and 5 inches deep, with a max height of 19 inches, this model fits almost anywhere. That makes it perfect for anyone with extremely limited space, or who isn't quite ready for a bigger indoor garden.
At just $99.95, the Smart Garden 3 is the most affordable of Click & Grow's automated gardening systems. It's available in four different colors and comes with the companion app as well as a complementary set of three basil plant pods.
For those who live by the motto "go big or go home" there's the Smart Garden 27. Though, in this case, "big" is a relative term. Consisting of three Smart Garden 9 units plus a stylish pine plant stand, the Smart Garden 27 is capable of growing a whopping 27 plants at a time. However, it barely takes up any room. The entire system has a footprint of 26 inches by 10 inches, and it stands just 47 inches tall. So it's roughly the size of a small bookcase.
The Smart Garden 27 is certainly a more significant investment than the Smart Garden 3. However, if your household consumes a lot of fresh organic product, it won't take long for the Smart Garden 27 to start paying for itself. It's available in three different colors and comes with the companion app as well as a complementary set of nine basil plant pods, nine lettuce plant pods, and nine tomato plant pods.
Eating local and organic helps you reduce your carbon footprint and cut back on the amount of harmful chemicals that wind up in our watershed. And that used to be pretty expensive. But thanks to the Click & Grow Smart Garden, we can all grow affordable organic produce right in our own homes with just the touch of a button.
If that sounds good to you, click here to learn more about Click & Grow Smart Gardens, today.
*Upworthy may earn a portion of sales revenue from purchases made through affiliate links on our site.
Get stories worth sharing delivered to your inbox