Learning
New York library fights censorship by allowing banned books free for people outside of the state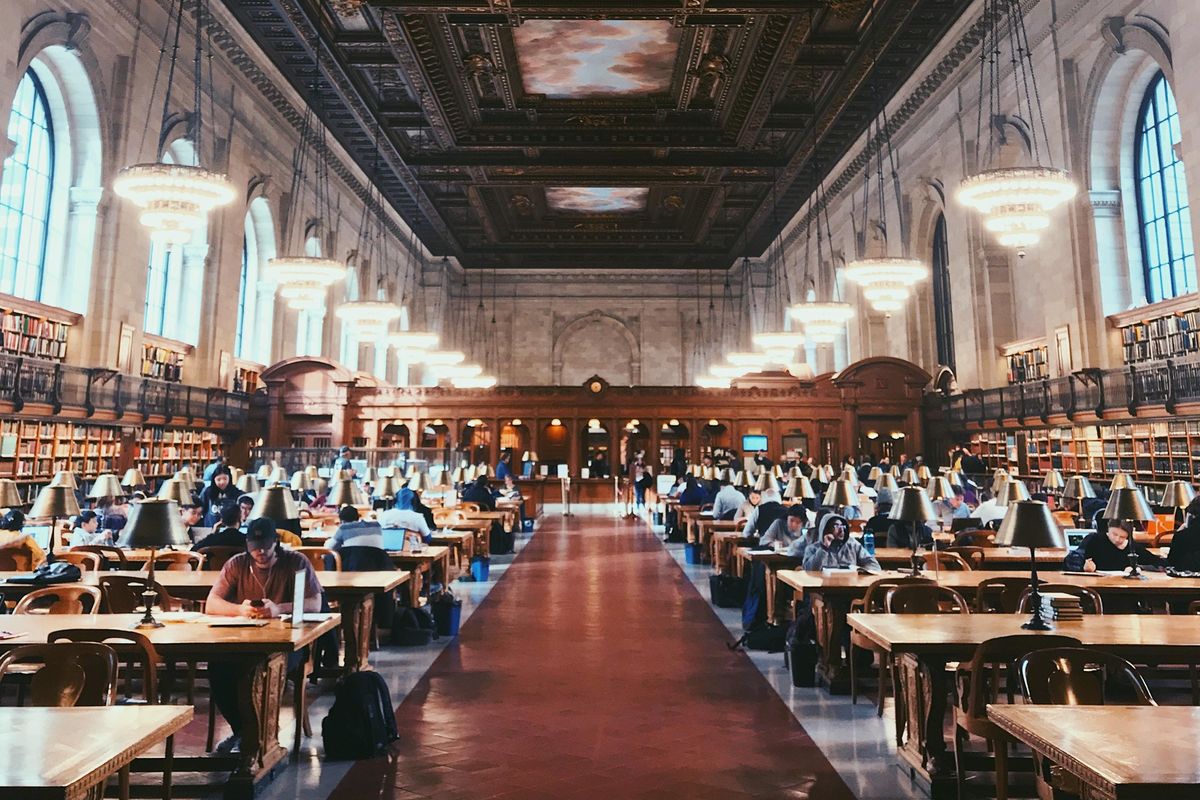 Watching things play out with the censorship of books in schools and public libraries across the country has been a wild ride. Whereas one day you can grab a copy of "Catcher in the Rye" as you peruse the shelves between classes, the next it's banned. (Though, I think Salinger's Holden Caulfield escaped being tossed into most burn piles, but I imagine that foul-mouthed teen makes several lists.) The books that are being banned are the ones that promote diversity in any form. At first glance you can almost see the legitimacy of banning these books, but once you actually look at their titles and contents, it's clear that they're pretty consistently displaying themes of diversity and inclusion.
It's peculiar that books that depict what it's like growing up in a world with two moms or living in America with brown skin would be removed from libraries at schools. Libraries are there to transport us into a different reality than our own. For some people living in small towns with not much diversity, there is little exposure to people that look or think differently than they do, and this can lead to a narrow view of the world. Libraries provide a bounty of free books, some taking you to giants in faraway lands and others showing you what it's like to grow up feeling like you exist in the wrong body. There's no limit to the worlds that books inside a library can expose you to, and they can bridge the gap between lived experiences and empathy for others you only read about.
---
When some states began banning books from their local schools and libraries, in some cases, people took notice and protests started to happen. Four librarians in Texas formed #FReadom Fighters and created a website to sell merchandise to support the larger movement of teachers, students, authors and parents fighting against the banning of books across the country. Now the New York Public Library is joining the fight against censorship by allowing children as young as 13 who live in states where certain books are banned to check them out via its app through the end of May. Typically only residents of New York with a valid library card can check out books, not people from out of state.
Vandergrift student Banned Book club speaking at Spring into #FReadom rally in Cedar Park this morning.pic.twitter.com/OT3KjHcf61

— FReadom (@FReadom) 1650728301
Tony Marx, president of the New York Public Library, told NCPR, "The recent instances of both attempted and successful book banning—primarily on titles that explore race, LGBTQ+ issues, religion, and history—are extremely disturbing and amount to an all-out attack on the very foundation of our democracy … Knowledge is power; ignorance is dangerous, breeding hate and division ... Since their inception, public libraries have worked to combat these forces simply by making all perspectives and ideas accessible to all."
Brooklyn Public Library also announced a similar program called Books Unbanned aimed at ages 13-21. The American Library Association reported that there had been 729 challenges to library, school and university materials in 2021. This is the highest it's been since it began tracking the information in 2000.
.@aaslpresident Jennisen Lucas tells @WBUR's @anthonygbrooks: The more we talk about the book bans happening in libraries, the more people who don't believe in censorship will stand up. #UniteAgainstBookBans #aaslslm #SchoolLibraryMonthhttps://wbur.fm/3uZ1Sis

— American Library Association (@American Library Association) 1650464461
Books are far more than pieces of paper bound together to look pretty and they serve a larger purpose outside of teaching math and science. Books help the reader understand what it's like to be in someone else's shoes. They can teach tolerance, acceptance and critical thinking. Banning books is so much larger than not wanting your individual child to learn about the world around them, it's telling a child with two dads that there's something wrong with them. It's telling students that they're not important enough to have themselves represented in the stories their class reads.
New York Public Library's mission to combat the banning of books is admirable. Finding ways around this ban can help more students feel seen, as they watch the communities around them and far away fight to represent all students.