Family
Pediatric therapist has some brilliant tips for getting picky toddlers to 'eat anything'
Helpful advice for even the most finicky eater.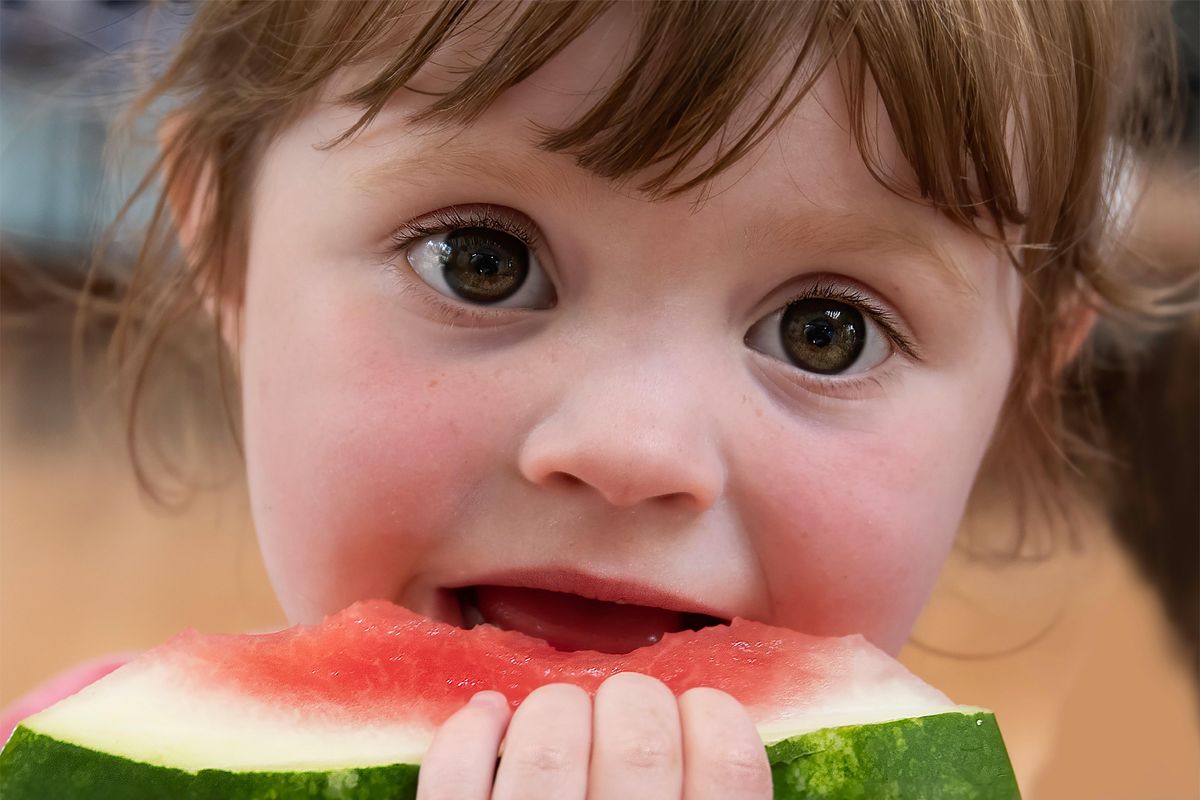 Sure, you might find an adventurous 3-year-old who enjoys sushi and salads from time to time. But generally speaking, toddlers are notoriously picky eaters. If a meal strays even an inch beyond the comfort zone of french fries and grilled cheese, it's a hard no. Followed by tears. Or maybe screaming. Or both.
However, Emma Hubbard, a pediatric occupational therapist, is convinced that even the finickiest kid can be coaxed into expanding their palate with just a few simple yet effective tweaks.
As Hubbard mentions in her video, new food isn't just unpleasant for toddlers—it's downright scary. "Toddlers have a genuine fear of trying new food," she said, which explains why they have such a visceral fight-or-flight reaction and "become overwhelmed and run away, have a tantrum, or shut down."
---
That's why Hubbard suggests introducing foods in a way that feels non-threatening. Some ways of doing this include serving the new food with food the toddler already deems as "safe" or combining them with condiments/dips they already like, such as hummus, ketchup, sour cream, etc.
Similarly, Hubbard recommends presenting the food in a fun and creative way. It doesn't have to be a "work of art each time." Something as simple as using a cookie cutter to make fun shapes or using different cutlery could do the trick.
Another tip is to reduce the amount of snacking and instead do five meals a day, spaced roughly 2.5 hours apart, serving only water in between those meals, not juice or milk. Experiencing true hunger makes toddlers more willing to try new foods.
Hubbard also noted that when parents sit down and eat the same foods with their toddler, they are far more likely to participate with their parents, seeing it as
positive reinforcement
. That makes sense since kids love mimicking all kinds of adult-centered activities.
Of all her tips, Hubbard says the most important is persistence. Repeatedly exposing toddlers to new food without putting pressure on them to eat will make them more comfortable, which gets them one step closer to actually eating it.
Watch:
The video resonated with a lot of parents. Many shared how these tips have already helped. Others shared their own changes that led to success.
"Normally it takes a long time to get kids to eat lettuce or veg and such but since our kid sat with us watching us eat things like pico de Gallo, sope, tacos, posole and etc. He eats any veggies we put in front of him so long as they are diced or seasoned. He'll even eat cabbage and spinach if it has chamoy on it. Anything daddy eats is gold to him and he has to have it," one parent commented.
Another suggested giving very small, less overwhelming portions of new foods, and only giving the toddler positive attention when they do eat the new food, rather than when they refuse to eat. "A lot of times kids act out to see the reaction of caregivers. If we don't give a reaction, she's less likely to do it again. But positive reactions when she eats it will make her want to eat it again, or at least try things," they wrote.
Getting toddlers to broaden their food choices might be a challenge, but like all aspects of parenting, it seems like a little bit of patience goes a long way. Hopefully these tricks can help little ones savor everything that life has to offer.