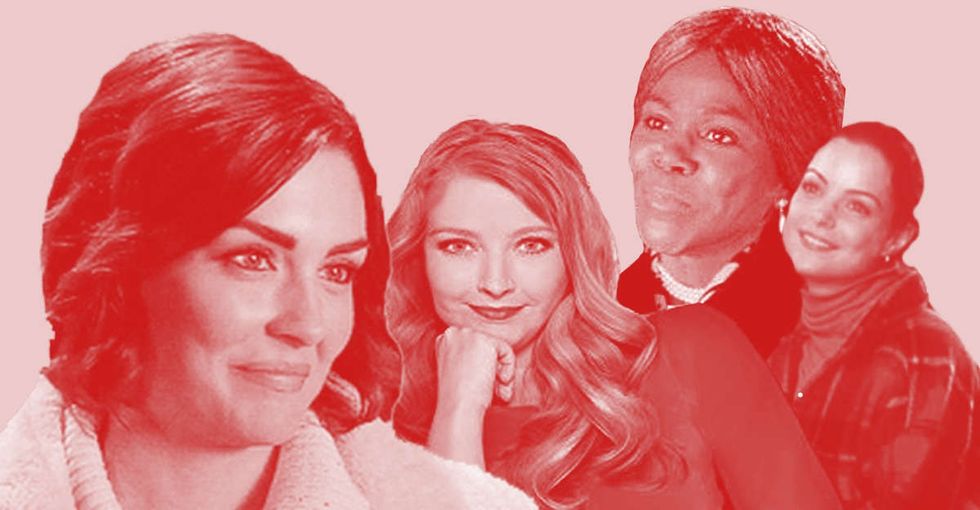 Classic Christmas movies are a boys club.
Even a quick scroll through imdb reveals a canon full of Good Santas, Bad Santas, absentee dads who become Santas, Boy-like elves who fall in love with adult human women and little boys who ride trains to the North Pole, demand firearms, and, of course, sadistically abuse comically inept burglars.
Made-for-TV holiday films, on the other hand? That genre is all about the ladies.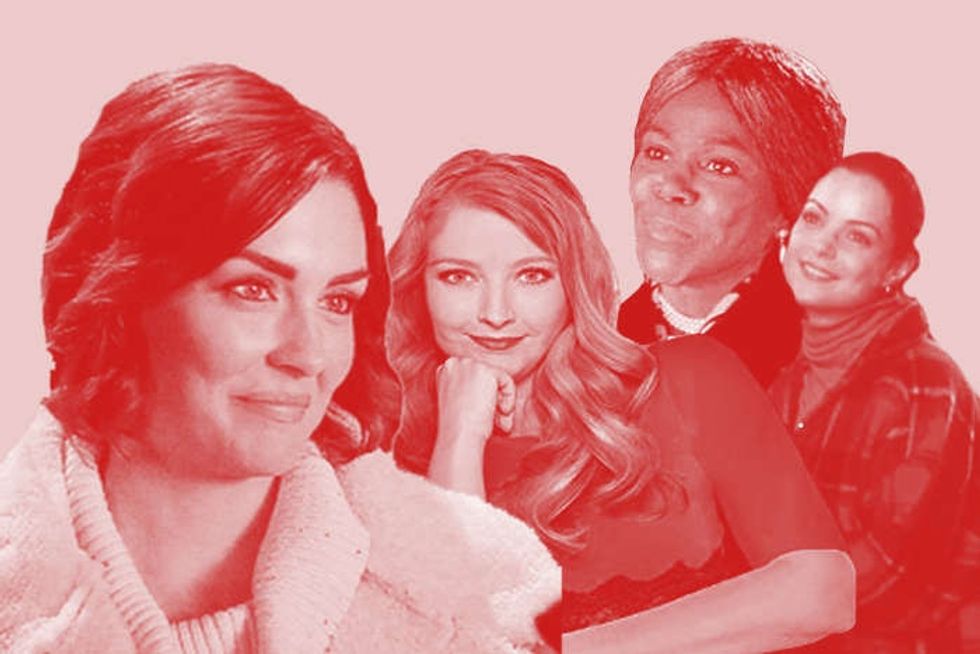 ---
Every December, thanks to the good folks at Hallmark and Lifetime (and occasionally, CBS and Ion and Freeform) lonely single moms, bitter women who "hate" Christmas, and hard-charging, New York career women can learn the true meaning of Christmas too. On the small screen, that is.
If you just glance quickly through the character descriptions for the female protagonists in these made-for-TV movies on IMDB and Netflix, these direct-to-living-room films almost seem revolutionary compared to their sisters on the big screen. Working class heroines? Women with unconventional views on the holiday? Single women without children? High-powered professionals? What could be so bad?
Of course, there is a catch. When it comes to women in Christmas movies, those character descriptions don't just tell you who the heroine is — more often than not, they tell you who she won't be by the end of the movie.
If she's a "lonely single mom," chances are she'll find a doting, wealthy suitor who passes out bikes to local orphans on Christmas morning. If she's a "woman who hates Christmas," chances are she'll become Mrs. Claus — figuratively or, perhaps, literally. If she's a "hard-charging, New York real estate mogul," best believe that, by the time the credits roll, she will have moved home to Maryville, Tennessee, married her high school sweetheart and had 97 babies.
It's formulaic, but understandable.
The holidays aren't exactly a time to reinvent the wheel, after all. Plus, it's hard to sell greeting cards if you're busy smashing the patriarchy.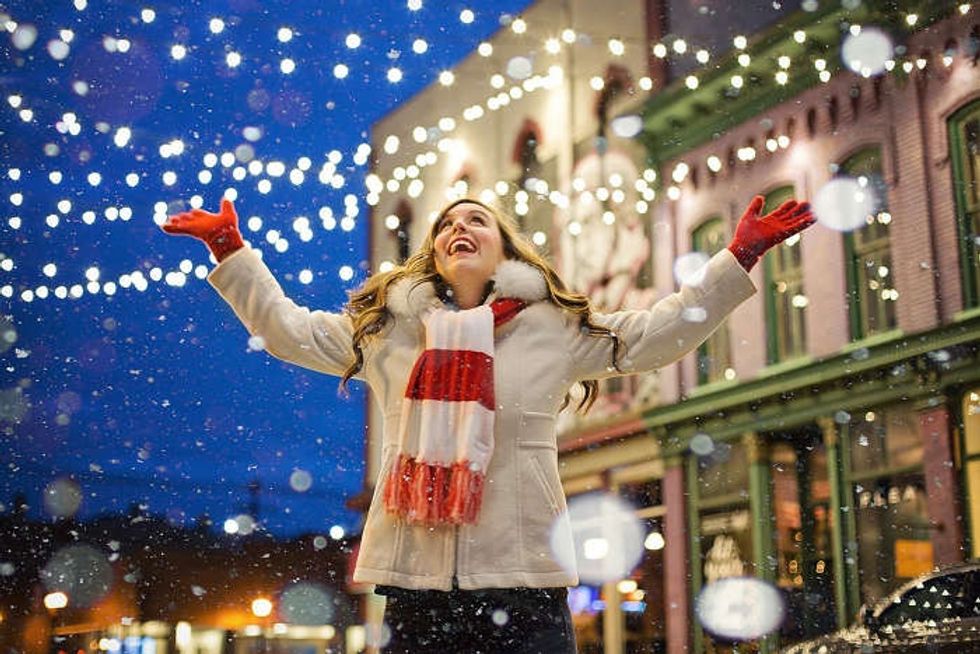 "Something about this snow makes me forget all my goals and Earthly responsibilities." Photo via Max Pixel.
To illustrate just what I mean, I combed through dozens of descriptions of protagonists from exemplars of the genre. I hereby present the fruits of my exhaustive research: the full compliment of lady scrooges, sad moms, and of course, hot messes who just need a man viewable on a 48" wall-mounted Vizio near you:
1. Spoiled woman
"Dear Santa" (Lifetime)

2. Woman who does not like Christmas
"Wrapped Up In Christmas" (Lifetime)

3. Aspiring romance novelist
"The Mistletoe Inn" (Hallmark)

4. Hard-working ad executive
"With Love, Christmas" (Hallmark)

5. Working girl
"A Christmas Kiss II" (Ion)

6. One of the most famous actresses in the world
"Christmas in Homestead" (Hallmark)

7. One of the biggest pop stars on the planet
"Catch a Christmas Star" (Hallmark)

8. Pop music superstar Mariah Carey
"Mariah Carey's Merriest Christmas" (Hallmark)

9. Aspiring astronomy professor and Christmas enthusiast
"One Starry Christmas" (Hallmark)

10. Young angel
"Angry Angel" (Freeform)

11. Young woman who comes from a life of privilege
"Dear Santa" (Lifetime)

12. Struggling designer
"A Christmas Kiss" (Ion)

13. High-powered executive
"Love You Like Christmas" (Hallmark)

14. Recently engaged woman
"Merry In-Laws" (Lifetime)

15. From an upper class Los Angeles family
"Will You Merry Me?" (Lifetime)

16. Hopeful romantic
"Holiday High School Reunion" (Lifetime)




17. High-strung attorney
"The Spirit of Christmas" (Lifetime)

18. Loyal and hardworking manager
"Hats off to Christmas!" (Hallmark)

19. New York City ad exec
"Holly's Holiday" (Lifetime)

20. Santa's daughter
"Annie Claus is Coming to Town" (Hallmark)

21. Federal lawyer
"A Golden Christmas" (Ion)

22. Divorced, workaholic executive
"Christmas on the Bayou" (Lifetime)

23. English aristocrat
"An Old Fashioned Christmas" (Hallmark)

24. Event planner
"Christmas Magic" (Hallmark)

25. Charming free spirit
"A Golden Christmas 3" (Ion)

26. Got all a woman could want … except a fiancé
"Marry Me for Christmas" (Up)

27. Straight-talking cocktail waitress
"Undercover Christmas" (CBS)

28. Ms. Scrooge
"Ms. Scrooge" (USA)

29. Country music performer
"Unlikely Angel" (CBS)

30. Country/western singer
"A Smoky Mountain Christmas" (ABC)

31. Visionary and artistic young woman
"Everything You Want" (ABC Family)

32. Perfume saleslady
"The Christmas List" (ABC Family)

33. Magazine journalist who no longer celebrates Christmas
"Farewell Mr. Kringle" (Hallmark)

34. Holiday humbug
"Naughty or Nice" (Hallmark)

35. His wife
"The Christmas Box" (CBS)

36. Ruthless business woman
"Ebbie" (Lifetime)

37. Widowed mother with financial woes
"A Christmas Romance" (CBS)

38. Dying mother
"The Christmas Shoes" (CBS)

39. Single mother
"Secret of Giving" (Hallmark)

40. Busy single mom
"The Most Wonderful Time of the Year" (Hallmark)

41. Cute single mom
"A Holiday for Love" (CBS)

42. Cynical single mom
"My Santa" (Ion)

43. Hard-working single mother
"Borrowed Hearts" (CBS)

44. A busy mom with no Christmas spirit
"Help for the Holidays" (Hallmark)

45. Incarcerated mother
"A Season for Miracles" (CBS)

46. Humble seamstress
"A Royal Christmas" (Hallmark)

47. Optimistic love doctor
"Naughty and Nice" (Up)

You'd be forgiven for wanting storm the barricades, nationalize Lifetime, and demand justice on behalf of the contentedly agnostic, the happy single moms, and the ruthless business women who damn well like being ruthless business women.
Still, the holidays are a time to turn on the TV and turn off our brains. And after a year as fraught as 2017, we've all earned a little formulaic escapism.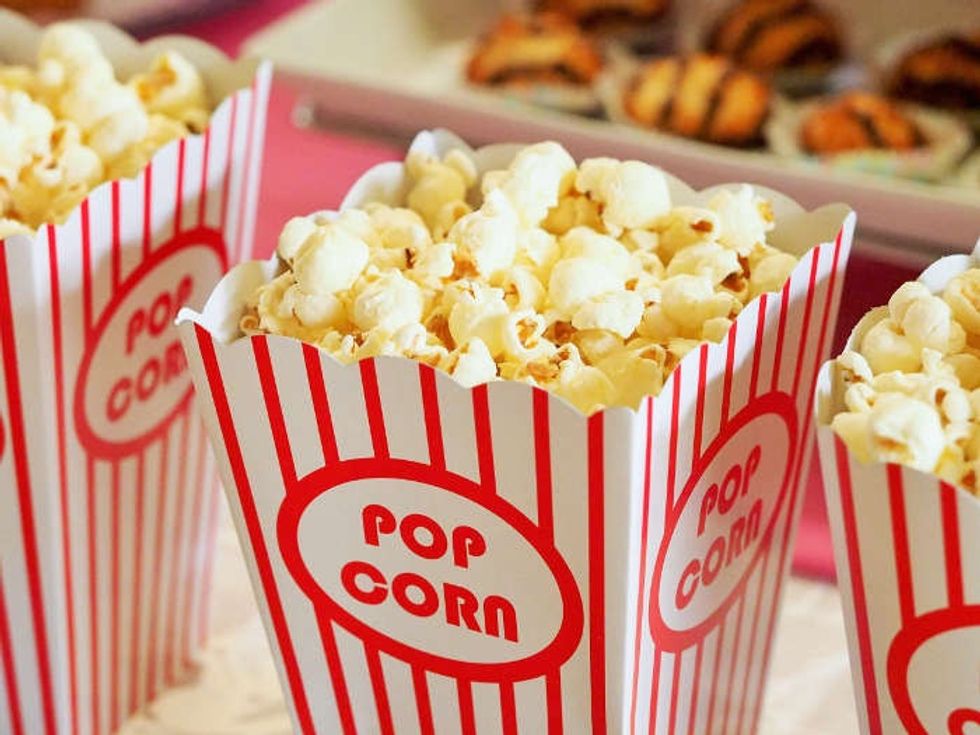 Mmmm. Brain-deadening snacks. Photo by Deborah Breen Whiting/Pixabay.
Whether you're an incarcerated mother or an optimistic love doctor, that might not be such a bad thing. At least until December 26.
Happy viewing!