Identity
Harry Styles stops in the middle of concert to help a fan come out
Fans have been using his shows to come out since 2018.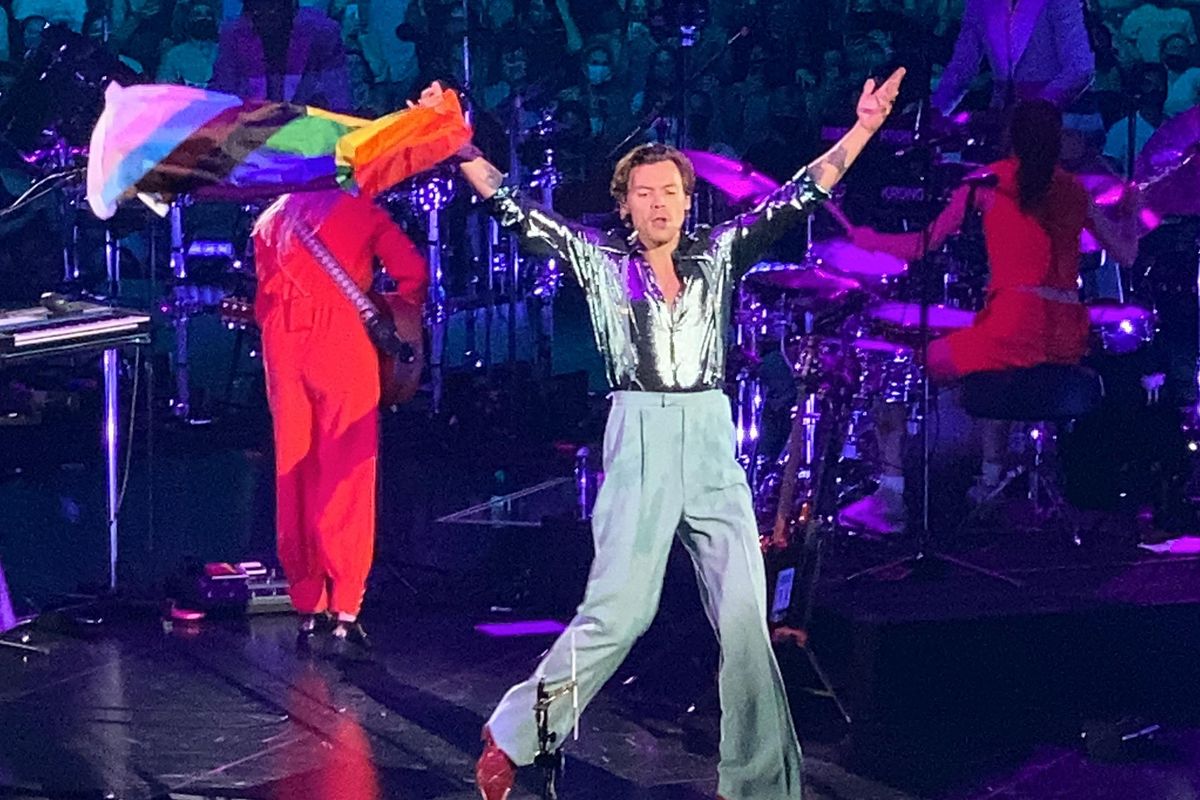 Coming out can be an emotionally fraught process. Even when you're secure in your queerness, there's still a sense of fear and hesitation. Because it's so emotional, people sometimes choose an unconventional way to do it. That includes coming out in an unlikely place … like a Harry Styles concert. Yes, this has happened more than once.
Most recently, a fan of Styles used the singer's help to come out as gay during the Love On Tour 2022 stop at London's Wembley Stadium.
---
In a clip posted to Twitter, Styles picks up a cardboard sign that had been thrown onto the stage.
"From Ono to Wembley: help me come out," the sign reads.
"So you would like the people of Wembley to bring you out?" Styles asks, a smile on his face. You can tell he's done this before, and that he's genuinely excited to do it again.
"When this sign," he begins, but returns the sign to the fan and picks up a Pride flag.
"When this flag goes over my head, you're officially gay, my boy," he says with a proud smile on his face. Of course, the crowd begins to cheer.
Styles runs back and forth waving the flag, but hesitates before raising it over his head, joking, "still straight!" before he continues to run. Then he stops, raises the flag in the air while throwing his head back triumphantly.
"Congratulations, Mattia, you are a free man!" Styles screams as the crowd roars.
Styles then takes another minute to revel in what has just happened. It's obvious he takes his role of helping fans come out seriously. There's a level of trust and care between Styles and his fans underpinning what everyone has just witnessed.

Being in the audience of a Harry Styles concert when a fan comes out is both intimate and big. People make the choice to do it knowing their declaration will become a YouTube video or news article by the next morning, and that never seems to scare them. It seems that there's something liberating about coming out to thousands of strangers.

As a longtime Harry Styles fan, I've seen this happen in real life. During the Los Angeles dates of Love On Tour 2021, I attended two shows where fans used the concert as an opportunity to come out. Styles asked each fan if they had an item they wanted him to hold to signal their official outing. He then ran around the stage building the anticipation until the glorious moment the item was lifted over his head and the crowd erupted. It was an honor to be part of such a life-changing moment.
Styles isn't a stranger to helping his fans come out during one of his concerts. In 2018, during a tour stop in San Jose, California, Styles helped another fan come out.
"I'm going to come out to my parents because of you," says the sign Styles reads to the audience. Although the parents weren't in attendance (they were in a nearby hotel), Styles still took the opportunity to help.
"I'm going to tell Tina before you get a chance to," he said.
"Tina, she's gay!" he yells, before telling the young woman that her mom "says" that she loves her. The video has become a bit of an inside joke among fans, but proves that he has always been willing to provide a safe space for his fans.