Nature
Firefighters grant dying forest ranger's final wish to visit the woods one last time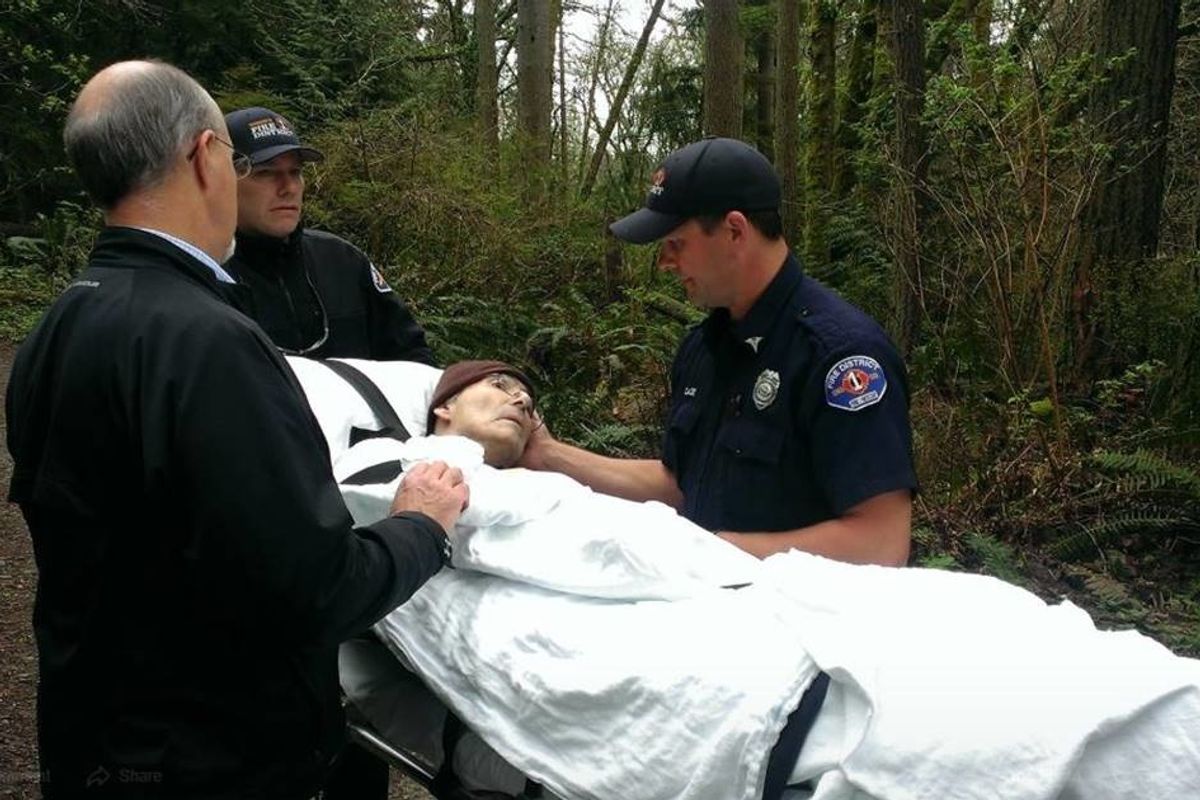 Hospice nurses seem to come from the heavens. It's a job that requires a big heart, the strength to deal with death on a daily basis, and in-depth medical and nursing training.
Five years ago, Leigh Gardner performed a small miracle for a man that made one of his last days on Earth one of his best
Edward Reis, 62, was an ex-forest ranger with multiple sclerosis and had been in hospice care for years. His caregivers became a surrogate family for Reis who didn't have much family in the area.

---
A few weeks before his death, his chaplain Curt Huber asked him if he had any final wishes. Reis said he'd love to go back to the forest where he worked.
Huber and Gardner, a nurse at Evergreen Health Hospice in Washington state, came together and created a plan that would allow Reis to make one last "walk" through the trees. The only problem was that Reis was bedridden and couldn't ride in a wheelchair, let alone walk through the forest.
So they contacted the Snohomish County Fire Department and they hopped into action.
The firefighters picked up Reis in a firetruck and took him to the lush forest of Puget Sound. They then rolled him on a gurney through the rocky terrain, stopping him by the creek so he could hear the water, and picking pieces of bark and putting it to his nose for one last inhale of one of his favorite scent.
"He was just smiling the whole time … saying he was so happy," Gardner told ABC News.
"The wheels of a gurney are like a shopping cart, so very small wheels on a trail -- and it wasn't like one of those little running trails at all, it was like a hiking trail ... and we would stop every so often and he would just sit and listen," Gardner continued. "And you know I went over to him and I said, 'Are you happy?' He's like, 'I'm so happy.'"
The trip to Puget Sound was therapeutic for the firefighters as well. The men had recently been in Oso, Washington recovering bodies from a landslide that killed 43 people.
"We saw a lot of bad things up there in Oslo, and this was a time to just watch somebody at the end of their life enjoy what they could," he said of Reis' trip. "It felt good inside to help him and to watch his face. The payment was in his expression when he was out there."
With his final wish granted, Reis passed away a few weeks later.
"We kind of were his family in the end," Gardner said, adding that she missed him. "For the first couple of weeks after he'd passed away I was like, 'It's so weird not going three times a week and working so hard to take care of him.' It felt a little odd. So I miss his presence and just, you know, he was a gentle, gentle soul."
One can be sure the forest misses him, too.