Family
Dad transforms the garage into a 'real' school classroom for his daughter—teacher and all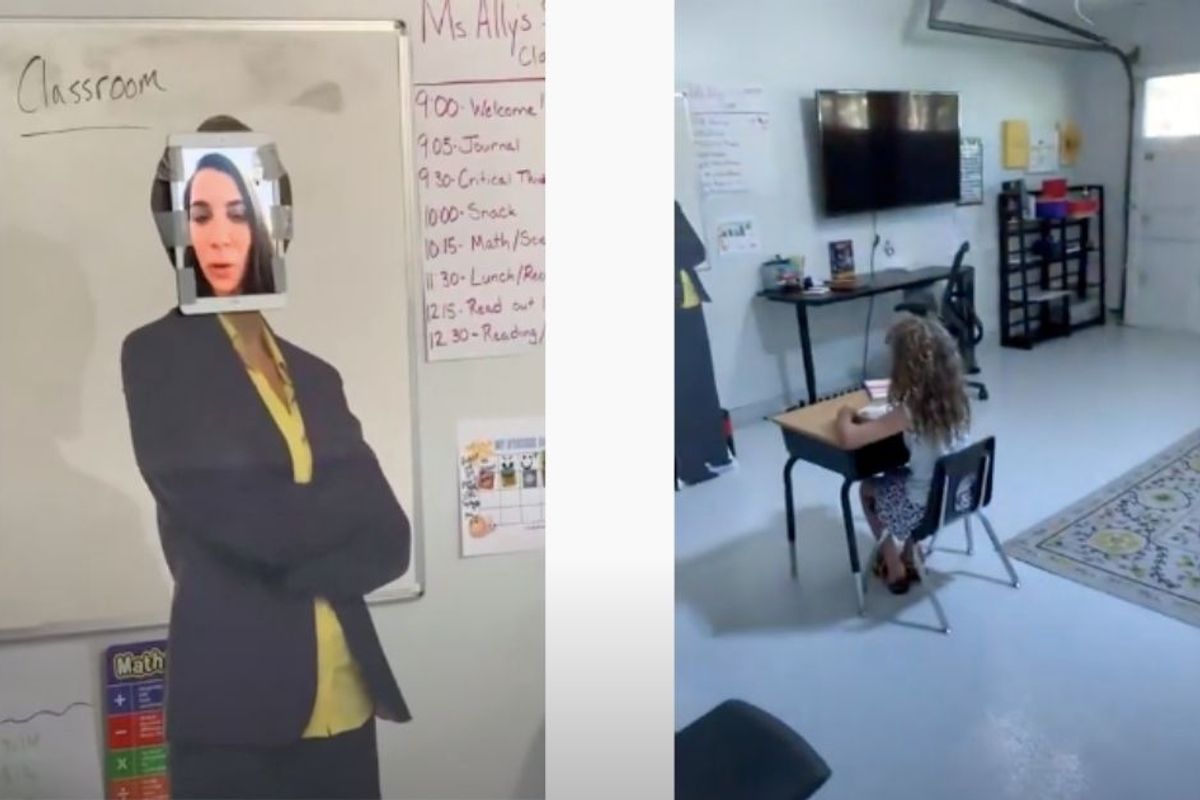 Parents, teachers, and students have had to dig deep into their creativity and flexibility as back-to-school time hits, pandemic-style. From Zoom classes to hybrid models to plexiglass desk barriers, school simply does not—and cannot—look normal in 2020.
I've seen many parents fret over how and where their kids will do their online schooling. Do they need a desk? What about a quiet space? What if we don't have separate rooms for each kid? And those are just the worries about space.
With everyone's concern levels being sky high, it's no wonder the reactions to one dad's school-at-home setup were mixed. A Reddit user shared this video to the r/nextfuckinglevel subreddit, and while we don't know who the dad is, his classroom building skills truly are next level.
---
Father converted his garage into a classroom for his daughterwww.youtube.com
But not everyone agreed over whether or not it's a good thing.

Clearly there's no question that this dad cares. Fathers who don't take their parenting responsibility don't do things like this.
But some people remarked that, while impressive, the classroom also felt "dystopian," "apocalyptic," and "creepy." Some responded that, umm yeah, we're kind of in a global pandemic here. Others pointed out that this setup may actually be better than what some government-funded schools have.
A couple of commenters explained in detail what was good about this dad's efforts:
zeke-apex wrote:
"For the people that don't understand why this is praiseworthy: The environment is supposed to emulate what she is used to. We don't know this family's situation, so for all we know there could be a bunch of people in and out of the house all day, causing a distraction to the child, thus being detrimental to her learning. Imo too much comfortability in a learning space can be bad because it encourages laziness. There could be a million reasons for why he did what he did. Going above and beyond for his child and her learning is deserving of all the praise. This man is a great father."
Gangreless chimed in with:
"I can't believe how shitty the comments are here. This is some terrific parenting and is such a great way to help his daughter adjust to remote learning. It's also fantastic that she's able to have a dedicated, quiet space without distractions to learn. People forget that kids go to school for 7 to 8 hours a day, it's literally a job, and they deserve the same environment that you'd expect to have in a home office."
Most agreed that the dad should be praised for his efforts, but some also pointed out that while this setup is great, it also highlights the privilege some families have. There are lots of kids for whom nothing like this is even remotely possible, either because of money or space limitations. That doesn't mean this dad shouldn't do it, but it's a reminder that the pandemic is only serving to widen the gap between those with means and those with need.
At any rate, kudos to this dad for trying to make pandemic schooling a little better for his daughter. We all need all the help we can get to make it through this.