Joy
Chef José Andrés told Stephen Colbert how we can all use our talents to change the world
"Longer tables, not higher walls."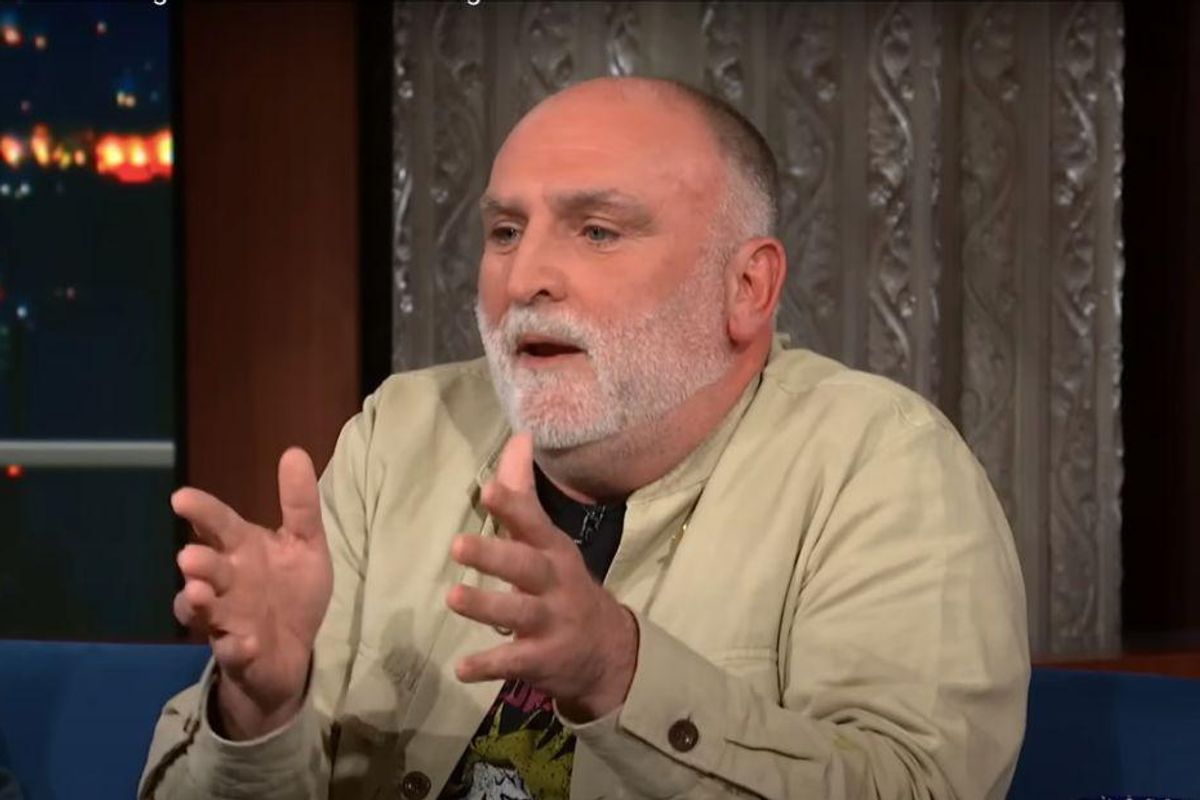 If you're not familiar with Chef José Andrés or his World Central Kitchen (WCK), you're about to find out why the Spanish chef has become a beloved example of the best of humanity.
Chef Andrés founded WCK in 2010, a nonprofit organization that runs toward disaster and organizes people on the ground to make sure that those impacted by disaster are fed. Since then, he and his crew have shown up in the aftermath of tornadoes, hurricanes, earthquakes and other natural disasters, as well as places where communities have an immediate need for other reasons, such as viral pandemics and wars.
The idea for WCK came from Andrés and his wife Patricia, who decided that when people are hungry, you send in cooks. Not tomorrow, but today.
---
"Food relief is not just a meal that keeps hunger away," Andrés shares on the WCK website. "It's a plate of hope. It tells you in your darkest hour that someone, somewhere, cares about you. This is the real meaning of comfort food. It's why we make the effort to cook in a crisis."
It's practically impossible not to fall in love with Chef Andrés when you hear about his dedication to helping people. The passion and sincerity with which he talks about changing the world is infectious.
Andrés joined director Ron Howard on "The Late Show with Stephen Colbert" to talk about Howard's documentary film about the work of WCK. It's called "We Feed People" and will premiere on Disney+ on May 27. Watch the trailer to get a glimpse of what Andrés has brought to the world.
Seriously, in love, right? The man just oozes selflessness and service. And it is genuinely infectious—evidenced by Ron Howard's story of how his film crew kept getting caught up in being part of the operations by putting their cameras down to feed people, making it hard to get the film footage they needed to tell the story about the operations.
Colbert asked Andrés how people can help in their own way or collectively.
"Every one of you, you can become your own organization," he said. "You don't need to try to feed the world. You can do little things, such as helping an elderly couple in the supermarket, make sure that they can put their shopping in the back of their car. Maybe picking up a piece of paper to keep your cities clean."
He gave examples of how musicians in Ukraine are playing on street corners, "bringing hope to people just by playing a song."
He said that everyone has a talent that they can use to help others.
"We can all be part of not only feeding America and feeding the world, but believing in longer tables, not higher walls," he said. "We can change the world if we really believe in it."
Absolutely beautiful. Thank you, Chef Andrés, for reminding us what is possible and for serving as such a prime example of the difference one person can make.