Joy
This couple has the clingiest cat on Earth and people can't get enough of his cute demands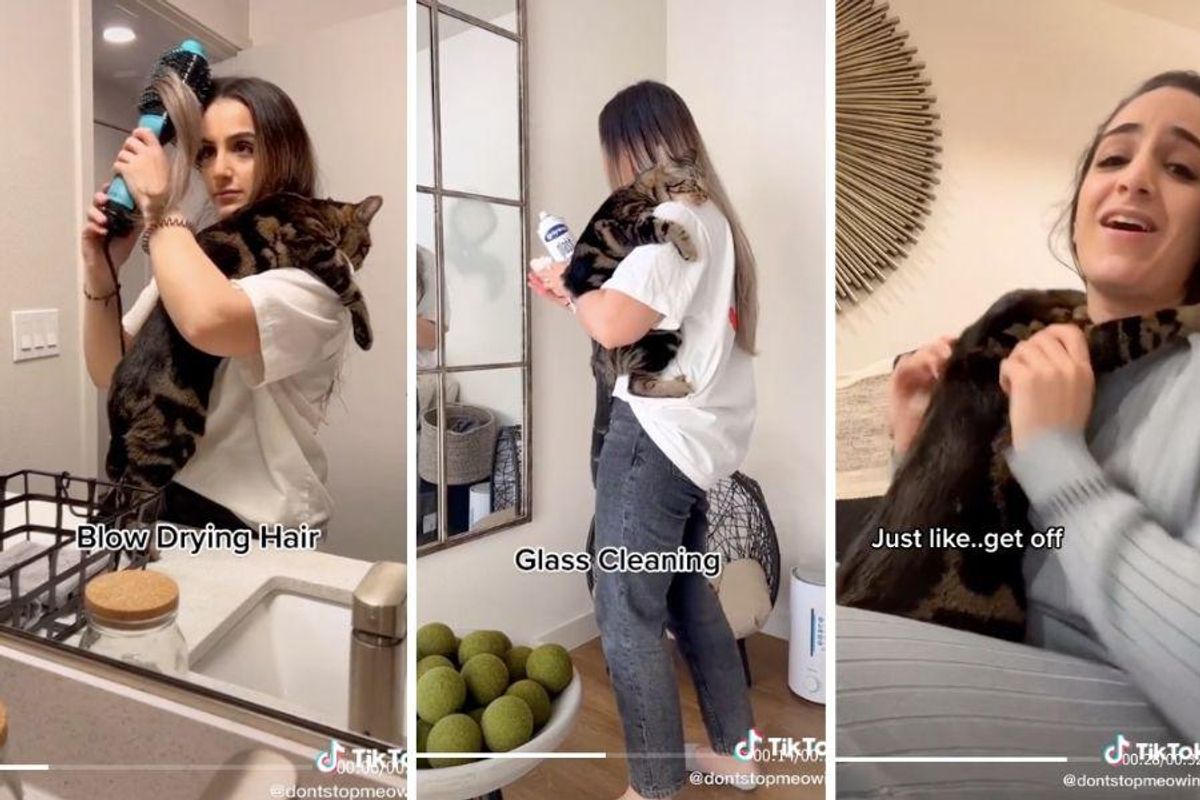 Cats are quirky. We all know this.
But those of us who have had multiple cats throughout our lives know that some cats are quirkier than others. Maybe they like to sleep with their face in a shoe (true story). Maybe they won't stop tearing into bags of styrofoam packing peanuts and eating them, necessitating a shipping business to switch to cornstarch-based packaging (also true story). Maybe they can catch a crumpled-up piece of paper you toss into the air with their paws and bring it to you in their mouth like a dog playing fetch (awww, I miss that cat).
Or maybe their unique quirk is that they have to be velcroed to someone's body every minute of every day.
That's Chase the cat in a nutshell—super sweet, but super clingy.
---
Chase belongs to Kareem and Fifi of the TikTok channel @dontstopmeowing, who have become internet famous for their three very chill cats. Their "spaw day" videos showing how their cats—Chase, Skye and Millie—get pampered went viral last year, and they've gained a huge following sharing life with their cats.
All three are adorable, but Chase—oh, Chase is a special one. I've seen some clingy cats before, but nothing like this.
Watch:
Literally clingy, as in "won't stop clinging to the human." How many cats like to be carried around like a baby? Not many, I'd guess.
When Chase wants Mommy, chase wants Mommy.
Of course, Chase doesn't always want Mommy. Sometimes it's Daddy's turn for all the lovin'.
Fifi shares videos of her attempting to train the clinginess out of Chase, which are hilarious. This one has been viewed 57 million times.
Oh Chase. You're just too much.
And just because it's so dang cute, check out this video of Chase meeting a baby for the first time. (Warning: Wicked adorable baby giggles incoming. Hold onto your ovaries if you have 'em.)