Pop Culture
Cate Blanchett uses her award acceptance speech to call for abolishing televised awards
"I would love it if we would just change this whole f**king structure."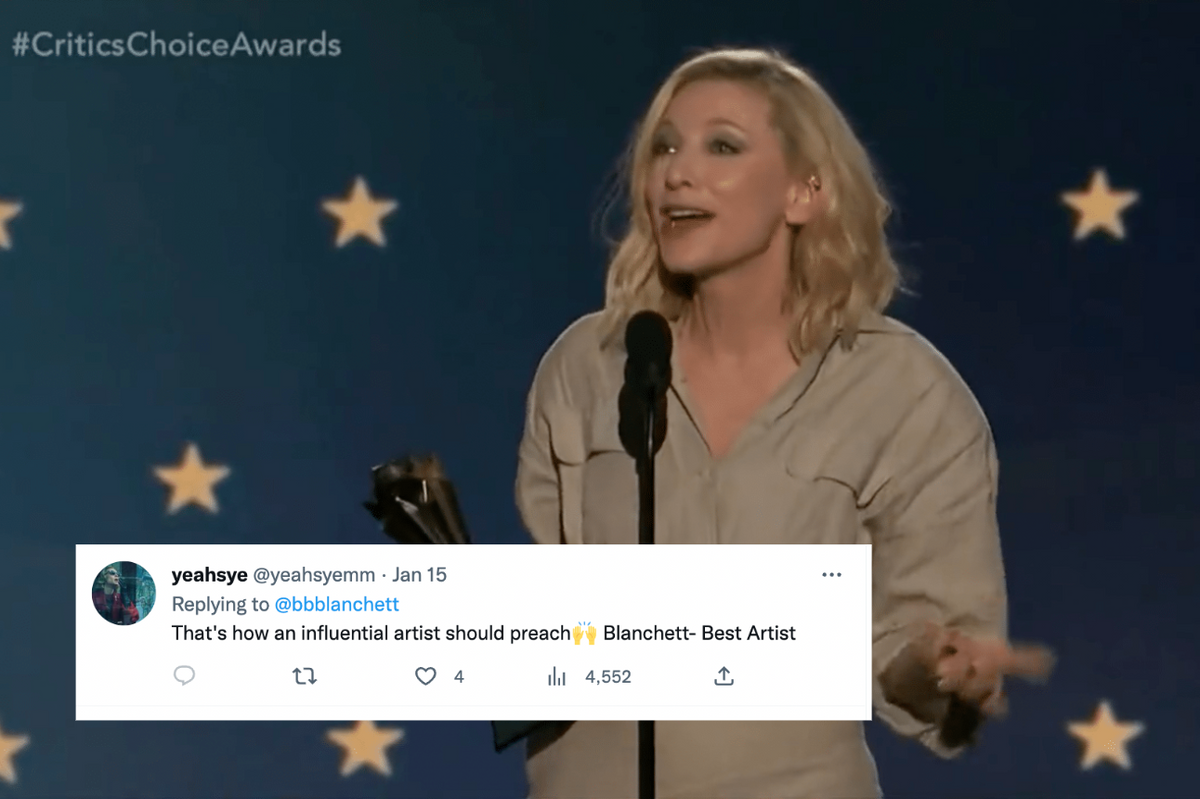 Twitter
Cate Blanchett might be taking home awards for her portrayal of a disgraced composer and titular character in the film "Tár." But if she had it her way, there wouldn't be an award to take home. While delivering her "Best Actress" acceptance speech at the Critics Choice Awards, Blanchett challenged the need for awards shows, calling them "televised horse races."
She didn't mince words. "I would love it if we would just change this whole fucking structure."
"Why don't we just say there was a whole raft of female performances that are in concert and in dialogue with one another?" she said to the audience, celebrating the "extraordinary" performances by her fellow nominees — Viola Davis, Danielle Deadwyler, Margot Robbie, Michelle Williams and Michelle Yeoh.
---
She continued, "because, can I tell you, every single woman with a television, film, advertising, tampon commercials — whatever — you're all out there doing amazing work that is inspiring me continually. So thank you. I share this with you all."
Watch below:
Cate Blanchett said to stop pitting women against each other and she's so right!#CriticsChoiceAwardspic.twitter.com/L8gGuTEpvi

— Rina (@bbblanchett) January 16, 2023
To be fair, she kind of has a point. While it's a good thing to recognize great work, art is subjective and unquantifiable. It's not a sport, where there are clear cut rules as to what makes a winner a winner. Perhaps this system of picking one person above another in a creative field is outdated, not to mention unhealthy with the way it can inherently pit people against one another.
Competition is a natural part of the human condition. And clearly—as indicated by the widespread popularity of competition shows—it has its place in entertainment. However, what Blanchett seems to be arguing is that where competition largely divides us, creativity does the opposite, connecting us to our empathy and to each other. Not taking that into account largely misses the point of art altogether.
Perhaps it's time to have a new system in place that does away with the shiny trophy and simply celebrates artists for their work. Odds are, they didn't get into the industry for accolades anyway.