Heroes
Arab and Jewish medical staff in Israel unite to remind the world they are not enemies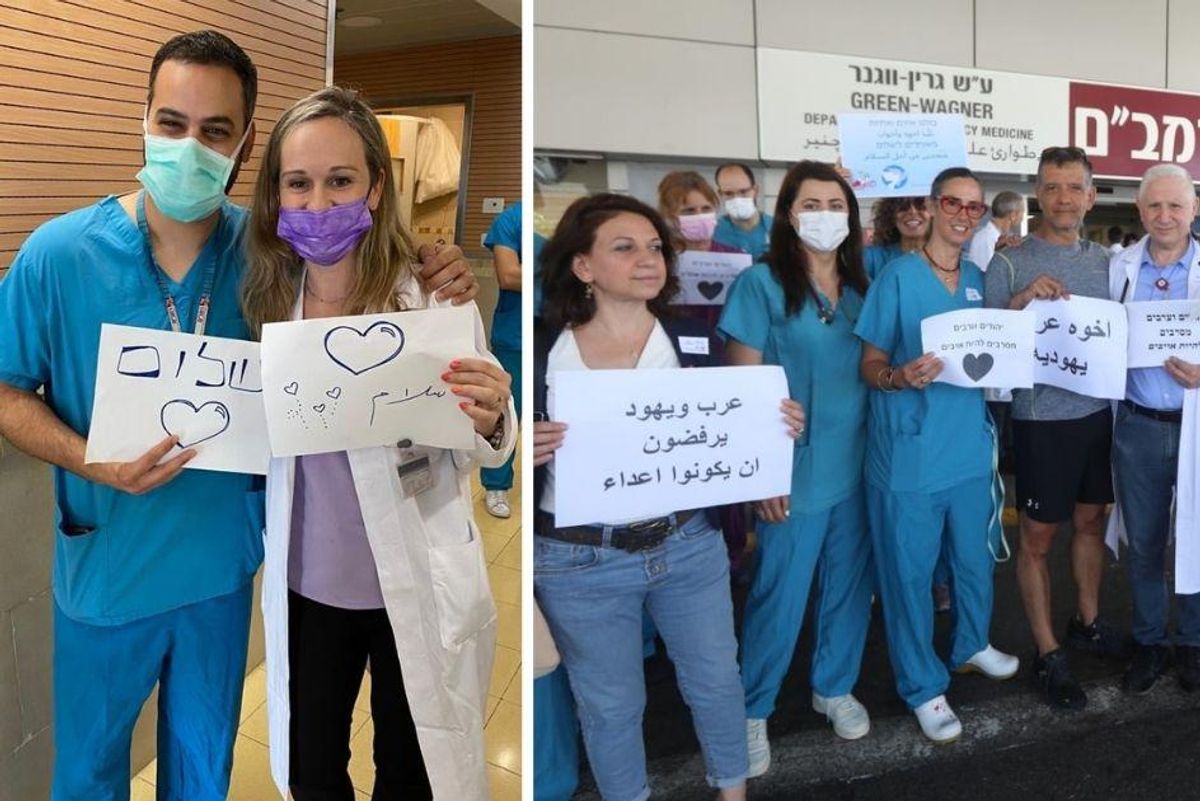 Rambam Health Care/Facebook
As the world watches longstanding tensions between Israel and Palestine escalate into violence once again, it's good to be reminded that political conflicts are not a reflection of how average human beings feel about one another. Even when violent attacks take place among civilians, even when hate crimes happen, even when some people express their prejudices loudly and passionately, there are plenty of examples of people on opposite sides of those conflicts—people that the world views as enemies—who join hands to say, "This is not who or what we are to one another."
Case in point: This inspiring show of solidarity between Arab and Jewish medical staff at Rambam Medical Center in Haifa, Israel.
The city of Haifa itself has been viewed as a model of peaceful coexistence between people of various faiths and backgrounds, its religiously and ethnically diverse population avoiding most of the violence seen in other large Israeli cities over the years. Living up to that reputation, in recent weeks, Jewish medical staff at Rambam Medical Center have taken extra shifts to give their Muslim coworkers time off for the Eid al-Fitr holiday, and Arab staff have done the same for their Jewish coworkers to give them time off during Shavuot.
On May 12, as violence escalated, Rambam's medical teams shared photos of Arab and Jewish medical personnel standing arm in arm with signs of peace and coexistence written in Arabic and Hebrew on Facebook.
---
"Three turbulent days and the escalation in Israel's security situation has led Rambam Health Care Campus employees to send an important message to the general public – we are together," the post states. "The medical staff, nursing staff and employees from other sectors across the hospital are united in these difficult days under the umbrella of peace, coexistence, unity, and solidarity, and many of them chose to take part in a campaign showing colleagues and friends from different religions working side by side to provide the best possible healthcare. These individuals were photographed together, carrying signs of peace and seeking to convey this important message."
The post also included the text of a letter sent to employees from the hospital's director, Michael Halberthal:
"Dear Rambam Employees,
We are all witnessing the recent events in the country, which are characterized by great tension and violence.
Rambam is a hospital where members of all denominations and religions from all walks of life, work side by side. We are all united around only one goal - to help our patients recover and make their hospitalizations easier.
Each of us holds diverse personal opinions and worldviews, but all of these are irrelevant to our shared mission in the hospital.
I hope and believe that Rambam, as a family with differences, will remain an island of sanity within the uneasy reality around us, standing together as we have done during all of the difficult trials we have experienced in recent years.
Therefore, when we, the employees from all the different sectors, enter the hospital and put on our work clothes, we leave the turbulent world behind us and concentrate on our shared goals.
We have built a special "home" here, one that we nurture as a place of harmony and inclusivity. One of which I am personally proud to be a part. Let us keep it going together."
The staff took that message to heart and organized a "solidarity rally" with dozens of Arab and Jewish doctors, nurses, and para-medical staff gathering together under the slogan, "Jews and Arabs refuse to be enemies."
"We work side by side in the departments and the operating rooms," the doctors who organized the rally said. "We are one big family, and this is our message."
There's no doubt that the Israeli-Palestinian conflict over land rights and political recognition is complicated. When you have a centuries-long quagmire of power, oppression, religious prejudices, historical injustices, and more, violence is a natural—though not inevitable—result. While people around the world may feel compelled to protest or support one side or the other for reasons they feel are totally justified, it's heartening to see people on the ground, who live and work with one another, rejecting the idea that they are enemies and embracing one another as fellow human beings sharing a common goal.
The vast majority of people simply want to live in peace. Thank you, staff of Rambam Health Care, for reminding the world of that truth so beautifully.