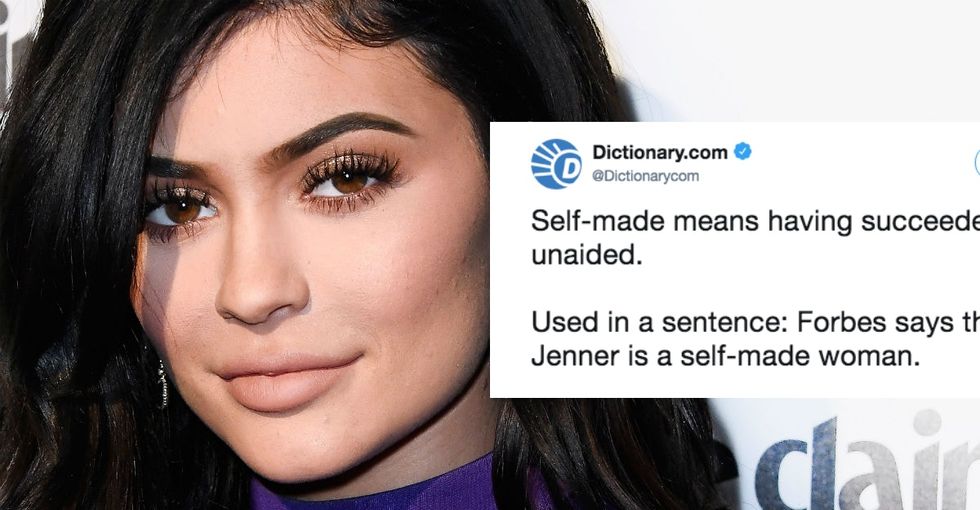 Newsflash: Kylie Jenner is really, really wealthy.
Forbes just estimated her total worth, conservatively, at $900 million.
Most of that wealth comes from the 20-year-old's young cosmetics brand, Kylie Cosmetics, which Forbes (again, conservatively) valued at $800 million. Her astonishing wealth landed Jenner a place on Forbes' 2018 list of America's Richest Self-Made Women.
---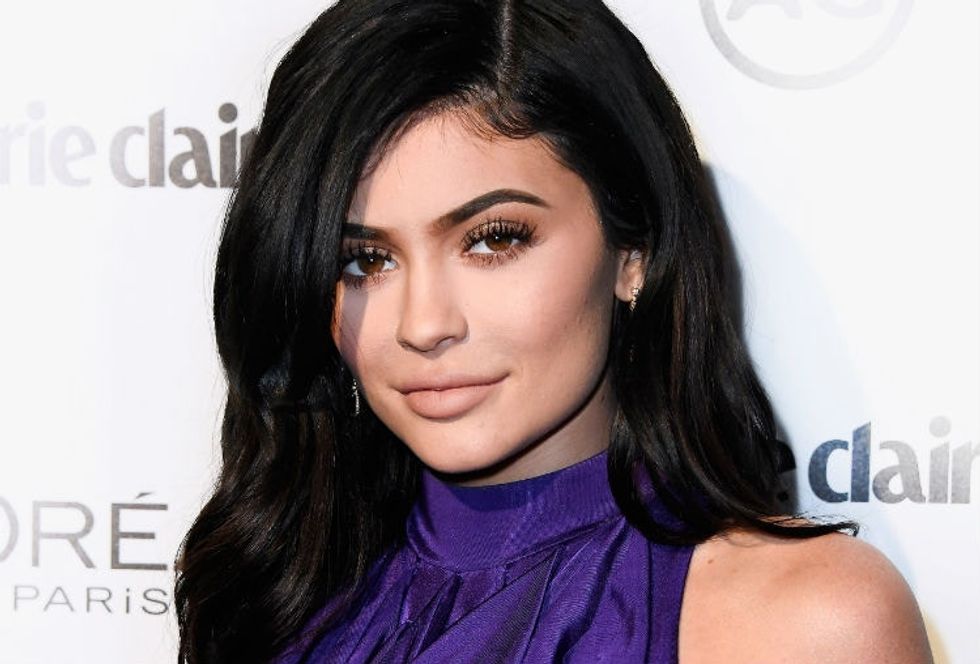 Photo by Frazer Harrison/Getty Images.
"Another year of growth will make her the youngest self-made billionaire ever, male or female," the outlet reported, noting she'll have edged out Facebook founder Mark Zuckerberg (who became a billionaire at age 23) by two birthdays.
But Jenner's isn't exactly a rags-to-riches story. The youngest child in the Kardashian-Jenner crew was already starring in her family's reality TV series and swimming in endorsement deal cash before her 18th birthday. If your zip code does, in fact, decide your destiny, Jenner's Calabasas, California, upbringing has paved the way to a life of luxury.
It's easy to understand why Forbes' "self-made" distinction raised plenty of eyebrows.
"Calling Kylie Jenner self-made without acknowledging anywhere the incredible head start she had is what allows people to turn around and look at poor people and ask them why they haven't become billionaires yet," read one viral tweet that's amassed over 280,000 likes as of this writing.
The backlash was swift (and, at times, kind of funny).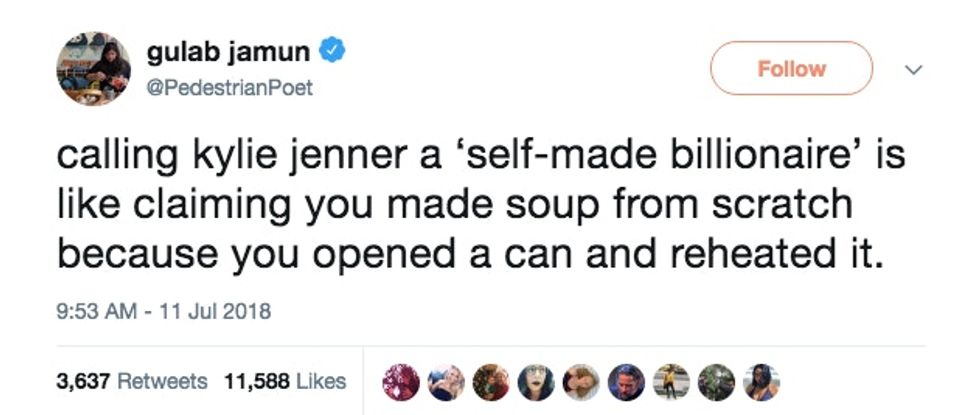 Image via Gulab Jamun/Twitter.
Disgruntled readers even pushed Forbes to note that the publication "fully acknowledges that within the term 'self-made' there are many who are more self-made than others," a spokesperson noted to CNN. A glimpse through the full list of women — on which Jenner ranked amongst the likes of Oprah Winfrey, Sheryl Sandberg, and Taylor Swift — further illustrates that point.
In peak internet form, however, then there was a backlash to the backlash.
Some argued the "self-made" distinction is fair, while others justifiably suggested the intense backlash was over-the-top and sexist.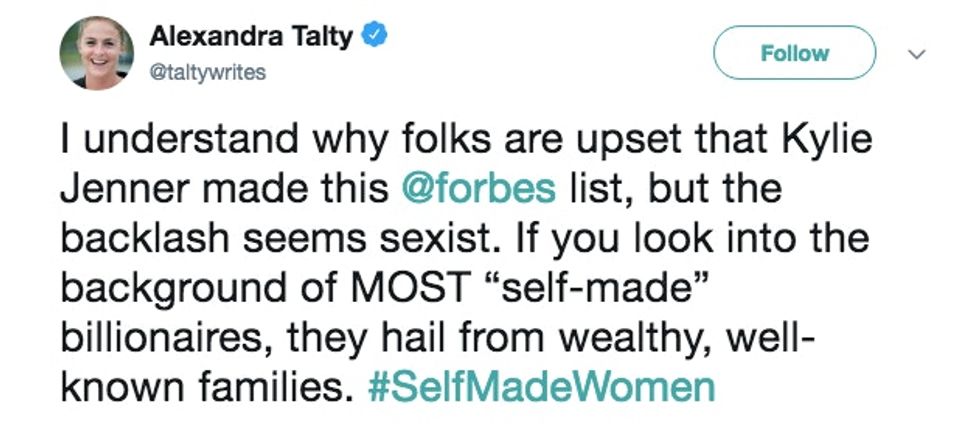 Image via Alexandra Talty/Twitter.
Even Dictionary.com threw in its two cents on the matter, clarifying on Twitter that "self-made means having succeeded in life unaided."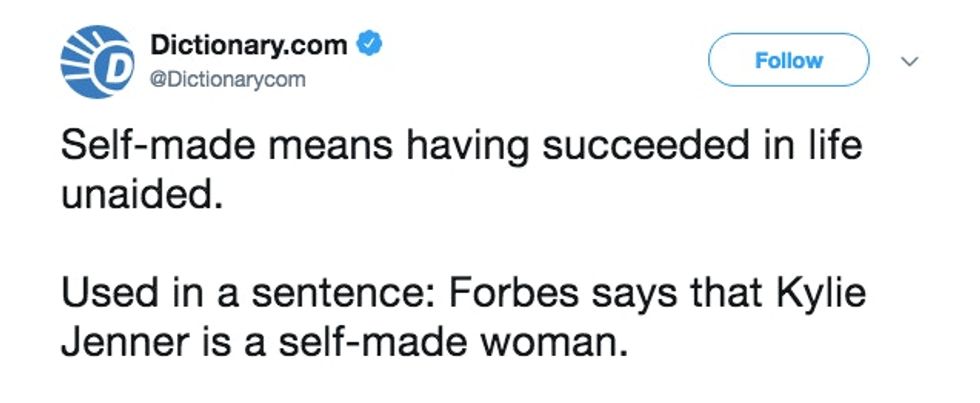 Image via Dictionary.com/Twitter.
Intentional or not, Dictionary.com's input further stirred the pot, with outlets like People magazine quipping, "Dictionary.com Shades Kylie Jenner After Forbes Calls Her a 'Self-Made' Almost Billionaire."
As all things internet tend to do, the conversation snowballed into a sour, divisive, and oversimplified water cooler debate.
But then Roxane Gay chimed in.
And in under 280 characters, the acclaimed author gave some much needed perspective. "It is not shade to point out that Kylie Jenner isn't self-made," she wrote on Twitter. "She grew up in a wealthy, famous family. Her success is commendable, but it comes by virtue of her privilege."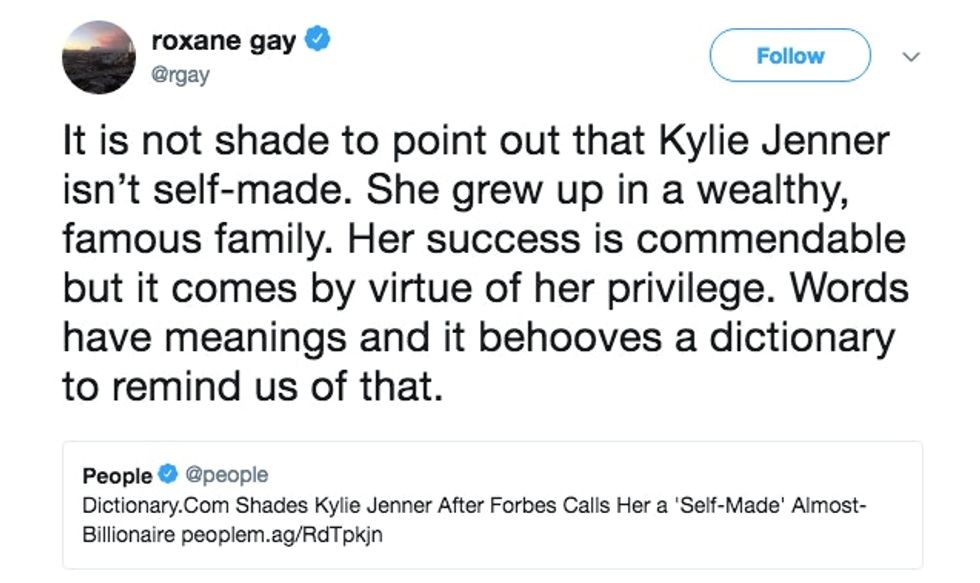 Image via Roxane Gay/Twitter.
"Words have meanings," she concluded. "And it behooves a dictionary to remind us of that."
Gay's tempered response touched on an important point.
Privilege — whether it comes down to skin color, sexual orientation, gender, ability, or money — doesn't mean a person hasn't worked hard or faces no hurdles, as Gay suggested in noting Jenner's "commendable" success. But privilege does mean a person's benefited from a system that — in some way, shape, or form — gives them a leg up.
Or, in Jenner's case, many millions of legs up.
Jenner may be a hardworking, business-savvy entrepreneur, but she's also benefitted from an incredible amount of privilege that's served as the springboard to her status as an almost-billionaire. Both things can be true at once.
And acknowledging that privilege isn't "throwing shade" or "lambasting" Jenner — it's simply recognizing that maybe "self-made" isn't the most accurate term to describe her wealth.
Words matter, after all.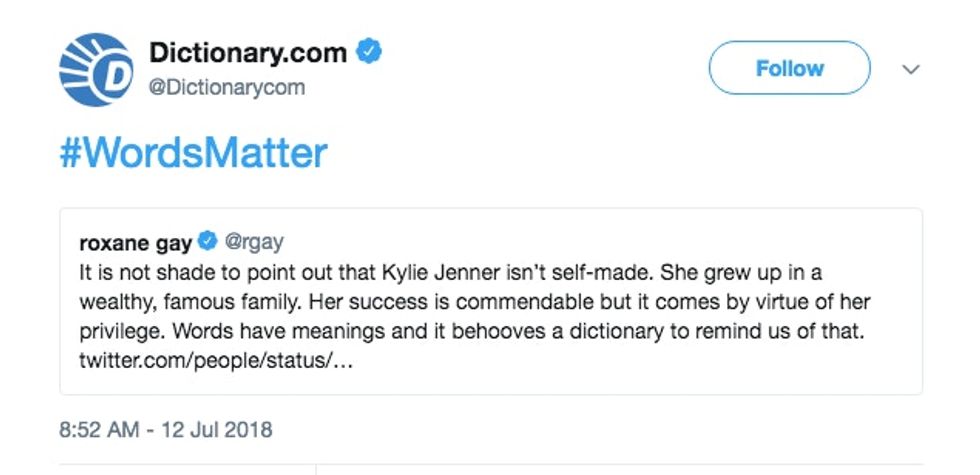 Image via Dictionary.com/Twitter.