On March 1, a photo of a little girl staring at Michelle Obama's new portrait at the Smithsonian's National Portrait Gallery went viral.
Taken by a North Carolina man named Ben Hines, the image captured a 2-year-old girl named Parker Curry in a moment of awe. Hines' Facebook post, in which he said he was "delighted to wait in line behind this fellow art lover & hopeful patriot," went mega-viral, racking up tens of thousands of shares and melting the hearts of everyone in its path.
On its own, that's a really freakin' cute story, but it gets even better — a lot better.
---
Donna Hines & I made a pilgrimage today and we were delighted to wait in line behind this fellow art lover & hopeful patriot.

Posted by Ben Hines on Thursday, March 1, 2018
On March 5, Parker and her mom, Jessica, appeared on BuzzFeed's AM to DM show on Twitter. "I want to see [Michelle Obama]!" Parker said.
"I want you to see Michelle Obama too," added AM to DM host Saeed Jones. "What would you say to her?"
"She's a queen!" Parker replied. Again, this is just major cuteness overload — but this story isn't done just yet.
On March 6, Michelle Obama(!!!) posted a video of her dancing with little Parker.
"Parker, I'm so glad I had the chance to meet you today (and for the dance party)!" wrote the former first lady. "Keep on dreaming big for yourself ... and maybe one day I'll proudly look up at a portrait of you!"
The short clip shows the two rocking out to Taylor Swift's "Shake It Off" while Jessica smiles in the background.
The heart-melting cuteness of the story aside, this is exactly what Obama was talking about during the portrait's unveiling.
One of the most iconic moments of Obama's speech at the unveiling was when she talked about why representation matters — especially to young girls.
"I'm also thinking of all the young people, particularly girls and girls of color, who will see an image of someone who looks like them hanging on the wall in this great American institution," she said. "I know the impact that will have on their lives, because I was one of those girls."
Less than a month after going public and the portrait is already inspiring girls to dream big.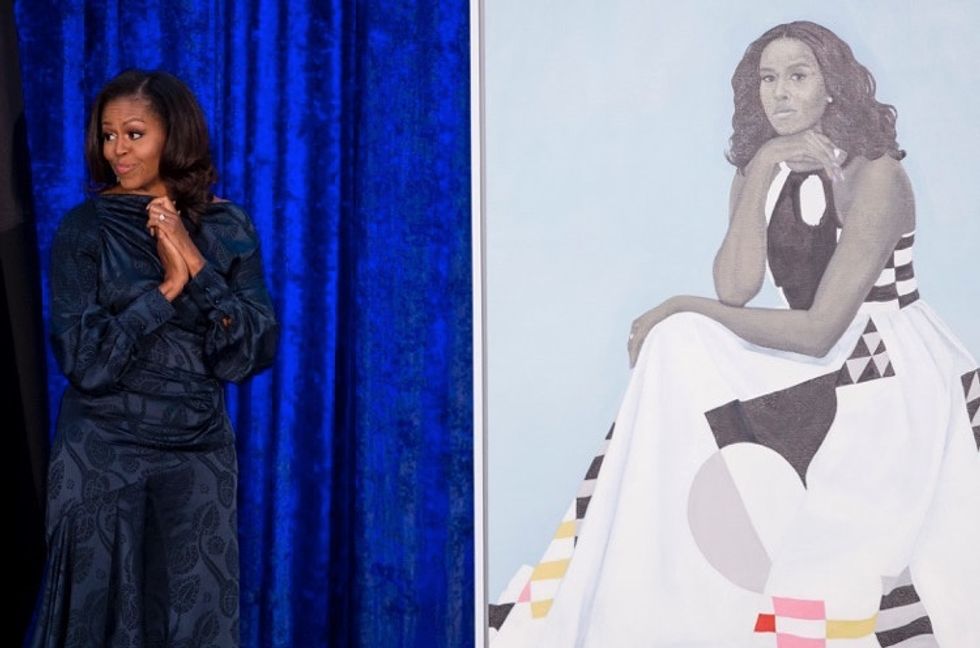 Michelle Obama looks on as her portrait is unveiled on Feb. 12. Photo by Saul Loeb/AFP/Getty Images.