True
Nike's Made to Play
Tucked away in a remote village in the Fujian province of China, there is a school that is home to more than twice as many tires as students. And for good reason.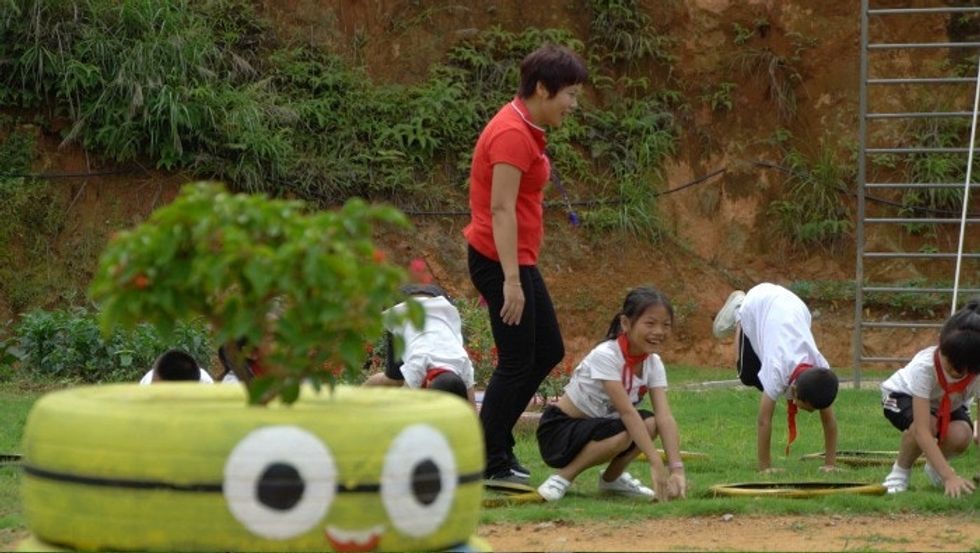 Lin with her students. All photos via Nike.
Tires dot the playground outside of the white, three-story Xianling Primary School — and it is surprisingly beautiful. Some tires are piled on top of each other, while others are tied loosely together. Most have been painted colorfully and are covered with cartoon characters.
<p><strong>While the scene may be unusual, it turns out these tires are there to let the kids explore their creativity, play, and be active.</strong> Because the tires come in all sizes and shapes, they can be assembled in multiple ways, enabling students to turn them into hula hoops, vaulting horses, swings, and even wheelbarrows. And as an added bonus: they don't cost the school anything at all. </p><p><strong>"People lovingly call us 'the tire school,'" says PE teacher Meizhen Lin, who "discovered," almost by accident, this unconventional learning tool for her students.</strong></p><p class="shortcode-media shortcode-media-rebelmouse-image"><img type="lazy-image" data-runner-src="https://assets.rebelmouse.io/eyJhbGciOiJIUzI1NiIsInR5cCI6IkpXVCJ9.eyJpbWFnZSI6Imh0dHBzOi8vYXNzZXRzLnJibC5tcy8xOTM5NzU0MC9vcmlnaW4uanBnIiwiZXhwaXJlc19hdCI6MTYwOTI1NTAwMH0.3HnTgN5MVGA_OqW7dTBcvxJdyB_L0KJRtg8Wnkl7Jlo/img.jpg?width=980" id="f6440" class="rm-shortcode" data-rm-shortcode-id="b98549cc57305627bf5670ea59cf953a" data-rm-shortcode-name="rebelmouse-image"><small class="image-media media-caption" placeholder="add caption..."></small></p><h2>Lin first got the idea eight years ago, when she began teaching at the school. </h2><p>With limited funding and little equipment for sports, PE "classes" consisted of running around the playground with no real direction. This was partly because the school had never really had a PE teacher before. </p><p class="shortcode-media shortcode-media-rebelmouse-image"><img type="lazy-image" data-runner-src="https://assets.rebelmouse.io/eyJhbGciOiJIUzI1NiIsInR5cCI6IkpXVCJ9.eyJpbWFnZSI6Imh0dHBzOi8vYXNzZXRzLnJibC5tcy8xOTM5NzU0MS9vcmlnaW4uanBnIiwiZXhwaXJlc19hdCI6MTY0OTI2MDM0M30.MoX0i7LUZkOCsZL3132quG8xXHAVxlBiFLNAPujnCAQ/img.jpg?width=980" id="f4d17" class="rm-shortcode" data-rm-shortcode-id="808584add6efbb28a05dccb953efb730" data-rm-shortcode-name="rebelmouse-image"><small class="image-media media-caption" placeholder="add caption...">Lin with her students.</small></p><p><strong>The student body at Xianling Primary School</strong> <strong>is mostly made up of "left-behind children" — kids who live in rural areas with extended family while their parents work in urban centers. </strong></p><p>"I am also from around Zianling, [so] I understand the difficult time these kids are going through," says Lin.  </p><p>Lin's father is a farmer and had barely earned enough to support his four kids, but he recognized that Lin was good at sports, so he worked extra hours so that she could go to college and earn a degree in physical education. Thanks to her dad's efforts and her hard work in school, Lin graduated college with a Bachelor's degree in her chosen field in 1999, and started working as a PE teacher at the school. </p><p>However, because Xianling Primary School is located in such a remote area, it was not a prestigious posting for the newly qualified Lin — she wasn't sure if she'd like teaching there. </p><p><strong>It didn't take her long to see herself in the kids though.</strong> In fact, teaching them made her recognize how fortunate she was to have broken the cycle of rural life. Now she was in a unique position to maybe help them do the same.</p><p class="shortcode-media shortcode-media-rebelmouse-image"><img type="lazy-image" data-runner-src="https://assets.rebelmouse.io/eyJhbGciOiJIUzI1NiIsInR5cCI6IkpXVCJ9.eyJpbWFnZSI6Imh0dHBzOi8vYXNzZXRzLnJibC5tcy8xOTM5NzU0Mi9vcmlnaW4uanBnIiwiZXhwaXJlc19hdCI6MTYzNzg0OTc5OX0.WuAVtqLnQhjqctLGBf-AiOjgtj-EB6Qw4t2glLyKIMQ/img.jpg?width=980" id="c4155" class="rm-shortcode" data-rm-shortcode-id="5368dcdecdcd8a9bce437716fb4ee027" data-rm-shortcode-name="rebelmouse-image"><small class="image-media media-caption" placeholder="add caption...">Lin cleaning and prepping old tires.</small></p><h2><strong>During one class, Lin remembers asking her students what their favorite toys were — but instead of a bunch of excited responses, all she got was total silence. </strong></h2><p>Her heart sank. Most of her students' families simply couldn't afford to buy any toys for their kids. </p><p><strong>It was in that moment that Lin became determined to find a way to help these kids learn (and love) to play, using whatever resources she could find. </strong></p><p>Later that same day, when driving home from work, she spotted a kid playing with an abandoned tire on the street. Thinking this might be a dangerous place for him to play, she pulled over and tried to persuade the kid to stop.</p><p>"The kid said, 'But I like it, it's super fun to play with,'" Lin recalls. </p><p class="shortcode-media shortcode-media-rebelmouse-image"><img type="lazy-image" data-runner-src="https://assets.rebelmouse.io/eyJhbGciOiJIUzI1NiIsInR5cCI6IkpXVCJ9.eyJpbWFnZSI6Imh0dHBzOi8vYXNzZXRzLnJibC5tcy8xOTM5NzU0My9vcmlnaW4uanBnIiwiZXhwaXJlc19hdCI6MTYwODc2ODE2OH0.7Gr13b6eMG6xY_bx6MRyZxVjZVSYjmTvKvPMrXx3zPQ/img.jpg?width=980" id="5390e" class="rm-shortcode" data-rm-shortcode-id="b915264cb70679adad63ae183a9fd0f4" data-rm-shortcode-name="rebelmouse-image"><small class="image-media media-caption" placeholder="add caption..."></small></p><p>That chance encounter gave her an idea.</p><h2>"I couldn't sleep that night. I kept thinking about what I could possibly do with the tires, if kids liked them so much."</h2><p><strong>Lin started collecting abandoned tires from auto-repair shops in her village. </strong>She rolled the tires to the school, carefully cleaned them up, and then turned them into things that she could use in her PE classes, like a wheelbarrow.</p><p>To make the wheelbarrow, she used big, thick truck tires from trucks, put small wheels on the bottom and then attached elastic string on the sides. This way, one student could sit in the hollow of the tire while another student dragged it along by the string.</p><p>"My kids love the tire wheelbarrow I made them," she says proudly. "They literally spring out of the classroom when the bell rings just to get to it." </p><p class="shortcode-media shortcode-media-rebelmouse-image"><img type="lazy-image" data-runner-src="https://assets.rebelmouse.io/eyJhbGciOiJIUzI1NiIsInR5cCI6IkpXVCJ9.eyJpbWFnZSI6Imh0dHBzOi8vYXNzZXRzLnJibC5tcy8xOTM5NzU0NC9vcmlnaW4uanBnIiwiZXhwaXJlc19hdCI6MTYyMTYxNzE5MX0.GSL4VpLj-lCcnIkK-5TQ7ddCMDrTWXi2ge4PbKqnxgg/img.jpg?width=980" id="ab26d" class="rm-shortcode" data-rm-shortcode-id="7734632c8e1d0204a1d12362efd52a08" data-rm-shortcode-name="rebelmouse-image"><small class="image-media media-caption" placeholder="add caption...">One of Lin's students riding in a tire wheelbarrow.</small></p><p>Since she started turning tires into toys, Lin's students smile a lot more. They're also becoming more physically active and are becoming physically stronger.</p><p>"Kids used to not be able to stay in the sun for more than 20 minutes without complaining," says Lin. "Now our 40-minute PE class feels like a breeze."</p><p><strong>In fact, her creations are such a hit that the students are now helping Lin find more tires — and other reusable objects, such as water bottles and old clothes — around town to work with. The kids are also involved in each step of making new innovations — from designing and engineering to decorating. </strong></p><p class="shortcode-media shortcode-media-rebelmouse-image"><img type="lazy-image" data-runner-src="https://assets.rebelmouse.io/eyJhbGciOiJIUzI1NiIsInR5cCI6IkpXVCJ9.eyJpbWFnZSI6Imh0dHBzOi8vYXNzZXRzLnJibC5tcy8xOTM5NzU0NS9vcmlnaW4uanBnIiwiZXhwaXJlc19hdCI6MTYzNjY2MjA4OH0.HTlCA1RIjCYsEq7chXRUC2OWYPvnvWqnFBHQggLQhGs/img.jpg?width=980" id="94e16" class="rm-shortcode" data-rm-shortcode-id="0a097e70457c37199b312fb2493f30a5" data-rm-shortcode-name="rebelmouse-image"><small class="image-media media-caption" placeholder="add caption..."></small></p><h2>Lin's great work hasn't gone unnoticed. This year, she was one of 100 PE teachers in China who won Nike's Active Schools Innovation Award.</h2><p>This award, which was bestowed on her by Yao Ming, China's legendary basketball player and former Houston Rockets team member, is given to PE teachers like Lin, who bring innovation to sports in schools. Speaking shortly after receiving the award, Lin could barely contain her excitement.</p><p>"I still can't believe a bunch of tires brought me this honor," she said. </p><p class="shortcode-media shortcode-media-rebelmouse-image"><img type="lazy-image" data-runner-src="https://assets.rebelmouse.io/eyJhbGciOiJIUzI1NiIsInR5cCI6IkpXVCJ9.eyJpbWFnZSI6Imh0dHBzOi8vYXNzZXRzLnJibC5tcy8xOTM5NzU0Ni9vcmlnaW4uanBnIiwiZXhwaXJlc19hdCI6MTY1MDQ2MDg1Nn0.Va0dwBbzRn1STlhWAcY-zpqpVvEWPLD6TBv8T1gNunI/img.jpg?width=980" id="571c1" class="rm-shortcode" data-rm-shortcode-id="42fd4e1534c95a36fc457c929e3b5d20" data-rm-shortcode-name="rebelmouse-image"><small class="image-media media-caption" placeholder="add caption...">Meizhen Lin with Yao Ming at Nike's Active Schools Innovation Award. Photo via Nike.</small></p><p>Her efforts earned her fame in her hometown and all across China. Nike created a short film of her teaching in school, which racked up 3 million views within just a few hours of being posted on Chinese social media. </p><div><div data-card="youtube" data-reactroot=""><div><span style="display:block;position:relative;padding-top:56.25%;" class="rm-shortcode" data-rm-shortcode-id="8250cb05b05bda23bc0f42fe49f5f614"><iframe type="lazy-iframe" data-runner-src="https://www.youtube.com/embed/XtbPPP7xhVA?rel=0" width="100%" height="auto" frameborder="0" scrolling="no" style="position:absolute;top:0;left:0;width:100%;height:100%;"></iframe></span></div></div></div><h2><strong>But her new-found local fame won't divert Lin from her passion to help her students find joy in sport and play.</strong></h2><p>When Lin first arrived at Xianling Primary school, she had only planned to work there for two years in order to meet the requirements needed to get a promotion and a new job elsewhere. But now, she has no intention of leaving.</p><p>"I just don't think any promotion could compare with these kids," she says. It is clear that she still has a few more tricks up her sleeve for getting the kids moving.</p>