More
These men bravely shared their own harrowing abusive-relationship stories.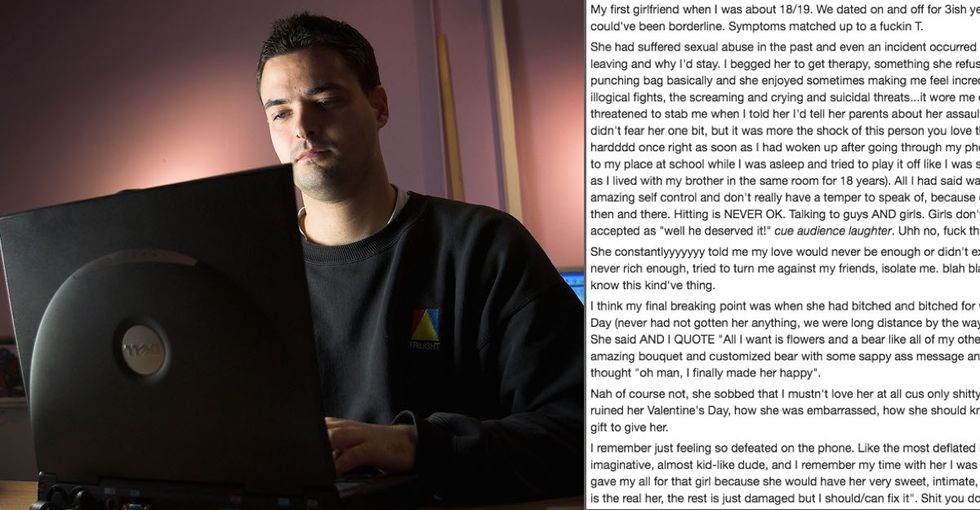 This article originally appeared on 06.14.17

Many of us are familiar with the signs of an abusive relationship. Physical violence is only one of many. Extreme jealousy, verbal insults, controlling behavior, and victim blaming are all hallmark signs that someone is an abusive partner, according to the National Coalition Against Domestic Violence.
What we rarely talk about, though, is that for as often as men are the perpetrators of abuse, they can just as easily be victims.
---
Hundreds of men recently took to Reddit to share their own harrowing stories of abusive relationships.
As many as 1 in 4 men have been victims of some form of physical abuse by a partner. For women, it's as many as 1 in 3.
That's a staggering percentage of people.
The grim and heartbreaking thread helped shed some light on an under-recognized reality: Abuse is abuse, and it has no gender.
Here are some of the main takeaways from the powerful thread, which is worth a full-read.
Note: Last names have been left out to protect victims of abuse.
1. The support system for men who are victims of abuse is extremely poor.
Robert, who shared his story of an abusive relationship in the thread, wrote that his ex would threaten him and lash out physically, but no one would ever take his complaints seriously.
"She would throw knives at stuff and wreck the house," he wrote. "I went through 16 police calls before one of them finally gave her a charge for assault."
When the two were finally separated (he writes that she was arrested on a separate charge), he had to turn to information meant for battered women for help putting his life back together. The sad truth is that the shelters and groups out there dedicated to helping men in abusive relationships are depressingly scarce.
2. Men can be victims of physical abuse too. Often at the detriment of their "manhood."
It's hard enough for many men being abused to find people who'll believe them. It's made even tougher that they might be made out to look like less of a man if they come clean.
"It's like I was supposed to just take it because I was a man," Robert wrote.
Tom, another man who shared his story, wrote that he was "embarrassed" when his ex would hit him during arguments, in public, but that he never even considered it abuse until long after they broke up.
Research supports the idea that men might be even less likely than women to report physical abuse. And we wonder why phrases like, "Man up!" are so harmful.
3. The patterns of abusive behavior are consistent whether abusers are men or women.
Another Reddit user, William, said he wasn't allowed to hang out with certain people his partner didn't like,and the controlling and manipulative behavior took a heavy toll on him. "I knew deep down no matter what I did to try and make her happy it was never good enough. I never felt so useless," he wrote.
Many men in the thread, like Richie, wrote that the psychological trauma from their abusive relationship was the most difficult thing to reconcile and recover from. Mood swings, illogical fights, and suicidal threats from Richie's partner pushed him to a breaking point.
"It wore me down to the bone," he wrote. "I was a shell of myself at one point."
The original thread on Reddit makes one thing abundantly clear: The problem of partner violence and abuse is likely much bigger than many people realize.
Over 10 million men and women in the United States are victims of physical domestic abuse every year; a number that doesn't include behaviors like lying, threats, and manipulation.
Toxic concepts of masculinity can sometimes lead to men becoming abusers, but as this thread shows, they can also paralyze men who need help. Fixing our culture's broken idea of what makes a man could be a crucial step toward ending domestic violence and abuse for both men and women.
In the meantime, we can listen to the victims' stories. Everyone, man or woman, deserves to be heard.
If you or someone you know is in an abusive relationship and wants to seek help, start by contacting the National Domestic Violence Hotline, which offers support for men, women, and children.
This post was updated 6/14/2017.