Health
Trying to eat healthier? Try these 4 totally doable tricks.
Music
Angelina Jordan's AGT performance was instantly legendary.
Health
Louis M. Profeta MD explains why he looks at the social media accounts of dead patients before talking their parents.
Around 1 a.m. on April 24, semi-truck drivers in the Oak Park area of Michigan received a distress call from area police: An unidentified man was standing on the edge of a local bridge, apparently ready to jump onto the freeway below.

Those drivers then did something amazing. They raced to the scene to help — and lined up their trucks under the bridge, providing a relatively safe landing space should the man jump.
Fortunately, he didn't.
The impressive line-up wasn't a coincidence — the drivers were prepared for exactly this sort of situation.Sgt. Jason Brockdorff of the Huntington Woods Police Department told The Detroit News that the response was something local police and truck drivers had actually trained for. But what was unusual was the sheer number of drivers who responded to the call.
"That's a practice we use if we have a jumper," Brockdorff said. "We try to do it every time, to lessen the distance someone would travel if they were to jump. Fortunately, that didn't happen."
The incident lasted nearly four hours, into the early morning. However, once the trucks were in place, the police were able to more comfortably negotiate with the unidentified man.
Eventually, the man walked off the bridge on his own and is currently receiving medical help.
In a pair of tweets, the local police department called attention to the incident to remind people in similar situations of the importance of seeking mental health services (emphasis mine):
This photo does show the work troopers and local officers do to serve the public. But also in that photo is a man struggling with the decision to take his own life. Please remember help is available through the National Suicide Prevention Lifeline at 1-800-273-8255.
You can also call a loved one, member of the clergy or 911. There are so many people that can help you make the choice to get help and live! It is our hope to never see another photo like this again.


Working together, the police and everyday strangers saved a life.
Ordinary people heeded the call of service to help a fellow person who was struggling. It's a powerful image that's impossible to ignore, and a reminder of humanity at its best.
This article originally appeared on 04.24.18
Get stories worth sharing delivered to your inbox
Health
Sabrina Benaim eloquently describes what it's like to be depressed.
Health
A childhood game went very wrong.


A childhood game can go very wrong in the blink of an eye.
"You'll never get me!"
"Freeze! Put your hands up."
If you've ever played cops and robbers, you know how the game goes.
John Arthur Greene was 8 and he was playing that game with his older brother Kevin. Only the two brothers played with real guns. Living on a farm, they were both old hands at handling firearms by their ages.
The blast from the gun must have startled them both.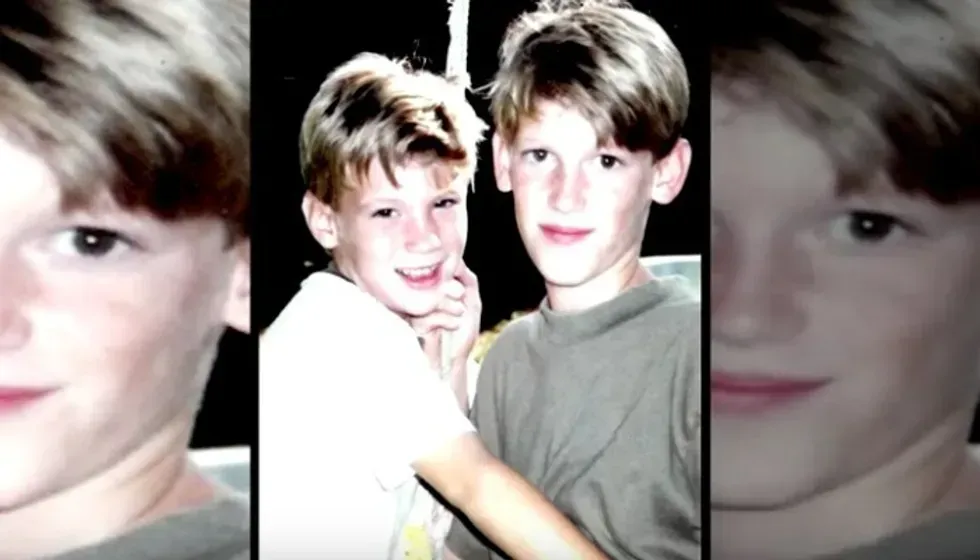 John Arthur Greene (left) and his brother Kevin.
Image from "American Idol"/YouTube.
"We were always extremely safe. They were never loaded," John said.
Except this time it was. And John's brother died in his arms while he watched.
It happens more often than you would ever want to imagine.
In federal data from 2007 to 2011, which is likely under-reported, an average of 62 children were accidentally killed by firearms per year.
Here's a chilling example from Everytown for Gun Safety:
"In Asheboro, North Carolina, a 26-year-old mother was cleaning her home when she heard a gunshot. Rushing into the living room, she discovered that her three-year-old son had accidentally shot her boyfriend's three-year-old daughter with a .22-caliber rifle the parents had left in the room, loaded and unlocked."
And the numbers may actually be getting worse.
With an increase in unfettered access to guns and philosophical opposition to gun regulations, the numbers seem to be on the rise. Here's how many accidental shootings happened at the hands of children in 2015 alone, by age: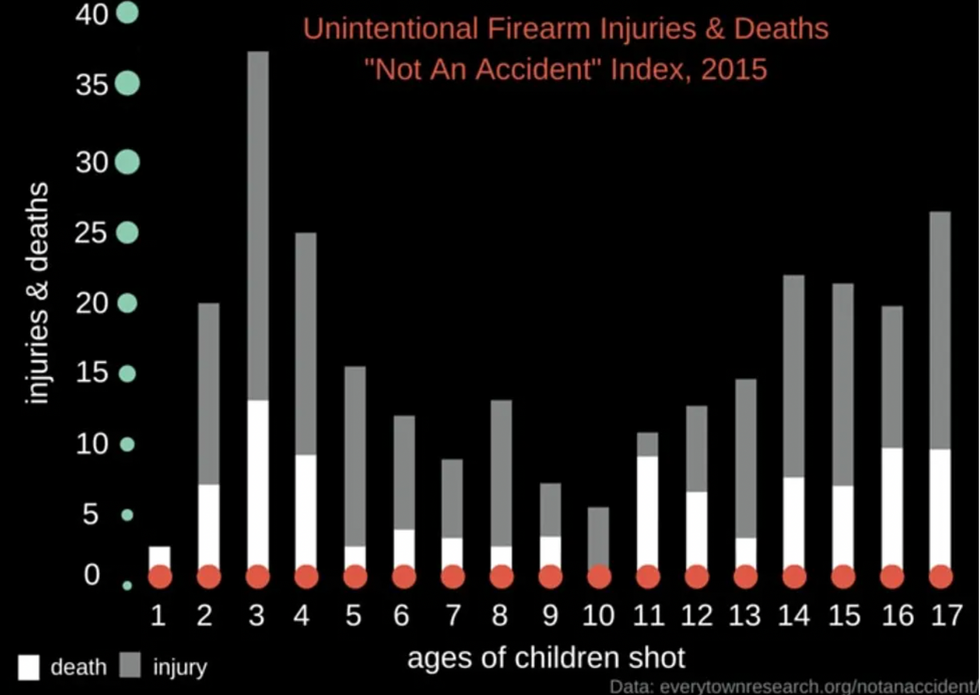 Unintentional Firearm Injuries & Deaths, 2015.
From January 19-26 of 2016 — just one week — at least seven kids were accidentally shot by another kid.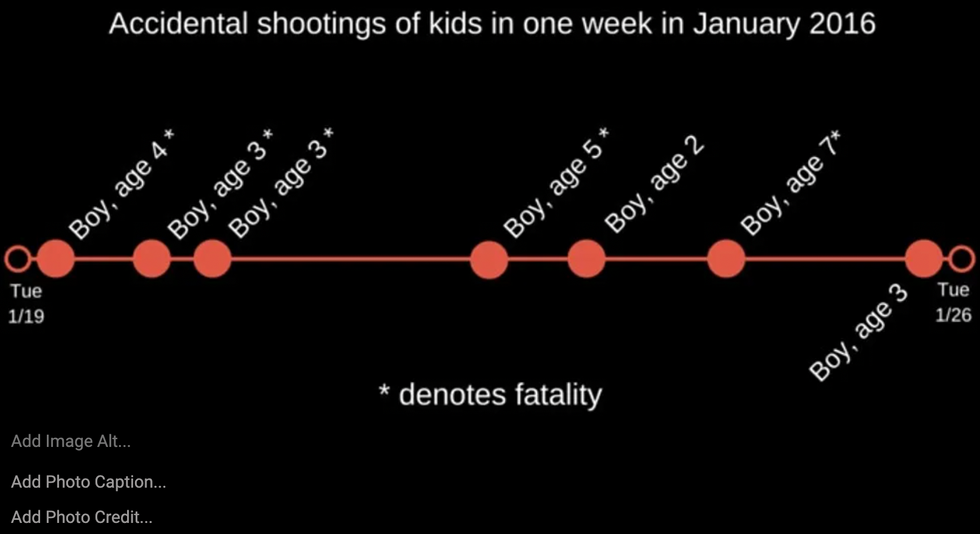 Accidental shootings of kids in one week, January 2016.
If the pace holds up for the rest of the year, America would be looking at over 300 accidental shootings of children, in many cases by children, for the year. That's far too many cases of children either carrying the guilt and pain of having shot a loved one or hurting or killing themselves by accident.
John Arthur Greene has been able to manage his feelings of guilt and sorrow through music and by sharing his story for others to hear.
He told his story during an audition for the final season of "American Idol." He says music has helped him keep his brother's memory alive:
"Right now I lift him up every day and he holds me up. Music is how I coped with everything."
It's a powerful reminder. No matter how we each feel about gun safety laws, guns should always be locked away unloaded and kept separately from ammunition.
Our babies are too precious to leave it to chance.
Watch John Arthur Greene's audition for "American Idol" here:
This article originally appeared on 03.07.16
Family
This was a pretty awesome thing to do.
Get stories worth sharing delivered to your inbox