Inclusivity
A Texas bakery faced a backlash for its Pride-themed cookies. But then the allies showed up.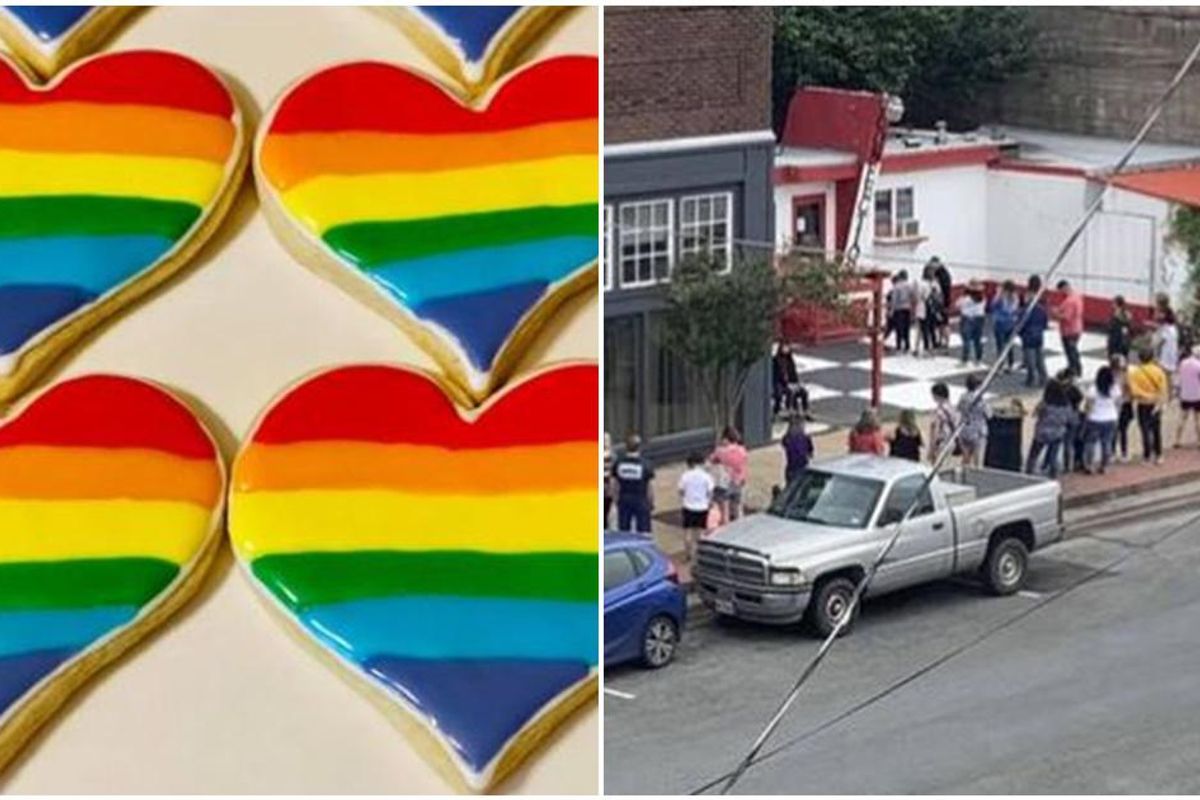 via Confections / Facebook
Confections, a bakery in the small town of Lufkin, Texas, is a wonderful example of why hate is no match for the power of acceptance, pride, and love.

Confections posted an innocuous photo of Pride-themed cookies on its Facebook page on Wednesday with the positive message of "More LOVE. Less hate. Happy Pride to all our LGBTQ friends! All lovers of cookies and happiness are welcome here."
---
But evidently, some are bothered by the idea of having "less hate" so a "significant" number of followers disliked Confections' Facebook page after the post. One customer went so far as to cancel a large order of five-dozen summer-themed cookies that had already been baked.

The small business was going to have to take a loss on the large order if no one stepped up to purchase the cookies.
"My heart is heavy," one of the owners wrote on Facebook. "Honestly I never thought a post that literally said more love less hate would result in this kind of backlash to a very small business that is struggling to stay afloat and spread a little cheer through baked goods."
After the small business made the post, the internet got wind of it and the summer-themed cookies were sold out immediately. Then, a line quickly formed around the block and the massive influx of customers cleaned out every shelf in the business.
But it didn't stop there, the next day it happened again. So, the store began baking more LGBTQ-themed cookies and its shelves were cleaned out again. When there was nothing left to purchase, customers pre-ordered cookies to send to nursing homes and civic events.

Others sent direct donations to the shop that the owners are going to send to local animal shelters.
The response has been overwhelming for the shop's owners Dawn and Miranda and their baker Felicia.
"In the 11 years we've been open we've never seen anything quite like this," Dawn wrote, adding they "are just so humbled and grateful and moved by this outpouring of love."
On Sunday, the store reported that it was hard at work making rainbow bows to celebrate Pride and baking the nursing home orders.
One Facebook commenter perfectly summed up the overwhelming reaction to Confections' story. "For every nasty and hateful person, there are 2,500 or more that are amazing and loving," Kimberly Gonzalez wrote.

"Your shop looks amazing and the hate and heartache you experienced was for a purpose," she added. "It brings me so much joy that you are receiving this amount of support. Keep doing what you love and supporting who you want. You are all amazing people and wish you all the prosperity for you and your business."
One of the most important aspects of Pride Month is visibility, but that's not limited to members of the LGBTQ community. It's a month for everyone who supports them to renew their commitment to visibility as well. For some, that's showing up to a Pride parade, for others, it's supporting allied businesses.
The story of Confections bakery is a wonderful example of Pride in action.