Education
A teacher asked a great question about superintendent pay. Then, all hell broke loose.
Her earnest question about inequality in our education system was met with a grotesque abuse of power.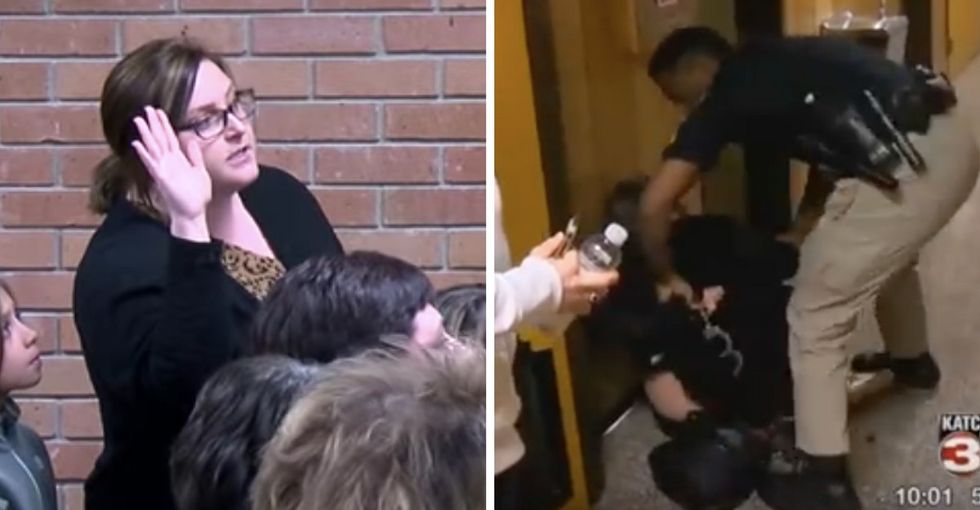 Why should a superintendent get a raise while teachers in the same district struggling to make ends meet see their paychecks flatline — year after year after year?
Teacher Deyshia Hargrave begged the question. Minutes later, she was handcuffed and placed in the backseat of a cop car.

The scene was captured below by YouTube user Chris Rosa, who attended a board meeting for Vermilion Parish Schools in Louisiana.

You can watch Hargrave begin speaking about 33 seconds in. The situation starts becoming contentious around 6:35 minutes. Hargrave is arrested at 8:35, and then walked outside in handcuffs and placed in the back of police vehicle.
---
Teacher Deyshia Hargrave was questioning the school board how they can vote to give the superintendent a raise when school employees have not gotten a raise ...
"We work very hard with very little to maintain the salaries that we have," Hargrave, who teaches middle school language arts, said during a public comment portion of the meeting, stating that she's seen classroom sizes balloon during her time at the school with no increased compensation. "We're meeting those goals, while someone in that position of leadership [the superintendent] is getting raise? It's a sad, sad day to be a teacher in Vermilion Parish."
According to comments Hargrave made to BuzzFeed News, she believes Superintendent Jerome Puyau was already making $110,000 before the board voted to give him a raise of $38,000. The raise alone is roughly the salary of "a teacher, or two cafeteria workers, or two janitors," Hargrave told the outlet.
After Hargrave spoke out again later in the meeting, a city marshal on duty asked her to leave — even though the school board was still addressing her.
"You're going to leave, or I'm going to remove you," the officer told her, as seen in the video. Many people in attendance seemed shocked. "Are you serious?" someone asked, aghast, in the crowd.
Hargrave leaves the room, followed by the officer. But moments later, someone chimed in, "he's putting her in handcuffs" — and the room erupts in disarray.
"I am not [resisting], you just pushed me to the floor!" Hargrave is heard screaming at the officer, as he forcibly removes her down the hallway and out the building in handcuffs. "Sir, hold on! I am way smaller than you!"
Teacher removed from Vermilion school board meeting in handcuffs
According to KATV News, Hargrave was booked in the city jail for resisting an officer — a fact that left many commenters online flabbergasted. School officials are reportedly not pressing charges. "Umm ... what charges could they possibly make?" one Redditor noted.
With help from the Reddit community, Rosa's video has gone viral, garnering more than 600,000 views in less than 24 hours. Clearly, Hargrave's earnest question about inequality in our education system — met with a grotesque abuse of power — has clearly touched a nerve with people across the country.
"I don't know how this teacher could have been more polite and patient in her earnest desire to find out why the superintendent deserves a raise while the teachers work harder with less," YouTube commenter Scott Wells chimed in. "She continued to press because they refused to come up with an answer. Seems like a good question to me."
We agree.
This article originally appeared on 01.09.18