Education & Information
A school janitor had a 4-hour commute. Teachers gave him a gift that dropped him to his knees.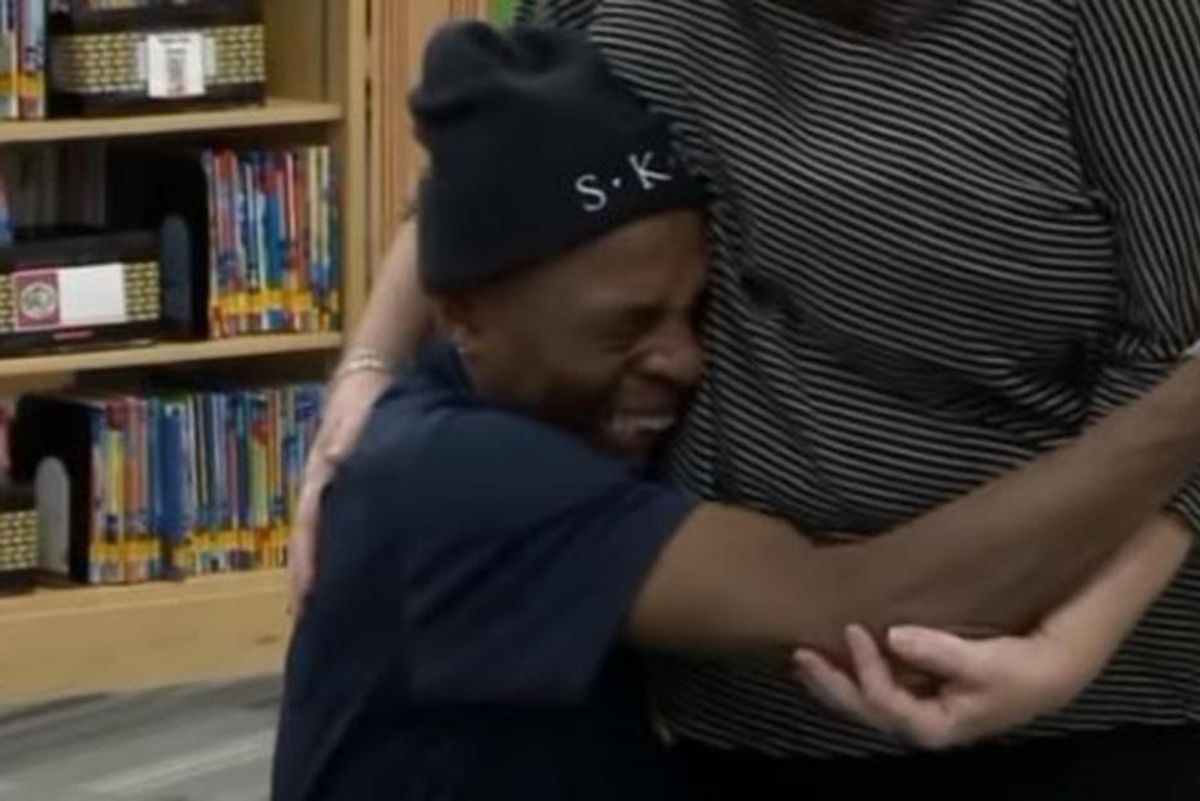 via WREG / YouTube
Just four months after being hired as the janitor at Farmington Elementary School in Germantown, Tennessee, Robert Reed, 60, made such an impact the school repaid him with an incredible act of kindness.

Reed is incredibly hard-working, always has a smile on his face, and even seeks out additional jobs at the school when he's finished his janitorial tasks.
"No job is too big or too small," Reed told WREG. "I wanna make a safe, clean, sanitized environment for the students, the guests."
---
It's hard work, but he's grateful for the opportunity to work at the school. "This building was built in 1975, so it takes a lot of work, but it's a blessing to do the job," Reed said. "I love these people up here. I love them. I couldn't have made it without them. Yes, it's a joy to work here. Joy. Pure joy."
Coworkers Raise Money to Surprise School Janitor Who Takes Buses, Walks Miles to Get to Workwww.youtube.com
What's even more incredible is that he still had the energy after a four-hour commute. Reed had no car so he was forced to take three busses and walk about two miles to and from work.

"Let's say I get off at 3:00, I would get home about 7 because I stay in Millbranch and Winchester," Reed said.
Can you imagine doing that long of a commute and then having to do a physically demanding job?
When faculty learned that Reed had such a long commute they helped him out by driving him to the bus stop on some days and by lending him a few dollars when he was short. But they soon decided to take the next step by giving him the surprise of a lifetime.
They started a GoFundMe campaign to raise money to get him a truck. The campaign was so successful it raised $7,000 in just 21 hours, enough to get him transportation.
They surprised him at a school event and he was so blown away by the generosity that he fell to his knees. When he got back up on his feet his eyes were filled with tears of joy as he hugged the campaign's organizer, first-grade teacher Elizabeth Malone.
HEARTWARMING: 60-year-old school janitor, Robert Reed, dropped to his knees when he learned staff & parents at Farm… https://t.co/KC2zXEsnDl

— Shay Arthur (@Shay Arthur) 1582150260.0
By the time the GoFundMe campaign had ended it raised over $49,000 for Reed. Reed hopes that with the new truck, he can start a side business doing landscaping.

The fundraiser has made an incredible impact on Reed's life but it also teaches the students at Farmington two big lessons. Hard work pays off and when you see someone in need, help them out. "His work ethic is unbelievable, and we want our kids to pick up on that," Malone said. "We just want to model to our kids that when you see a need you should reach out and help them," Malone said.