Inclusivity
Taylor Swift's new video is an homage to LGBTQ rights. But critics are calling her a 'performative ally.'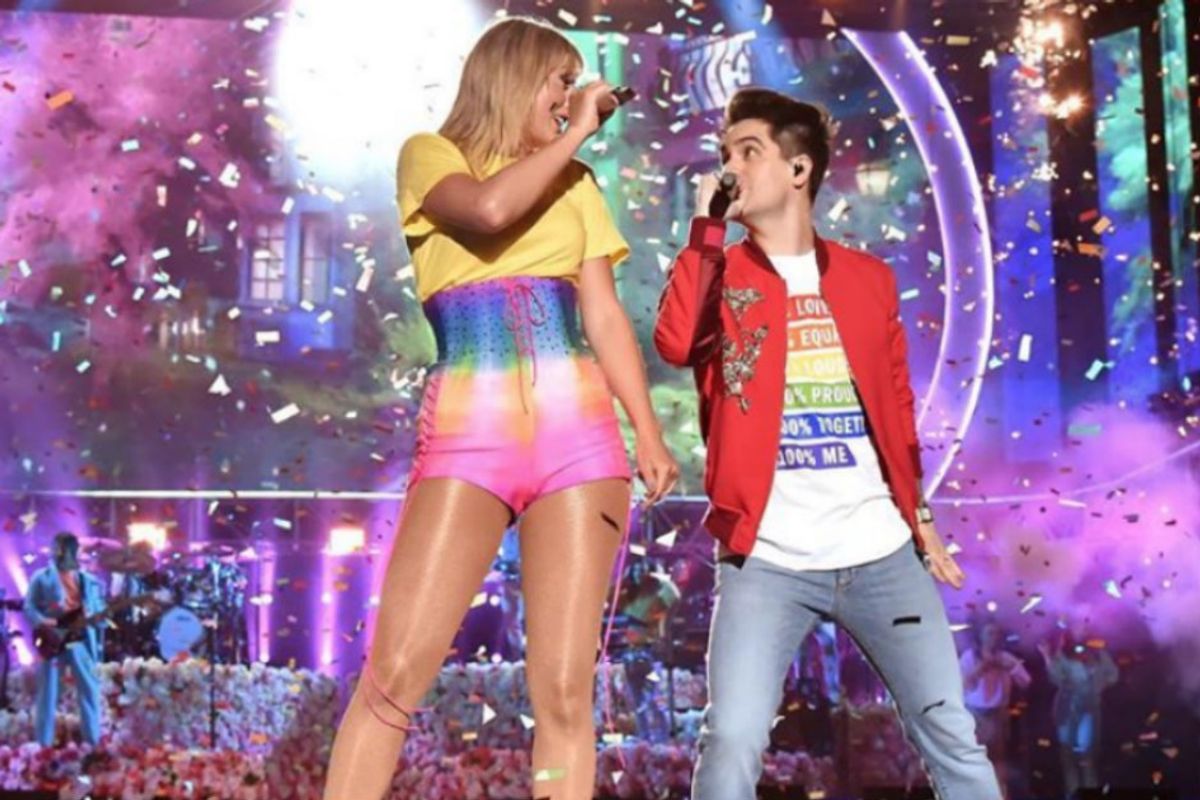 Taylor Swift's new single, "You Need to Calm Down," is supposed to support the LGBTQ community, but some members of the community are calling out Swift for being a performative ally.
The video for the song, which has elements of camp, begins with a Pink Flamingos reference and ends with a plea to support the Equal Rights Act. GLAAD did see a spike in donations after Swift seemingly showed her support, but she's also been accused of missing the point regarding the struggles for acceptance that many gay people experience.

It turns out, there's a lot that's wrong with "You Need to Calm Down." Where do we begin?

---
In her song, Swift compares dealing with online "haters" to hate crimes, as if they're on the same level. "It's a breathtaking argument: that famous people are persecuted in a way meaningfully comparable to queer people," Spencer Kornhaber pointed out in The Atlantic. Reading mean comments about yourself sucks, but it is a far cry from "a parent who disowns a trans kid, or a lawmaker who tries to nullify same-sex marriages," as Kornhaber stated.
This has all the delicacy of a white artist posting up civil rights heroes as profitable "clickbait" to prove "I lo… https://t.co/ezEfp5jPQt

— Joy Villa (@Joy Villa) 1560986361.0
Some people feel that Swift is supporting LGBTQ people because doing so supports herself more. "Feels to me like a version of straight cis white girl pop star advocacy — not the most effective thing, but not as calculated and hollow as the other branded opportunist pride campaigns of late," trans filmmaker Rhys Ernst said in IndieWire.

Additionally, the portrayal of anti-gay protesters as "bumpkins" has gotten some flack as well, partly because it can further incite hate. "If there's one thing that has been shown to get through to homophobes, it is casting them as ugly and poorly-educated. They take it to heart and it works every single time and it is a shame more people don't do this," Dave Holmes joked in Esquire.

Of course, plenty of people are also standing up for Swift pointing out that even an imperfect ally is far better than the alternative.
There are so many people out there actively causing harm to the lgbt community and spreading hate why would you cho… https://t.co/qyRa9TUS5M

— Jemima Skelley (@Jemima Skelley) 1560871372.0
Some of the criticism of Swift stems from those who felt she was silent for too long about LGBTQ issues. Swift stayed silent during the 2016 election. Some see Swift's video as too little, too late.
"When it comes to making public statements in support of these issues, Taylor waited a relatively long time: until after Katy Perry, after Lady Gaga, after Kacey Musgraves," Jon Caramanica wrote in the New York Times.
Swift ends the video by taking away from the message she was trying to make through her inclusion of longtime rival Katy Perry. "There's something risible about the idea of these two straight, well-intended, politically hapless women providing the dismount for a plea for equal rights while actual gay people have just been throwing gay-wedding cake all over each other," Wesley Morris wrote in the New York Times.

Last but not least, it just seems like Swift is trying too hard to make herself into a gay icon. "One of the underlying sources of frustration here is the idea that Swift is trying to appoint herself as a gay icon with 'You Need to Calm Down,' which isn't how icons are created," Tony Bravo wrote in the San Francisco Chronical. "Garland, Taylor, Ross and Madonna did not announce themselves as gay icons; the gay community did. Checking all the boxes of gay references is not the way to build a genuine and enduring relationship with any community — especially not the gay community, who can usually detect an impostor designer fragrance."

We're waiting for Swift's next single to come out, "Sorry I Was Only Friends with You When It Was Convenient for Me."