Firearms result in more than 33,000 deaths in the U.S. per year. Many of these incidents, particularly homicides, can be prevented with a simple solution: a waiting period.
A mandatory waiting period is exactly what it sounds like. It's a delay, anywhere from one to 10 days, between the beginning of a gun purchase and taking ownership of the weapon. This allows stores time to conduct background checks where required and gives the potential buyer a "cooling off" period to potentially prevent impulsive acts of violence.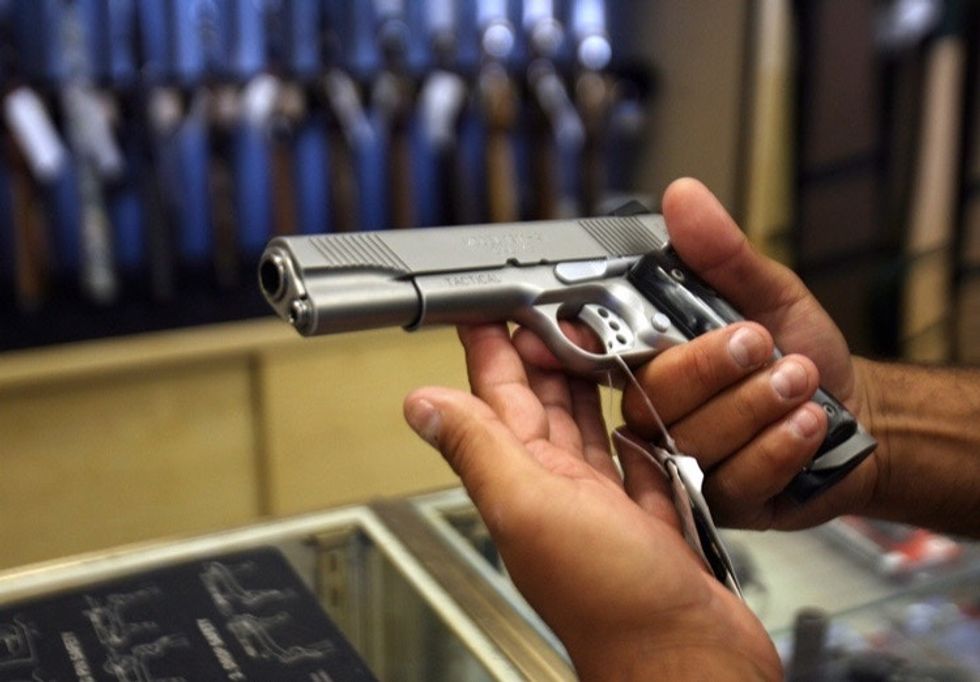 Photo by Gabriel Bouys/AFP/Getty Images.
<h2>A new study reveals that waiting periods aren't just common sense, they actually work. </h2><p><a href="http://www.pnas.org/content/early/2017/10/11/1619896114.full" target="_blank">The study's researchers, faculty members at Harvard Business School</a>, found that the 17 states (including Washington D.C.) that require mandatory waiting periods have reduced gun homicides by approximately 17%, preventing as many as <a href="http://www.pnas.org/content/early/2017/10/11/1619896114.abstract" target="_blank">750 gun deaths each year.</a> </p><p>If mandatory waiting periods were extended to the rest of the country, the study estimates an additional<a href="http://www.pnas.org/content/early/2017/10/11/1619896114.abstract" target="_blank"> 950 gun deaths could be avoided</a>. That's 950 lives that could be saved every year. </p><p class="shortcode-media shortcode-media-rebelmouse-image"><img type="lazy-image" data-runner-src="https://assets.rebelmouse.io/eyJhbGciOiJIUzI1NiIsInR5cCI6IkpXVCJ9.eyJpbWFnZSI6Imh0dHBzOi8vYXNzZXRzLnJibC5tcy8xOTUzMTUxNy9vcmlnaW4uanBnIiwiZXhwaXJlc19hdCI6MTYzNjk4MzA1OH0.ikX3yMKd1CWwJ4GpfPj2yTPoqVu1wjwTI8tkqpQB1XU/img.jpg?width=980" id="bd808" class="rm-shortcode" data-rm-shortcode-id="806e2813f54ac99ee26950e9b6aef2c0" data-rm-shortcode-name="rebelmouse-image"><small class="image-media media-caption" placeholder="add caption...">Mark O'Connor fills out his Federal background check paperwork as he purchases a handgun. Photo by Joe Raedle/Getty Images.</small></p><h2>Waiting periods also save lives when it comes to preventing suicide. </h2><p>Multiple studies confirm that firearm access is a risk factor for suicide, and there is a strong correlation between states with high gun ownership and a higher number of firearm suicides than low gun ownership states. </p><p>"Many suicides (estimates range from 30% to 80%) are impulsive, with just minutes or an hour elapsing between the time a person decides upon suicide and when he or she commits the act," <a href="https://www.health.harvard.edu/blog/suicide-is-forever-but-the-stress-leading-up-to-it-is-often-temporary-201103211957" target="_blank">wrote Annmarie Dadoly, the former editor of Harvard Health</a>. "Yet the stressful events that lead to suicidal thoughts are often temporary, such as losing a job or having a romantic relationship end."</p><p>Waiting periods allow for those dangerous, confusing, painful moments to pass without easy access to a firearm, keeping temporary feelings from turning into permanent tragedies. </p><h2>Currently, there is no federal law requiring waiting periods for handgun purchases.</h2><p>Many states began background checks and waiting periods in 1994, with the introduction of the <a href="https://www.congress.gov/bill/103rd-congress/house-bill/1025" target="_blank">Brady Handgun Violence Prevention Act</a>, better known as the Brady Bill. </p><p>The <a href="http://www.cnn.com/2014/08/08/politics/brady-death-homicide/index.html" target="_blank">Brady Bill is named for Press Secretary Jim Brady,</a> who was shot and became permanently disabled during an assassination attempt on President Reagan in 1981. The bill, in part, required potential handgun buyers (purchasing a gun from a licensed dealer) to undergo a background check and a five-day waiting period to conduct the check. In 1998, the FBI introduced the National Instant Criminal Background Check System (NICS), a system that can return background check results in minutes, leading some states to lift the waiting period.</p><p class="shortcode-media shortcode-media-rebelmouse-image"><img type="lazy-image" data-runner-src="https://assets.rebelmouse.io/eyJhbGciOiJIUzI1NiIsInR5cCI6IkpXVCJ9.eyJpbWFnZSI6Imh0dHBzOi8vYXNzZXRzLnJibC5tcy8xOTUzMTUxOC9vcmlnaW4uanBnIiwiZXhwaXJlc19hdCI6MTYwODk3NTQ1OX0.dctb0HVqKWx8gQ49T9hUn8dvE6BdwOfXphLQML_kbcM/img.jpg?width=980" id="2cfc1" class="rm-shortcode" data-rm-shortcode-id="ba21743981f63410caf61b17f7c9eedb" data-rm-shortcode-name="rebelmouse-image"><small class="image-media media-caption" placeholder="add caption...">President Bill Clinton congratulates former Reagan Administration Press Secretary James Brady on the passage of the Brady Bill. Photo by Jennifer Young/AFP/Getty Images.</small></p><p>Other states allow dealers to sell the gun after three days, whether the background check is complete or not. This is <a href="https://www.nytimes.com/2015/07/11/us/background-check-flaw-let-dylann-roof-buy-gun-fbi-says.html" target="_blank">how Dylann Roof obtained the weapon</a> he used to kill nine people in the Charleston A.M.E. Church massacre. </p><p>Despite the federal Brady Bill, the U.S. still has a piecemeal set of laws from state to state and even from weapon to weapon, with handguns requiring different waiting periods than assault rifles. </p><h2>The gaps and loopholes in gun laws put everyone at risk, but there's a lot you can do to change that.</h2><p>If you're interested in working toward a national solution for gun violence prevention, contact your legislators and encourage them to support common sense reforms and to put an end to <a href="https://www.washingtonpost.com/news/wonk/wp/2017/10/04/gun-violence-research-has-been-shut-down-for-20-years/?utm_term=.6e07926c09e8" target="_blank">the moratorium on gun violence research</a>. You can also volunteer your time or make a contribution to <a href="https://www.bustle.com/articles/166405-how-to-donate-to-gun-control-organizations-working-to-put-an-end-to-the-violence" target="_blank">groups on the ground, working for safer communities, workspaces, and schools. </a></p><p>It's never too late to start. </p><p class="shortcode-media shortcode-media-rebelmouse-image"><img type="lazy-image" data-runner-src="https://assets.rebelmouse.io/eyJhbGciOiJIUzI1NiIsInR5cCI6IkpXVCJ9.eyJpbWFnZSI6Imh0dHBzOi8vYXNzZXRzLnJibC5tcy8xOTUzMTUxOS9vcmlnaW4uanBnIiwiZXhwaXJlc19hdCI6MTYzNzM5MjM5Nn0.TOIHn9BcFs1eyFZHr7_PvqKfdyXQ8YuPLGyST2rqSTQ/img.jpg?width=980" id="f17e3" class="rm-shortcode" data-rm-shortcode-id="4817b29853c6f52a6a40bfef03d73039" data-rm-shortcode-name="rebelmouse-image"><small class="image-media media-caption" placeholder="add caption...">A makeshift memorial on the south end of the Las Vegas Strip. Photo by Drew Angerer/Getty Images.</small></p>