More
"We watched 'Singin' in the Rain' every day for inspiration, and she was a truly unparalleled talent."
"La La Land," starring Ryan Gosling and Emma Stone, is one of the year's most buzzed-about films.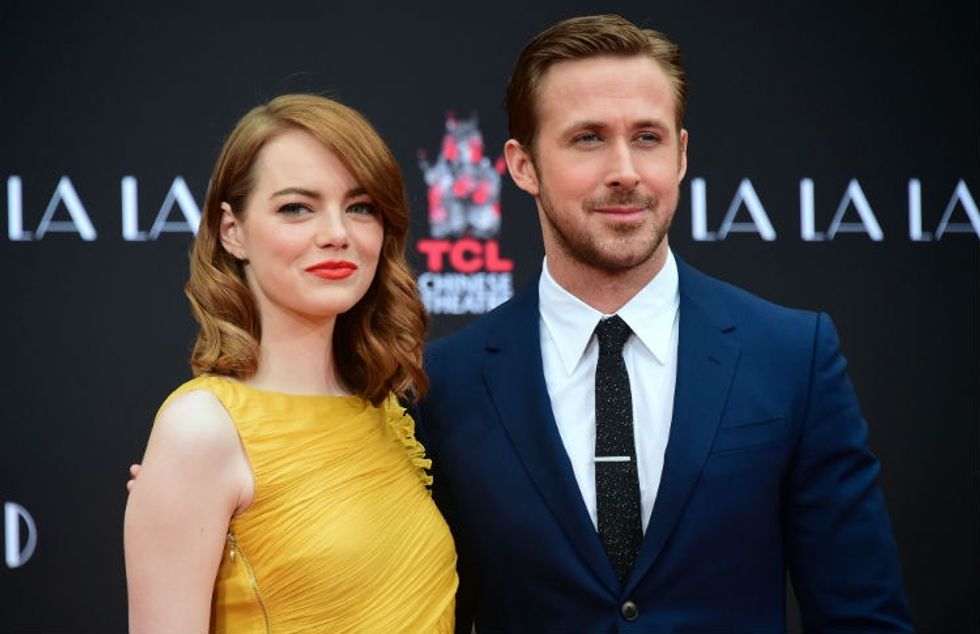 Photo by Frederic J. Brown/AFP/Getty Images.
The film has all the flair and star power of a 21st-century Golden Globes favorite. A love story between an aspiring actor (Stone) and jazz pianist (Gosling) living in Los Angeles, "La La Land" puts a modern twist on the classic musical dramedies that defined past generations.
<h2>Though the late Debbie Reynolds wasn't involved with the film directly, it was her work more than 50 years ago that helped bring the magic of "La La Land" to life.</h2><p class="shortcode-media shortcode-media-rebelmouse-image"><img type="lazy-image" data-runner-src="https://assets.rebelmouse.io/eyJhbGciOiJIUzI1NiIsInR5cCI6IkpXVCJ9.eyJpbWFnZSI6Imh0dHBzOi8vYXNzZXRzLnJibC5tcy8xOTQ3NjQwNS9vcmlnaW4uanBnIiwiZXhwaXJlc19hdCI6MTY2MDkwMzMyOH0.1Ohv4RMnzq7bkSvDD9bFSyWQuIEnbf1llFEveqTV1QQ/img.jpg?width=980" id="99339" class="rm-shortcode" data-rm-shortcode-id="c71e0d6676895ba5efdbade89d06671b" data-rm-shortcode-name="rebelmouse-image"><small class="image-media media-caption" placeholder="add caption...">Photo by Donna Ward/Getty Images.</small></p><h2>While accepting the Vanguard Award on behalf of the film at the Palm Springs International Film Festival on Jan. 2, 2017, Gosling credited Reynolds' "<a href="http://www.eonline.com/news/819182/ryan-gosling-pays-beautiful-tribute-to-debbie-reynolds" target="_blank">truly unparalleled talent</a>" for inspiring the cast.</h2><p>"I wish I could've said this [to her] in person, but I'd like to thank Debbie Reynolds for her wonderful career of work," Gosling said during <a href="https://twitter.com/MrScottEddy/status/816146071353053184?ref_src=twsrc%5Etfw" target="_blank">his speech</a>. <strong>"She was an inspiration to [the cast of 'La La Land'] every day. We watched 'Singin' in the Rain'<em> </em>every day for inspiration, and she was a truly unparalleled talent. So I thank her for all of that."</strong></p><p class="shortcode-media shortcode-media-rebelmouse-image"><img type="lazy-image" data-runner-src="https://assets.rebelmouse.io/eyJhbGciOiJIUzI1NiIsInR5cCI6IkpXVCJ9.eyJpbWFnZSI6Imh0dHBzOi8vYXNzZXRzLnJibC5tcy8xOTQ3NjQwNi9vcmlnaW4uanBnIiwiZXhwaXJlc19hdCI6MTYyMzc3NTMxMn0.URF4AfI-36evNGSKGNbSaoTSXFqA129C5b7W6iRfPG4/img.jpg?width=980" id="ddcef" class="rm-shortcode" data-rm-shortcode-id="b27ea4b660505a62a0a63fc05b14d62e" data-rm-shortcode-name="rebelmouse-image"><small class="image-media media-caption" placeholder="add caption...">Photo by Charley Gallay/Getty Images for Palm Springs International Film Festival.</small></p><h2>"Singin' in the Rain," which was released in 1952, has similarities to "La La Land."</h2><p>The film, which starred Reynolds, Gene Kelly, and Donald O'Connor, followed performers living in 1920s Hollywood as the silent film industry transitioned to sound. Critics consider the film among <a href="http://www.csmonitor.com/The-Culture/Movies/2013/0430/The-25-best-movie-musicals-of-all-time/Singin-in-the-Rain" target="_blank">the greatest musicals of all time</a>.</p><p class="shortcode-media shortcode-media-rebelmouse-image"><img type="lazy-image" data-runner-src="https://assets.rebelmouse.io/eyJhbGciOiJIUzI1NiIsInR5cCI6IkpXVCJ9.eyJpbWFnZSI6Imh0dHBzOi8vYXNzZXRzLnJibC5tcy8xOTQ3NjQwNy9vcmlnaW4uanBnIiwiZXhwaXJlc19hdCI6MTYyNjM3NzUzNX0.WkqnkwTz2kBhz3qz4fyNAP5qgizgYRnzjySb3jkA3wo/img.jpg?width=980" id="265e3" class="rm-shortcode" data-rm-shortcode-id="c359aabd5dd1fbc3f1e92f3800e2e8b6" data-rm-shortcode-name="rebelmouse-image"><small class="image-media media-caption" placeholder="add caption...">Reynolds and Kelly in a promotional photo for "Singin' in the Rain." Photo by AFP/Getty Images.</small></p><h2>Gosling's tribute to Reynolds was met with boisterous applause. Reynolds died on Dec. 28, 2016, at age 84.</h2><p>Her death came just one day after her daughter, "Star Wars" legend Carrie Fisher, <a href="https://www.upworthy.com/this-viral-post-perfectly-captures-why-carrie-fisher-will-be-missed-so-dearly">died after suffering a heart attack</a>.</p><p class="shortcode-media shortcode-media-rebelmouse-image"><img type="lazy-image" data-runner-src="https://assets.rebelmouse.io/eyJhbGciOiJIUzI1NiIsInR5cCI6IkpXVCJ9.eyJpbWFnZSI6Imh0dHBzOi8vYXNzZXRzLnJibC5tcy8xOTQ3NjQwOC9vcmlnaW4uanBnIiwiZXhwaXJlc19hdCI6MTY2MTg5MjQzMH0.AqtgMN5BDzR8YWH-vyaWRMIRLPjEo5unDa7EZOI3mSE/img.jpg?width=980" id="52d85" class="rm-shortcode" data-rm-shortcode-id="fc10751aa5892d25fb34179c53d018b4" data-rm-shortcode-name="rebelmouse-image"><small class="image-media media-caption" placeholder="add caption...">Reynolds (left) and Fisher. Photo by Ethan Miller/Getty Images.</small></p><h2>Gosling's speech touched on the timeless beauty of Reynolds' work and serves as a great lesson about the unsung power of inspiring others. </h2><p>It's easy to feel like your work — or your love, or your generosity — goes unnoticed. Sometimes it's difficult to see how reaching a career milestone or doing a small favor for a friend makes an impact. But it does.</p><p>Not everyone gets honored in a speech about their work as a Hollywood legend or will have their Hollywood Walk of Fame star <a href="http://abcnews.go.com/Entertainment/video/fans-leave-wreath-flowers-debbie-reynolds-star-44455871" target="_blank">showered in flowers</a> after their death. But each and every one of us makes choices that will stick with those around us in ways we'll never know. </p><p>Who will you inspire today?</p><h2>Watch Gosling's acceptance speech below:</h2><div id="6d265" class="rm-shortcode" data-rm-shortcode-id="RMRY8R1559347034"><blockquote class="twitter-tweet twitter-custom-tweet" data-twitter-tweet-id="816146071353053184" data-partner="rebelmouse"><div style="margin:1em 0">Here's @RyanGosling getting the award for @LaLaLand at @PSFilmFest in #PalmSprings. #PSIFF17 #FilmFestival https://t.co/IX4G0JyUWB</div> — Scott Eddy (@Scott Eddy)<a href="https://twitter.com/MrScottEddy/statuses/816146071353053184">1483419361.0</a></blockquote></div>