Elisa used to share everything with her aunt, Gemma.
But one day, an aneurysm gave Gemma aphasia, a disorder that affects more than 2 million Americans and their ability to speak, read, or understand language. Almost overnight, their way of communicating ground to a halt.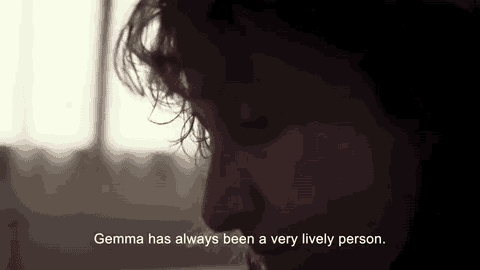 Their story is featured in a new Samsung ad. Their frustration and isolation is heart-wrenching.
<h2>While aphasia might make speaking and reading difficult, it doesn't affect a person's ability to recognize symbols or read faces. Including, it turns out, little yellow emoji smiley faces.</h2><p>Here's where Samsung comes in. The company's Italian team has created an emoji-based, free chat app to help people with aphasia and other language disorders. </p><p>The app, called <a href="https://news.samsung.com/global/samsung-wemogee-a-new-communication-tool-for-people-with-language-disorders" target="_blank">Wemogee</a>, functions as a text-to-emoji translator. It's programmed with a library of more than 140 phrases. Text messages selected by one party get automatically translated to emojis and vice-versa.</p><div><div class="push-wrapper--mobile" data-card="image" data-reactroot=""><img type="lazy-image" data-runner-src="https://assets.rebelmouse.io/eyJhbGciOiJIUzI1NiIsInR5cCI6IkpXVCJ9.eyJpbWFnZSI6Imh0dHBzOi8vYXNzZXRzLnJibC5tcy8xOTUyNzkxOC9vcmlnaW4uanBnIiwiZXhwaXJlc19hdCI6MTYwNzE4MzkxN30.nm_KazbM8g3oI9pq-_Fr7_5ILsj0H7mbeGtSzNZ2rwo/img.jpg?width=980" id="4b5e6" class="rm-shortcode" data-rm-shortcode-id="1489cbc90d4ce6363088837de01a0250" data-rm-shortcode-name="rebelmouse-image"><div class="image-caption"><p>Image from Samsung Italia.</p></div></div></div><p>Having standardized phrases is also neat because it might help save someone like Elise from having to hunt for the perfect emoji. It's all already in there. No misunderstandings.</p><p><strong>Elise and Gemma might not be able to chat the same way they used to, but this idea could help make things easier.</strong> And while people with aphasia and other speech disorders might only make up a subset of our population, it's really cool to see a communications company setting out to make sure <em>everyone</em> has a voice.</p><p><strong>See more of Elise and Gemma and the app in action in the video below.</strong></p><div><div data-card="youtube" data-reactroot=""><div><span style="display:block;position:relative;padding-top:56.25%;" class="rm-shortcode" data-rm-shortcode-id="76ae72ba9333ea5c23c12b0210f0dc81"><iframe type="lazy-iframe" data-runner-src="https://www.youtube.com/embed/oLPUe6rA5IU?rel=0" width="100%" height="auto" frameborder="0" scrolling="no" style="position:absolute;top:0;left:0;width:100%;height:100%;"></iframe></span></div></div></div>