Most Shared
A spoiler-free review of the power-packed Netflix original.
Before this weekend, I didn't know I needed Luke Cage in my life.
The latest superhero TV drama, airing on Netflix, stars Mike Colter as Luke Cage, an escaped fugitive living in Harlem who has had greatness (in the form of superpowers) thrust upon him. Now he's using abilities to right wrongs in his community.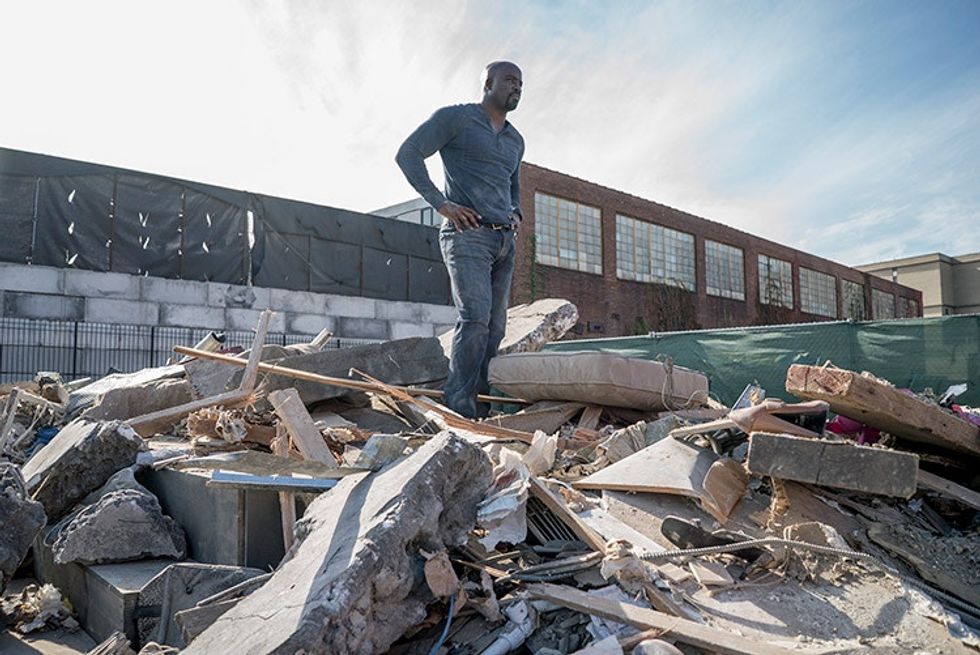 </div></div></div><p>I'm now halfway through 13 episodes of bone-crunching, gun-bending, superhero content from the same universe that gave us "The Avengers," "Agents of S.H.I.E.L.D.," and "Jessica Jones." And so far, I have no complaints. </p><h2>Before this weekend, I didn't know I needed a show that is blacker than black. </h2><p>"Luke Cage" isn't "sassy black friend" black. Nor is it "consult a magical negro" black. It's "playing chess in a barber shop" black. It's "history lessons on <a href="http://www.biography.com/people/crispus-attucks-9191864" target="_blank">Crispus Attucks</a> while being mugged" black.</p><p><strong>This show is truly, deeply, proudly black.</strong></p><div><div class="push-wrapper--mobile" data-card="image" data-reactroot=""><img type="lazy-image" data-runner-src="https://assets.rebelmouse.io/eyJhbGciOiJIUzI1NiIsInR5cCI6IkpXVCJ9.eyJpbWFnZSI6Imh0dHBzOi8vYXNzZXRzLnJibC5tcy8xOTUyMjM1Ni9vcmlnaW4uanBnIiwiZXhwaXJlc19hdCI6MTYwNTI4NjgzN30.oxOkt3wqzU2GVveovU8aY7z-bsQZhozngIwWom3aD1k/img.jpg?width=980" id="fd165" class="rm-shortcode" data-rm-shortcode-id="0ed9493e548e2e8e232f1da69e9a164e" data-rm-shortcode-name="rebelmouse-image"><div class="image-caption"><p>Image from Marvel's "Luke Cage," courtesy of Netflix. </p></div></div></div><p>Between kicks and punches, "Luke Cage" addresses issues like the criminal justice system, fatherhood, and the n-word. It name-drops writers like Donald Goines and Chester Himes in one scene and cuts to a blink-and-you'll-miss-it nod to famous <a href="http://www.jamelshabazz.com/#top" target="_blank">New York street photographer Jamel Shabazz</a> in the next.</p><p>"Luke Cage" is not blackness for the masses. It's blackness for black people. And if you don't get it? Too damn bad.</p><p><strong>This blackness is no accident, either. It's by design. </strong></p><p>"I'm not one of these people that says, 'Oh, Luke Cage happens to be black,'" creator and show runner Cheo Hodari Coker<a href="http://www.vanityfair.com/hollywood/2016/09/luke-cage-mike-colter-black-panther-netflix-marvel-black-voices" target="_blank"> told Vanity Fair</a>. <strong>"No, he's black all day because I'm black all day. There's just no way around that."</strong></p><div><div class="push-wrapper--mobile" data-card="image" data-reactroot=""><img type="lazy-image" data-runner-src="https://assets.rebelmouse.io/eyJhbGciOiJIUzI1NiIsInR5cCI6IkpXVCJ9.eyJpbWFnZSI6Imh0dHBzOi8vYXNzZXRzLnJibC5tcy8xOTUyMjM1Ny9vcmlnaW4uanBnIiwiZXhwaXJlc19hdCI6MTY0NTE2MzIyNn0.csNAs-lJ0dXdeM0pfEtQlJGVakLzXKJ_GvUNIUAPFcY/img.jpg?width=980" id="cdf97" class="rm-shortcode" data-rm-shortcode-id="d0b27375e429c80aabb1ced725374f1d" data-rm-shortcode-name="rebelmouse-image"><div class="image-caption"><p>Image from Marvel's "Luke Cage," courtesy of Netflix. </p></div></div></div><h2>Before this weekend, I didn't know I needed a show that centered on Harlem not as a setting but as a character. </h2><p>Even after only one episode, we're shown a full and diverse Harlem community: political leaders, business owners, parents, seniors, kids on basketball courts, and dudes in barber shops. Not just black people, but Asian-Americans, too. And Latinx and a handful of white gentrifiers. There are families who've been in Harlem for generations and those just settling in. This is the real Harlem.</p><div><div class="push-wrapper--mobile" data-card="image" data-reactroot=""><img type="lazy-image" data-runner-src="https://assets.rebelmouse.io/eyJhbGciOiJIUzI1NiIsInR5cCI6IkpXVCJ9.eyJpbWFnZSI6Imh0dHBzOi8vYXNzZXRzLnJibC5tcy8xOTUyMjM1OC9vcmlnaW4uanBnIiwiZXhwaXJlc19hdCI6MTYyMTYzOTg1MX0.mi4VmHTGfyGvVk1qIBY9c5hOHYx29blDAV9akoi1BMo/img.jpg?width=980" id="a29eb" class="rm-shortcode" data-rm-shortcode-id="7612243b027fc48ac8edcffee4aa233d" data-rm-shortcode-name="rebelmouse-image"><div class="image-caption"><p>Luke Cage (Colter) and Claire Temple (played by Rosario Dawson). Image from Marvel's "Luke Cage," courtesy of Netflix. </p></div></div></div><p>The characters seem to know each other. They know their mamas; they know the parks they hang out in. <strong>This is important because Harlem is not just a setting for an action show. Harlem is a character, commentary, and changing world.</strong> Harlem shows that these are real people affected by the larger-than-life supervillains of any Marvel outing and also by the low-level street toughs.</p><p><strong>Plus, characters on all sides are fighting to take their community, Harlem, back.</strong> Cops, criminals, and politicians (and even Cage himself) think they know the best way to do this. Only unlike other shows or characters with similar goals, this time we recognize clearly exactly what and who they're fighting for.</p><p>"I don't believe in Harlem," Cage says in one scene, "I believe in the people who make Harlem what it is." When Cage believes, we believe too. </p><h2><b>Before this weekend, I didn't know I needed a show with women who kick ass and take names.</b></h2><p>The women of "Luke Cage" are more than sex objects or empty motivators for our hero to act. They are complex, highly capable, talented, and driven. </p><p><strong>Detective Misty Knight (played by Simone Missick) is a familiar face from the original Luke Cage comics</strong>, and while <a href="https://twitter.com/BlackLoisLane/status/782045991453229056" target="_blank">she's not fighting sharks</a> (yet!), she's a badass detective and a hero.</p><div><div class="push-wrapper--mobile" data-card="image" data-reactroot=""><img type="lazy-image" data-runner-src="https://assets.rebelmouse.io/eyJhbGciOiJIUzI1NiIsInR5cCI6IkpXVCJ9.eyJpbWFnZSI6Imh0dHBzOi8vYXNzZXRzLnJibC5tcy8xOTUyMjM1OS9vcmlnaW4uanBnIiwiZXhwaXJlc19hdCI6MTYyNjI4MDY0NH0.cuEYUONipfbMInuAiJ3vTXhoI9bt2PQ9pDxCLaGvmOY/img.jpg?width=980" id="8bb6e" class="rm-shortcode" data-rm-shortcode-id="d5a14f48e94efc405fe389511dc9cd79" data-rm-shortcode-name="rebelmouse-image"><div class="image-caption"><p>Missick as Misty Knight. Image from Marvel's "Luke Cage," courtesy of Netflix. </p></div></div></div><p><strong>Councilwoman Mariah Dillard (played by Alfre Woodard), is a complicated character who wants to reclaim her community for the black families who've always called it home.</strong> But her vision for a New Harlem Renaissance comes at a heavy price, and we see Dillard weigh these consequences against a future she desperately wants for herself and her constituents. </p><div><div class="push-wrapper--mobile" data-card="image" data-reactroot=""><img type="lazy-image" data-runner-src="https://assets.rebelmouse.io/eyJhbGciOiJIUzI1NiIsInR5cCI6IkpXVCJ9.eyJpbWFnZSI6Imh0dHBzOi8vYXNzZXRzLnJibC5tcy8xOTUyMjM2MC9vcmlnaW4uanBnIiwiZXhwaXJlc19hdCI6MTY1MjA3MzYyN30.SjjK97l5qkgJNgnDkQsKCVBiX8d5PnY0TljaRLN1ENs/img.jpg?width=980" id="0c1bd" class="rm-shortcode" data-rm-shortcode-id="10d6b642d90a11b9603808c00822f42d" data-rm-shortcode-name="rebelmouse-image"><div class="image-caption"><p>Woodard as Mariah Dillard. Image from Marvel's "Luke Cage," courtesy of Netflix. </p></div></div></div><p><strong>And you can't forget Dr. Claire Temple, Connie Lin, or Reva. </strong>No matter how often or how long they're on screen, these women do more than just serve male storylines. And it's about damn time. </p><h2><b>Before this weekend, I didn't know I needed a show with a bulletproof black man wearing a hoodie. </b></h2><p><b><strong>But I did. I really, really did. </strong></b></p><p>After a summer with too many bullet-ridden bodies, it was satisfying to watch a character like Luke Cage own the screen. </p><div><div class="push-wrapper--mobile" data-card="image" data-reactroot=""><img type="lazy-image" data-runner-src="https://assets.rebelmouse.io/eyJhbGciOiJIUzI1NiIsInR5cCI6IkpXVCJ9.eyJpbWFnZSI6Imh0dHBzOi8vYXNzZXRzLnJibC5tcy8xOTUyMjM2MS9vcmlnaW4uanBnIiwiZXhwaXJlc19hdCI6MTY1MTc5MzE0MH0.iNYpmAcbqu5z98M0lsqZ6cdxJH-iMuxswdIKEoodfwg/img.jpg?width=980" id="99401" class="rm-shortcode" data-rm-shortcode-id="9b772c12dbdb5aa0fee28a010711a244" data-rm-shortcode-name="rebelmouse-image"><div class="image-caption"><p>Image from Marvel's "Luke Cage," courtesy of Netflix. </p></div></div></div><p>He's the son of a preacher, a stand-up man who doesn't swear. He reads voraciously, works two jobs, knows how to make a damn good cosmo, and he somehow never gets ashy. I'm pretty sure he's one of the <a href="https://www.youtube.com/watch?v=i7iQbBbMAFE" target="_blank">"strong black brothas" En Vogue sang about in "Free Your Mind."</a> Bullets bend and ricochet off his body, leaving tears in his clothes but never on his smooth brown skin. </p><p>Luke Cage has strong arms and a stronger character. He cracks bones and twists guns in half not for the hell of it. He does it for his neighborhood and his chosen family. And he does it<em> all</em> in a hoodie (<a href="http://www.vanityfair.com/hollywood/2016/09/luke-cage-mike-colter-black-panther-netflix-marvel-black-voices" target="_blank">yeah, that's no accident either</a>). </p><div><div class="push-wrapper--mobile" data-card="image" data-reactroot=""><img type="lazy-image" data-runner-src="https://assets.rebelmouse.io/eyJhbGciOiJIUzI1NiIsInR5cCI6IkpXVCJ9.eyJpbWFnZSI6Imh0dHBzOi8vYXNzZXRzLnJibC5tcy8xOTUyMjM2Mi9vcmlnaW4uZ2lmIiwiZXhwaXJlc19hdCI6MTY1ODM0MjEwNX0.X3H0mn7HH8M6-8eahy1xZFQ6SGz7B6_-WDFOmC2cZ2I/img.gif?width=980" id="7a0ae" class="rm-shortcode" data-rm-shortcode-id="a9f7d04ef0b2b01dc57b092cf9e99dc0" data-rm-shortcode-name="rebelmouse-image"><div class="image-caption"><p>GIF via "Luke Cage." </p></div></div></div><p><strong>After too much injustice in our world and too many deaths, I as a black woman just needed to feel like I was on a winning team. </strong>Even if it was just for a few hours from the comfort of my couch. "Luke Cage" gave me something to cheer about. It reminded me just how strong we already are. </p><h2>Before this weekend, I didn't know I needed "Luke Cage."</h2><p>And I don't need Luke Cage the way I need water or air. But I do need him the way you <em>need</em> to remember the lyrics to a song you once knew, a song that made you dance with abandon.</p><p>"How does it go?" you ask no one in particular. It's inescapable, unresolved. And then, suddenly, when you least expect it, there it is. Like an old friend. And you wonder how you managed without that missing piece, however small, for so long. </p><p><strong>I didn't know I needed Luke Cage. But I really, really did.</strong></p>