For the nearly 80,000 refugees living at the Zaatari camp in Jordan, electricity was a precious commodity.
Workers set up a permanent energy grid in 2016, but because of its prohibitively high cost, electricity had to be carefully rationed. Residents could only use electricity for six to eight hours a day after sunset. Want to wash a load of laundry or use the refrigerator during the afternoon? Not an option.
But a new solar power plant is going to help change that.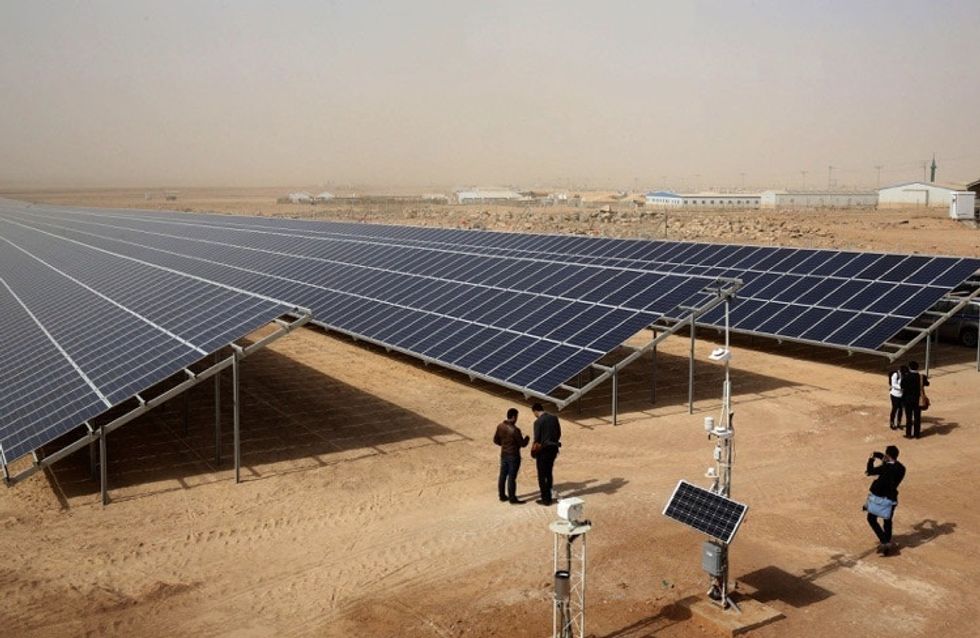 Photo by Khalil Mazraawi/AFP/Getty Images.
<p>The plant covers an area the size of 33 soccer fields, making it the largest solar plant ever built in a refugee camp. It was powered up Nov. 13, and the plant is set to generate enough electricity to increase the ration to a more robust 12-14 hours a day. </p><p class="shortcode-media shortcode-media-rebelmouse-image"><img type="lazy-image" data-runner-src="https://assets.rebelmouse.io/eyJhbGciOiJIUzI1NiIsInR5cCI6IkpXVCJ9.eyJpbWFnZSI6Imh0dHBzOi8vYXNzZXRzLnJibC5tcy8xOTUzMjYzMC9vcmlnaW4uanBnIiwiZXhwaXJlc19hdCI6MTYyMjYyNTkwOH0.4bo5qqKdN5Mtc-_cW8FY503xHXK9ncZoiV56W4aIb8s/img.jpg?width=980" id="4cf71" class="rm-shortcode" data-rm-shortcode-id="2f7183486d07c1f5ab479e613f021daf" data-rm-shortcode-name="rebelmouse-image"><small class="image-media media-caption" placeholder="add caption...">Photo by Khalil Mazraawi/AFP/Getty Images.</small></p><h2>Residents are understandably happy about this.</h2><p class="shortcode-media shortcode-media-rebelmouse-image"><img type="lazy-image" data-runner-src="https://assets.rebelmouse.io/eyJhbGciOiJIUzI1NiIsInR5cCI6IkpXVCJ9.eyJpbWFnZSI6Imh0dHBzOi8vYXNzZXRzLnJibC5tcy8xOTUzMjYzMS9vcmlnaW4uanBnIiwiZXhwaXJlc19hdCI6MTYzMzExMzYyN30.0ubzLR9kYV_dZhvJ4oz6vod5-skbSTVP4cwj6MDI1AE/img.jpg?width=980" id="30374" class="rm-shortcode" data-rm-shortcode-id="96021dece1de1acaf81cb2b7c9d7d7d8" data-rm-shortcode-name="rebelmouse-image"><small class="image-media media-caption" placeholder="add caption...">Photo by Khalil Mazraawi/AFP/Getty Images.</small></p><p>Ilham, a 41-year-old mother of three from southern Syria, <a href="http://www.unhcr.org/news/latest/2017/11/5a0ab9854/jordans-zaatari-camp-green-new-solar-plant.html" target="_blank">told the U.N. Refugee Agency</a>: "Now I will be able to do the laundry during the day, rather than at night when it doesn't dry and we get sick from wearing wet clothes."</p><p>"It's also safer for my children," she added. "It means they can stay indoors and do their homework or watch some TV, rather than playing outside on the streets until after dark." Her son also added the extra light at night will help him study more.</p><p>The Zaatari camp is home to about 80,000 refugees <a href="https://www.oxfam.org/en/crisis-syria/life-zaatari-refugee-camp-jordans-fourth-biggest-city" target="_blank">fleeing from the Syrian war</a>. The camp is so large it could technically count as the fourth largest city in Jordan, and more than half of the refugees are children.</p><p class="shortcode-media shortcode-media-rebelmouse-image"><img type="lazy-image" data-runner-src="https://assets.rebelmouse.io/eyJhbGciOiJIUzI1NiIsInR5cCI6IkpXVCJ9.eyJpbWFnZSI6Imh0dHBzOi8vYXNzZXRzLnJibC5tcy8xOTUzMjYzMi9vcmlnaW4uanBnIiwiZXhwaXJlc19hdCI6MTU5MDkyNDUyM30.ohUEhGXmcAZxeYaC7bq7kdIXxj0Y_zU1D7vygJCxqHU/img.jpg?width=980" id="ee0b0" class="rm-shortcode" data-rm-shortcode-id="1a64e74f7c16bf2e3f3dd8534ad58d3b" data-rm-shortcode-name="rebelmouse-image"><small class="image-media media-caption" placeholder="add caption...">Photo by Khalil Mazraawi/AFP/Getty Images.</small></p><p>The construction of the plant was funded by the German government at a cost of about $17.5 million. Running it will save the United Nations about $5.5 million a year, money which can then be reinvested back into humanitarian efforts. The plant will also help reduce carbon emissions from the camp.</p><p>This is not the first time solar power has been deployed to help during a humanitarian crisis. In May, the Azraq camp became the <a href="http://www.unhcr.org/en-us/news/press/2017/5/591c079e4/azraq-worlds-first-refugee-camp-powered-renewable-energy.html" target="_blank">first refugee camp in the world to run on solar power</a>, and in October, Tesla brought a solar array to Puerto Rico to help <a href="https://www.vox.com/energy-and-environment/2017/10/19/16431312/elon-musk-richard-branson-clean-energy-puerto-rico-solar-batteries-microgrid" target="_blank">restore power to a children's hospital</a> after Hurricane Maria.</p><p>The refugee crisis is still ongoing, but efforts like these can improve the lives of those who have to live through them, and hopefully provide a model for future endeavors. </p>