Mourners huddled near Stonewall National Monument in New York City on January 24 to remember a beloved Russian pop star taken too soon.
Believed to have been gay, Zelimkhan Bakaev became the face of a horrifying, state-sanctioned crackdown on gay and bisexual men in Chechnya, a semi-independent state in southern Russia. His name may be unfamiliar to most Americans, but Bakaev's heartbreaking story is one worth sharing.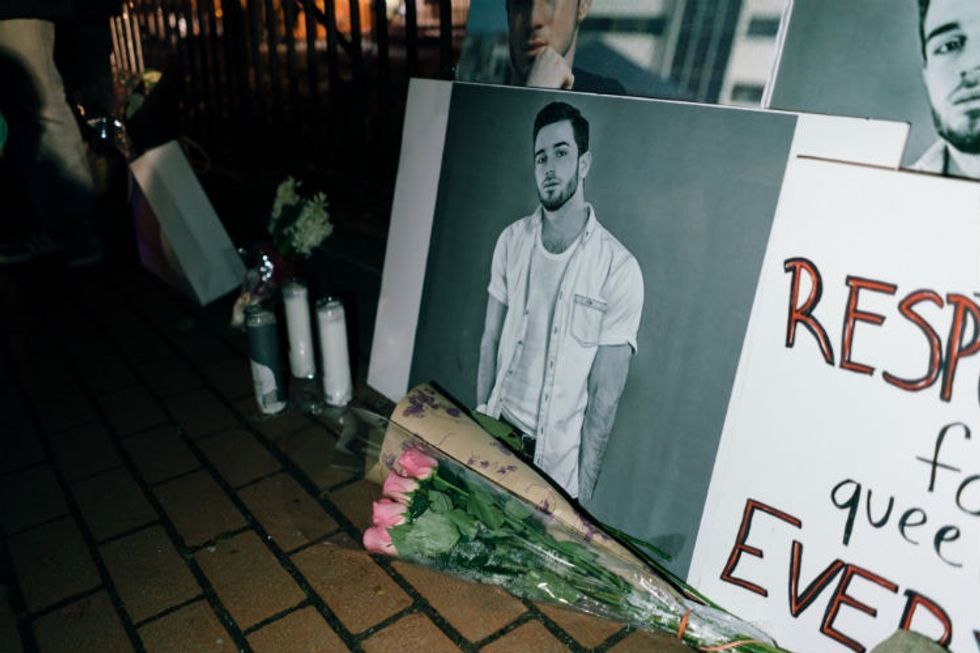 Photo by Aaron Hooper, courtesy of RUSA LGBT.
<p>Upworthy <a href="https://www.upworthy.com/chechnya-is-still-killing-gay-men-now-a-prominent-russian-singer-may-be-dead">reported</a> on the mystery of Bakaev's whereabouts in October 2017. The last anyone had seen him was in Gronzy, Chechnya, where he'd attended his sister's wedding. Shortly after the ceremony, his social media activity came to a halt. His Instagram account was deactivated.</p><p>Suspicions began to swirl: How could such a high-profile figure simply vanish? Fans were alarmed. His mother <a href="http://www.newsweek.com/russian-singer-vanishes-two-months-amid-reports-gay-purge-690768" target="_blank">begged</a> the Chechen government for answers. </p><h2>The more we learned, the more it seemed Bakaev had been caught up in Chechnya's "<a href="https://www.theguardian.com/world/2017/oct/16/victim-chechnya-anti-gay-purge-urges-russia-investigate-maxim-lapunov" target="_blank">gay purge</a>." </h2><p>Chechnya was, and may still be, arresting, torturing, and even killing men suspected to be gay or bisexual. In April 2017 — more than four months before Bakaev vanished — <a href="https://www.nytimes.com/2017/04/01/world/europe/chechen-authorities-arresting-and-killing-gay-men-russian-paper-says.html" target="_blank">The New York Times</a> reported at least 100 gay men had gone missing in Chechnya. The outlet cited a report from Moscow-based newspaper Novaya Gazeta, which claimed Chechen police were detaining men "in connection with their nontraditional sexual orientation, or suspicion of such." </p><p>Officials at the Russian LGBT Network, a Moscow-based advocacy group, feared the worst: that Bakaev had been swept up in the purge and <a href="https://www.upworthy.com/chechnya-is-still-killing-gay-men-now-a-prominent-russian-singer-may-be-dead">may have been killed</a>. </p><p>Now, they say, their suspicions have been confirmed.</p><p class="shortcode-media shortcode-media-rebelmouse-image"><img type="lazy-image" data-runner-src="https://assets.rebelmouse.io/eyJhbGciOiJIUzI1NiIsInR5cCI6IkpXVCJ9.eyJpbWFnZSI6Imh0dHBzOi8vYXNzZXRzLnJibC5tcy8xOTUzMDgwMy9vcmlnaW4uanBnIiwiZXhwaXJlc19hdCI6MTYwODk5MzExNX0.IyvrEAZVe7wFYiyPpmbrJtVbd9rLFd78uUCD7KvnDI4/img.jpg?width=980" id="d1caa" class="rm-shortcode" data-rm-shortcode-id="77b90c220a589e20d60a5e933d6cad2e" data-rm-shortcode-name="rebelmouse-image"><small class="image-media media-caption" placeholder="add caption...">Photo by Aaron Hooper, courtesy of RUSA LGBT.</small></p><h2>Chechen leader Ramazan Kadyrov gave eyebrow-raising comments on Bakaev that aired on state TV on January 17.</h2><p>Addressing other Chechen officials, Kadyrov publicly acknowledged Bakaev's disappearance for the first time. <strong>Shockingly, he accused the singer's </strong><em><strong>own family</strong></em><strong> of murdering the 25-year-old.</strong></p><p>"[Bakaev's] relatives, who didn't keep an eye on him and were ashamed that he was one of them, now say that Kadyrov took him," Kadyrov explained, according to <a href="https://www.rferl.org/a/kadyrov-bakayev-antigay-honor-killing-singer-chechnya/28983059.html" target="_blank">Radio Free Europe</a>. "His family couldn't stop him [from being gay], and then called him back home. And his brothers, it seems, accused him of being one of those."</p><p>"Isn't there anyone in the village, any man in the family, who can admit: 'We did this'?" Kadyrov continued. "They know full well who their relative was."</p><p class="shortcode-media shortcode-media-rebelmouse-image"><img type="lazy-image" data-runner-src="https://assets.rebelmouse.io/eyJhbGciOiJIUzI1NiIsInR5cCI6IkpXVCJ9.eyJpbWFnZSI6Imh0dHBzOi8vYXNzZXRzLnJibC5tcy8xOTUzMDgwNC9vcmlnaW4uanBnIiwiZXhwaXJlc19hdCI6MTY2MTMxODM1Nn0.FwHKhhyXs3WaUHSRdG__MRIcV4nfMjzKk4PJGbotcfk/img.jpg?width=980" id="d2410" class="rm-shortcode" data-rm-shortcode-id="72db3930228125c651bca1a2a0ecb7bd" data-rm-shortcode-name="rebelmouse-image"><small class="image-media media-caption" placeholder="add caption...">Chechen leader Ramzan Kadyrov. Photo by Alexander Nemenov/AFP/Getty Images.</small></p><p>Bakaev's father told local media the accusation from Kadyrov is simply <a href="https://gcn.ie/chechen-leader-hints-missing-gay-singers-fate/" target="_blank">false</a>.</p><h2>The Russian LGBT Network sees Kadyrov's unprompted comments as a confession to Bakaev's murder.</h2><p>Through testimonials given from other victims of the purge, the Russian LGBT Network claims to have evidence Bakaev was, in fact, detained by Chechen authorities. So Kadyrov's accusation seems to further confirm the group's worst fears, according to the network's founder, Igor Kochetkov.</p><p><strong>"Kadyrov has essentially admitted that Bakaev was killed,"</strong> Kochetkov noted to <a href="https://www.rferl.org/a/kadyrov-bakayev-antigay-honor-killing-singer-chechnya/28983059.html" target="_blank">RFE/RL's Russian Service</a>. "What's more, he is justifying and encouraging these actions."</p><p>Kochetkov believes a new <a href="https://go.allout.org/en/a/justice-for-zelim/" target="_blank">petition</a> by the Russian LGBT Network calling on Russian officials to investigate Bakaev's disappearance may have motivated the Chechen leader to shift blame onto the singer's family.</p><p class="shortcode-media shortcode-media-rebelmouse-image"><img type="lazy-image" data-runner-src="https://assets.rebelmouse.io/eyJhbGciOiJIUzI1NiIsInR5cCI6IkpXVCJ9.eyJpbWFnZSI6Imh0dHBzOi8vYXNzZXRzLnJibC5tcy8xOTUzMDgwNS9vcmlnaW4uanBnIiwiZXhwaXJlc19hdCI6MTY0MjA0NDM0N30.v8OC356hxZbJjlE6nkeW2Rs5EaYoHlRuV5WcvEGFong/img.jpg?width=980" id="63e5d" class="rm-shortcode" data-rm-shortcode-id="ac83267dbd90a36708c4e94bb08307dd" data-rm-shortcode-name="rebelmouse-image"><small class="image-media media-caption" placeholder="add caption...">Russian officials arrest a pro-LGBTQ rights demonstrator in Moscow in 2015. Photo by Dmitry Serebryakov/AFP Getty Images.</small></p><p>Bakaev's disappearance and alleged murder is getting more attention because of his fame. But the singer's story is just one of many. </p><h2>What's happened in Chechnya is truly frightening. </h2><p>After Novaya Gazeta's initial report on Chechnya's gay purge published last April, more and more horrifying details began to surface. Sir Alan Duncan, Britain's minister of state for the foreign office, told parliament a few weeks later he'd learned Chechen officials planned to "eliminate" the region's LGBTQ population by the end of May 2017, according to <a href="https://www.independent.co.uk/news/world/europe/chechnya-ramzan-kadyrov-gay-men-eliminate-chechen-leader-detain-torture-end-may-2017-camps-russia-a7700711.html" target="_blank">The Guardian</a>.  </p><p>Secretive "<a href="http://www.news.com.au/world/europe/at-least-100-gay-men-have-been-rounded-up-and-thrown-in-concentration-camps-in-chechnya/news-story/89553c2517a227ff20c57bef35cd78b3" target="_blank">modern day concentration camps</a>" had been set up to house detainees. Victims who've been released have recounted <a href="https://www.independent.co.uk/news/world/europe/gay-chechens-beating-electro-shock-torture-detain-camps-chechnya-russia-thugs-homophobia-human-a7713391.html" target="_blank">terrifying abuse</a> during their detentions, including beatings and torture via electric shock. Their captors would pry about the identities of others suspected to be gay or bisexual so that <a href="https://www.vox.com/identities/2017/4/18/15326500/gay-men-chechnya-violence-homophobia-antigay-torture" target="_blank">officials could target more men</a>.</p><p>Kadyrov, a close ally to Russian President Vladimir Putin, blasted these reports leaking out of the region. <strong>"We don't have those kinds of people here; we don't have any gays," </strong>he said in an interview with <a href="http://www.telegraph.co.uk/news/2017/07/16/ramazan-kadyrov-denies-existence-gay-men-chechnya-says-take/" target="_blank">HBO</a> last July. "If there are any, take them to Canada."</p><p class="shortcode-media shortcode-media-rebelmouse-image"><img type="lazy-image" data-runner-src="https://assets.rebelmouse.io/eyJhbGciOiJIUzI1NiIsInR5cCI6IkpXVCJ9.eyJpbWFnZSI6Imh0dHBzOi8vYXNzZXRzLnJibC5tcy8xOTUzMDgwNi9vcmlnaW4uanBnIiwiZXhwaXJlc19hdCI6MTYyNjQ4Njg1OX0.-zPVm9DNZ5aWeZo6-dm9poGKSfHLb_-dVenTQID5O6w/img.jpg?width=980" id="62f74" class="rm-shortcode" data-rm-shortcode-id="bdaa6bafbc7ecb9804d1f0028d43b45a" data-rm-shortcode-name="rebelmouse-image"><small class="image-media media-caption" placeholder="add caption...">Photo by Curto de la Torre/AFP/Getty Images.</small></p><p>But activists didn't believe Kadyrov's denial due to the overwhelming amount of <a href="https://www.independent.co.uk/news/world/europe/chechnya-ramzan-kadyrov-gay-men-eliminate-chechen-leader-detain-torture-end-may-2017-camps-russia-a7700711.html" target="_blank">evidence</a> and <a href="https://lgbtnet.org/en/content/ramzan-kadyrovs-claim-his-non-participation-disappearance-zelimkhan-bakaev" target="_blank">testimonials</a> from victims collected on the ground from human rights groups. </p><p>The Chechen leader has proven himself to be liar — why would the world trust him when it comes to Bakaev's situation?</p><h2>Now that it's pretty clear to many that Bakaev was murdered, his disappearance carries more political weight than ever. </h2><p>Mourners at Stonewall hope the singer's tragic death can fuel more urgency for the world to take a stand against Chechnya's institutionalized homophobia.</p><p class="shortcode-media shortcode-media-rebelmouse-image"><img type="lazy-image" data-runner-src="https://assets.rebelmouse.io/eyJhbGciOiJIUzI1NiIsInR5cCI6IkpXVCJ9.eyJpbWFnZSI6Imh0dHBzOi8vYXNzZXRzLnJibC5tcy8xOTUzMDgwNy9vcmlnaW4uanBnIiwiZXhwaXJlc19hdCI6MTYyMTYxMjMyNH0.nBLZFCuAoxjhZfd500SjHv_1rj5SlXJTspgG8e7BPHo/img.jpg?width=980" id="57346" class="rm-shortcode" data-rm-shortcode-id="a6d6121bfc2feb8425bdef52d8a83126" data-rm-shortcode-name="rebelmouse-image"><small class="image-media media-caption" placeholder="add caption...">Photo by Aaron Hooper, courtesy of RUSA LGBT.</small></p><p>"Too many [LGBTQ] people have been killed just for existing," <a href="https://twitter.com/voices4_/status/956382787766046720" target="_blank">tweeted</a> Voices 4, an LGBTQ advocacy group that organized the vigil alongside <a href="https://rusalgbt.com/2018/01/rusa-and-voices-vigil-for-zelim/" target="_blank">RUSA LGBT</a>. "We gathered in solemnity and silence tonight. We raise our voices and our fists again tomorrow."</p><p class="shortcode-media shortcode-media-rebelmouse-image"><img type="lazy-image" data-runner-src="https://assets.rebelmouse.io/eyJhbGciOiJIUzI1NiIsInR5cCI6IkpXVCJ9.eyJpbWFnZSI6Imh0dHBzOi8vYXNzZXRzLnJibC5tcy8xOTUzMDgwOC9vcmlnaW4uanBnIiwiZXhwaXJlc19hdCI6MTY0ODE2OTMwMX0.xlpkpXjSdkfFzte3u0vQXkk-4RzA_X8bHEkWBn1YfMQ/img.jpg?width=980" id="aacb1" class="rm-shortcode" data-rm-shortcode-id="165ab8dd013081e66371a3fdc3aefd86" data-rm-shortcode-name="rebelmouse-image"><small class="image-media media-caption" placeholder="add caption...">Photo by Aaron Hooper, courtesy of RUSA LGBT.</small></p><h2>Since Bakeyev's disappearance, some steps have been taken to address Chechnya's human rights abuses. </h2><p>It's not nearly enough, though.</p><p>A handful of world leaders have slammed Chechnya's gay purge, including German Chancellor <a href="http://www.bbc.com/news/world-europe-39779491" target="_blank">Angela Merkel</a> and French President <a href="https://www.upworthy.com/as-trump-remains-silent-france-welcomes-its-first-gay-chechen-refugee">Emmanuel Macron</a>. <a href="https://www.upworthy.com/as-trump-remains-silent-france-welcomes-its-first-gay-chechen-refugee">France</a> and <a href="https://www.theglobeandmail.com/news/canada-chechnya-gay-asylum/article36145997/" target="_blank">Canada</a> began accepting Chechen refugees at risk of harm due to their sexual orientation. </p><p>In December, the U.S. <a href="https://www.nytimes.com/2017/12/20/us/politics/trump-sanctions-russia-chechnya.html" target="_blank">imposed new sanctions</a> on a handful of Chechen officials, forbidding Americans from doing business with them and blocking certain financial transactions. The move increases pressure on Russia to act, <a href="https://www.nytimes.com/2017/12/20/us/politics/trump-sanctions-russia-chechnya.html" target="_blank">The New York Times</a> noted.</p><p><strong>Still, Kadyrov has suffered few ramifications for the government's gay purge — which may still be happening.</strong> Putin has largely shrugged off accusations of the state-sanctioned abuse, unconcerned with any potential political backlash. President Donald Trump has yet to publicly address the atrocities. </p><p>What will it take for the world to care about men like Bakaev?</p><p><em><strong>Here's how you can act.</strong> For updates on Chechnya's gay purge, follow and support <a href="https://voices4chechnya.com/" target="_blank">Voices 4</a>, <a href="https://rusalgbt.com/" target="_blank">RUSA LGBT</a>, and the <a href="https://lgbtnet.org/en" target="_blank">Russian LGBT Network</a>, which is helping Chechen men at risk of the purge escape the region. Sign and share the Russian LGBT Network's </em><a href="https://go.allout.org/en/a/justice-for-zelim/" target="_blank"><em>petition</em></a><em> urging Russia to investigate Bakaev. And <a href="https://www.house.gov/representatives/find/" target="_blank">contact your U.S. representatives</a> to demand that they speak up on the matter. </em></p>