Most Shared
Had the roles been reversed, people would not be happy.
"American Idol" is back and apparently now features some judge-on-contestant kissing.
It's hard to keep people interested in a show entering its 16th season, so it makes sense that show's new home at ABC would pull out all the stops to try to get people's attention. In the season premiere for the new season, judge Katy Perry broke new ground on the show, bestowing a quick peck on the lips to 19-year-old Benjamin Glaze.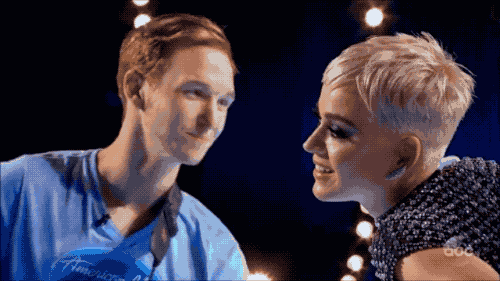 GIFs from "American Idol"/YouTube.
<p>After joking that he liked his job as a cashier at an electronics store because it meant that cute girls have to say hi to him, judge Luke Bryan asked Glaze if he's "kissed a girl and liked it," an obvious reference to <a href="https://www.youtube.com/watch?v=tAp9BKosZXs" target="_blank">Perry's 2008 mega-hit</a>. He says that he's actually never kissed a girl. Naturally, Perry asked Glaze to come closer and kiss her on the cheek. As he leaned in, Perry turned her head and kissed him on the lips.</p><h2>Some people online quickly pointed to the underlying issue of consent, and they're absolutely right.</h2><p>Though Glaze didn't seem to mind the kiss, Perry should have asked him first. From what viewers see (as it's entirely possible there were bits of relevant dialogue cut out by producers), he consented to kissing her cheek, not getting a kiss on the lips.</p><p>Still, a number of media outlets and Twitter users framed the encounter in a sort of "<em>he's so lucky</em>," <em>isn't this adorable</em>," "<em>this is so cute"</em> type of way. "Katy Perry gave one lucky 'American Idol' contestant his very first kiss — and his reaction is hilarious," read the headline of an article at <a href="http://www.thisisinsider.com/katy-perry-kisses-american-idol-contestant-auditions-video-2018-3" target="_blank">Insider</a>.</p><div><div data-card="instagram" data-reactroot=""><div><blockquote class="instagram-media" data-instgrm-captioned="" data-instgrm-permalink="https://www.instagram.com/p/BgNERF0gkY7/" data-instgrm-version="8" style=" background:#FFF; border:0; border-radius:3px; box-shadow:0 0 1px 0 rgba(0,0,0,0.5),0 1px 10px 0 rgba(0,0,0,0.15); margin: 1px; max-width:658px; padding:0; width:99.375%; width:-webkit-calc(100% - 2px); width:calc(100% - 2px);"><div style="padding:8px;"> <div style=" background:#F8F8F8; line-height:0; margin-top:40px; padding:50% 0; text-align:center; width:100%;"> </div> <p style=" margin:8px 0 0 0; padding:0 4px;"> <a href="https://www.instagram.com/p/BgNERF0gkY7/" style=" color:#000; font-family:Arial,sans-serif; font-size:14px; font-style:normal; font-weight:normal; line-height:17px; text-decoration:none; word-wrap:break-word;" target="_blank">He kissed @katyperry and he liked it. 😘💋😍 #AmericanIdol</a></p> <p style=" color:#c9c8cd; font-family:Arial,sans-serif; font-size:14px; line-height:17px; margin-bottom:0; margin-top:8px; overflow:hidden; padding:8px 0 7px; text-align:center; text-overflow:ellipsis; white-space:nowrap;">A post shared by <a href="https://www.instagram.com/americanidol/" style=" color:#c9c8cd; font-family:Arial,sans-serif; font-size:14px; font-style:normal; font-weight:normal; line-height:17px;" target="_blank"> American Idol</a> (@americanidol) on <time datetime="2018-03-12T01:08:16+00:00" style=" font-family:Arial,sans-serif; font-size:14px; line-height:17px;">Mar 11, 2018 at 6:08pm PDT</time></p></div></blockquote></div></div></div><p>But imagine how different the reaction would have been had the roles been reversed? What if instead of Perry kissing a male contestant 14 years younger than her, it was Bryan doing the same with a female contestant? If we're being honest with ourselves, we can probably admit that the situation wouldn't have seemed quite as "cute" or "funny," right? It's a safe bet there wouldn't be media outlets rushing to cover it that way either.</p><h2>It's less about this specific instance and more the message it sends — especially to kids.</h2><p>For one, we owe it to boys and men to care about their ability to consent as much as we owe it to girls and women. When we treat situations differently based on the gender of the person breaching consent, we're not sending a good message, especially when it comes to younger viewers.</p><p class="shortcode-media shortcode-media-rebelmouse-image"><img type="lazy-image" data-runner-src="https://assets.rebelmouse.io/eyJhbGciOiJIUzI1NiIsInR5cCI6IkpXVCJ9.eyJpbWFnZSI6Imh0dHBzOi8vYXNzZXRzLnJibC5tcy8xOTUzNDE0MC9vcmlnaW4uZ2lmIiwiZXhwaXJlc19hdCI6MTYxNDczODM3MX0.pWUujk5l4LNDReOOe7CvERHa-7pPRgc8jggfvl9qd2Y/img.gif?width=980" id="99fce" class="rm-shortcode" data-rm-shortcode-id="b62c1f256323a05baa16e2283ca35fdc" data-rm-shortcode-name="rebelmouse-image"><small class="image-media media-caption" placeholder="add caption..."></small></p><p>At her <a href="http://babysideburns.com/2018/03/dear-katy-perry-im-a-little-pissed-about-something-you-did-last-night-on-american-idol/" target="_blank">Baby Sideburns</a> blog, writer Karen Alpert walked through some of the issues she had with the segment, which are worth consideration. </p><p>"But there are millions of children watching your every move. Girls and boys," writes Alpert. "And when you kiss a boy on the lips without his permission, when you trick him into that, you're teaching our children the wrong thing. I'm not saying every teenager out there has to ask permission for every single little kiss, but you do have to be pretty sure that's what someone wants before you do that."</p><h2>The kiss was harmless, and this isn't meant to be some sort of attack on Perry. But let's learn from it and build a better world for our kids based around these lessons.</h2><p>It's a teachable moment for us all and, again, was pretty harmless in the big picture. It's <em>because</em> it was harmless that we can learn from it the next time something <em>isn't</em> harmless.</p><p>Watch the full clip of Glaze's audition below.</p><div><div data-card="youtube" data-reactroot=""><div><span style="display:block;position:relative;padding-top:56.25%;" class="rm-shortcode" data-rm-shortcode-id="496a3c4fbd25d7d57fe4e472606688f7"><iframe type="lazy-iframe" data-runner-src="https://www.youtube.com/embed/7iQn-toQp6A?rel=0" width="100%" height="auto" frameborder="0" scrolling="no" style="position:absolute;top:0;left:0;width:100%;height:100%;"></iframe></span></div></div></div>