Most Shared
She really does have the heart of a champion.
This is Majlinda Kelmendi. She competed in Rio as a member of Kosovo's national team, and she made history.
For the first time ever, Kosovo is fielding a team at the Olympics. Just eight years removed from the country's declaration of independence from Serbia, the war-torn country has earned a spot atop the world's premier sporting stage.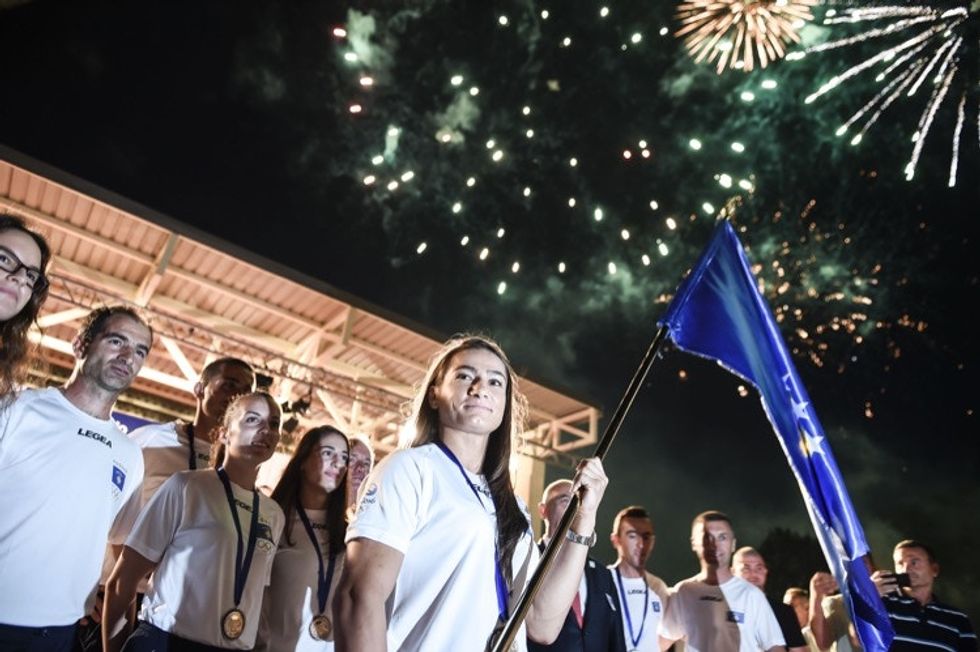 </div></div></div><h2>Though this is Kosovo's first appearance at the Olympics, the arena is familiar territory for Kelmendi, who represented Albania in the 2012 Olympics in London, where she competed in judo. </h2><p>In 2012, she left London empty-handed. Now 25 years old, Kelmendi hoped to avoid a similar result in her historic return to the Olympic arena. She and her country had their legacies on the line, but nothing could stand in the way of her gold medal dreams.</p><div><div class="push-wrapper--mobile" data-card="image" data-reactroot=""><img type="lazy-image" data-runner-src="https://assets.rebelmouse.io/eyJhbGciOiJIUzI1NiIsInR5cCI6IkpXVCJ9.eyJpbWFnZSI6Imh0dHBzOi8vYXNzZXRzLnJibC5tcy8xOTUxODYxOC9vcmlnaW4uanBnIiwiZXhwaXJlc19hdCI6MTY0NTU2MTAxMn0.MRlBHtZVYK6U999JelFC_0mJ7XvWdzvVm22eeWCGrc0/img.jpg?width=980" id="8294f" class="rm-shortcode" data-rm-shortcode-id="2f4045abeee7d3e818e0de72985bd460" data-rm-shortcode-name="rebelmouse-image"><div class="image-caption"><p>Majlinda Kelmendi of Albania (in white) competes against Jaana Sundberg of Finland at the London 2012 Olympic Games. Photo by Michael Steele/Getty Images.</p></div></div></div><h2>On Day Two of the 2016 Olympics in Rio, those gold medal dreams came true. Kelmendi became the first person to take home an Olympic medal for Kosovo. </h2><p>After defeating Italy's Odette Giuffrida in the final, Kelmendi quickly came to terms with the enormity of what just happened. She won. Just as important, however — Kosovo, as a country, won.</p><p>"To be honest, I came here for the gold medal, but it's crazy," <a href="http://edition.cnn.com/2016/08/07/sport/majlinda-kelmendi-kosovo-olympics/" target="_blank">she told reporters</a>. "I'm so happy for me, for my coach, for all my country. This is the first time that Kosovo is part of the Olympics, and for the first time, I think gold is huge.</p><p>"It means a lot. People, especially kids in Kosovo, look to me as a hero."</p><div><div class="push-wrapper--mobile" data-card="image" data-reactroot=""><img type="lazy-image" data-runner-src="https://assets.rebelmouse.io/eyJhbGciOiJIUzI1NiIsInR5cCI6IkpXVCJ9.eyJpbWFnZSI6Imh0dHBzOi8vYXNzZXRzLnJibC5tcy8xOTUxODYxOS9vcmlnaW4uanBnIiwiZXhwaXJlc19hdCI6MTY1Mzk2MzIyN30.4pi622KJdcQQSmaA2jSMfDmia_rwu46oaSxKYGX_6y0/img.jpg?width=980" id="3bbed" class="rm-shortcode" data-rm-shortcode-id="61ece4762155c20b9aea65e3108b13c7" data-rm-shortcode-name="rebelmouse-image"><div class="image-caption"><p>Majlinda Kelmendi of Kosovo (in blue) and Odette Giuffrida of Italy compete in the gold medal final at the Rio 2016 Olympic Games. Photo by Richard Heathcote/Getty Images.</p></div></div></div><div><div class="push-wrapper--mobile" data-card="image" data-reactroot=""><img type="lazy-image" data-runner-src="https://assets.rebelmouse.io/eyJhbGciOiJIUzI1NiIsInR5cCI6IkpXVCJ9.eyJpbWFnZSI6Imh0dHBzOi8vYXNzZXRzLnJibC5tcy8xOTUxODYyMC9vcmlnaW4uanBnIiwiZXhwaXJlc19hdCI6MTYyNTIzODY2MH0.I646ryajwd8shsE92vfOjcWYs49yQzhw0RM8EBCDKg0/img.jpg?width=980" id="ad7f5" class="rm-shortcode" data-rm-shortcode-id="aea0dadbd337487f24c614c43ae23e23" data-rm-shortcode-name="rebelmouse-image"><div class="image-caption"><p>Majlinda Kelmendi of Kosovo celebrates winning the gold medal. Photo by Pascal Le Segretain/Getty Images.</p></div></div></div><h2>The newly-crowned champion was overwhelmed with emotion.</h2><div><div class="push-wrapper--mobile" data-card="image" data-reactroot=""><img type="lazy-image" data-runner-src="https://assets.rebelmouse.io/eyJhbGciOiJIUzI1NiIsInR5cCI6IkpXVCJ9.eyJpbWFnZSI6Imh0dHBzOi8vYXNzZXRzLnJibC5tcy8xOTUxODYyMS9vcmlnaW4uanBnIiwiZXhwaXJlc19hdCI6MTYyMDg2NTAwM30.YXXtYQOolt5W4xlguJpa3_qUWb6IlCXr_QS8AvQAu_M/img.jpg?width=980" id="95d15" class="rm-shortcode" data-rm-shortcode-id="51390f176d4a9311ea2bda456a0c7fbb" data-rm-shortcode-name="rebelmouse-image"><div class="image-caption"><p>Photo by Toshifumi Kitamura/AFP/Getty Images.</p></div></div></div><h2>"I just proved to them that even after the war, even after we survived a war, if they want something they can have it," she said. "If they want to be Olympic champions, they can be — even if we come from a small country, a poor country."</h2><div><div class="push-wrapper--mobile" data-card="image" data-reactroot=""><img type="lazy-image" data-runner-src="https://assets.rebelmouse.io/eyJhbGciOiJIUzI1NiIsInR5cCI6IkpXVCJ9.eyJpbWFnZSI6Imh0dHBzOi8vYXNzZXRzLnJibC5tcy8xOTUxODYyMi9vcmlnaW4uanBnIiwiZXhwaXJlc19hdCI6MTY1NDE2MTQzNX0.AyPHw4O2n_ucUyiFGoUn5yVlQlWEKnM9CQByV0Qs22g/img.jpg?width=980" id="a99f0" class="rm-shortcode" data-rm-shortcode-id="1b6638fca9190f3bc3b73693dd2c4148" data-rm-shortcode-name="rebelmouse-image"><div class="image-caption"><p>Majlinda Kelmendi of Kosovo shows her emotions at winning the gold. Photo by Laurence Griffiths/Getty Images.</p></div></div></div><h2>Watching as she received her gold medal served as a reminder of what the Olympics are supposed to be all about.</h2><p>For a few weeks every four years, the world's greatest athletes come together in competition. For that short period of time, it seems as though all that is wrong with the world has taken a back seat to the representation of unity and healthy competition. For that brief moment in time, it can seem as though there are no wars. For that brief moment in time, we see humanity for the best it is and the best it can be. For that brief moment in time, there are only champions.</p><div><div class="push-wrapper--mobile" data-card="image" data-reactroot=""><img type="lazy-image" data-runner-src="https://assets.rebelmouse.io/eyJhbGciOiJIUzI1NiIsInR5cCI6IkpXVCJ9.eyJpbWFnZSI6Imh0dHBzOi8vYXNzZXRzLnJibC5tcy8xOTUxODYyMy9vcmlnaW4uanBnIiwiZXhwaXJlc19hdCI6MTYwNDg2OTIzNn0.Kb0hLVgFDtphIOIEWF209WmAhX6b7QwajmOcQXha-TI/img.jpg?width=980" id="4d439" class="rm-shortcode" data-rm-shortcode-id="8033791cfc8018108cc1716cb3c96fc8" data-rm-shortcode-name="rebelmouse-image"><div class="image-caption"><p>Gold medalist Majlinda Kelmendi shows her emotions during the medal ceremony. Photo by Pascal Le Segretain/Getty Images.</p></div></div></div><div><div class="push-wrapper--mobile" data-card="image" data-reactroot=""><img type="lazy-image" data-runner-src="https://assets.rebelmouse.io/eyJhbGciOiJIUzI1NiIsInR5cCI6IkpXVCJ9.eyJpbWFnZSI6Imh0dHBzOi8vYXNzZXRzLnJibC5tcy8xOTUxODYyNC9vcmlnaW4uanBnIiwiZXhwaXJlc19hdCI6MTYzNzg1NDQ1OX0._-F5OrKV8SEb9wknjyNgVUO3D1t5pof77jdTbHMeJWU/img.jpg?width=980" id="efdf0" class="rm-shortcode" data-rm-shortcode-id="874fe4b584a29850a60ac9407d5ba181" data-rm-shortcode-name="rebelmouse-image"><div class="image-caption"><p>Gold medalist Majlinda Kelmendi of Kosovo is presented her medal. Photo by Pascal Le Segretain/Getty Images.</p></div></div></div><h2>In Majlinda Kelmendi, we see what the heart of a champion looks like.</h2><p>In that heart, we see the best of humanity, we see the value of hard work, and we see the importance of dreaming big.</p><div><div class="push-wrapper--mobile" data-card="image" data-reactroot=""><img type="lazy-image" data-runner-src="https://assets.rebelmouse.io/eyJhbGciOiJIUzI1NiIsInR5cCI6IkpXVCJ9.eyJpbWFnZSI6Imh0dHBzOi8vYXNzZXRzLnJibC5tcy8xOTUxODYyNS9vcmlnaW4uanBnIiwiZXhwaXJlc19hdCI6MTYwODUyMDA4NH0.hqEqkyDifE4qpFVeprcQ7Il0CMSK6Gb1n0E-58SuoxQ/img.jpg?width=980" id="c49c9" class="rm-shortcode" data-rm-shortcode-id="711d16891adcf2f04fd0d8139f35bc51" data-rm-shortcode-name="rebelmouse-image"><div class="image-caption"><p>Gold medalist Majlinda Kelmendi of Kosovo and silver medalist Odette Giuffrida of Italy pose on the podium during the medal ceremony. Photo by Laurence Griffiths/Getty Images.</p></div></div></div><div><div class="push-wrapper--mobile" data-card="image" data-reactroot=""><img type="lazy-image" data-runner-src="https://assets.rebelmouse.io/eyJhbGciOiJIUzI1NiIsInR5cCI6IkpXVCJ9.eyJpbWFnZSI6Imh0dHBzOi8vYXNzZXRzLnJibC5tcy8xOTUxODYyNi9vcmlnaW4uanBnIiwiZXhwaXJlc19hdCI6MTYwMzQ0NjExNn0.4gjUzSXFdbuNd3IpdadbLAnkmBIfkpYVNZpZNNSm8MI/img.jpg?width=980" id="7acc9" class="rm-shortcode" data-rm-shortcode-id="c6360e76cc09000e6a3bb255b4cd3d93" data-rm-shortcode-name="rebelmouse-image"><div class="image-caption"><p>(L-R) Silver medalist Odette Giuffrida of Italy, gold medalist Majlinda Kelmendi of Kosovo, and bronze medalists Misato Nakamura of Japan and Natalia Kuziutina of Russia. Photo by Pascal Le Segretain/Getty Images.</p></div></div></div>