Heroes
'Will the glaciers behind the ice shelf accelerate and have a direct contribution to sea level rise?'
Are we on a sinking ship, watching dreadfully as the sea rises around us, an iceberg — bobbing in the distance — the telltale sign of our demise?

No, I'm not talking about what happened to passengers of the Titanic. I'm talking about the ridiculously massive chunk of ice — roughly the size of Delaware — that broke off from an Antarctic ice sheet last week.


Just as a reminder, here's Delaware: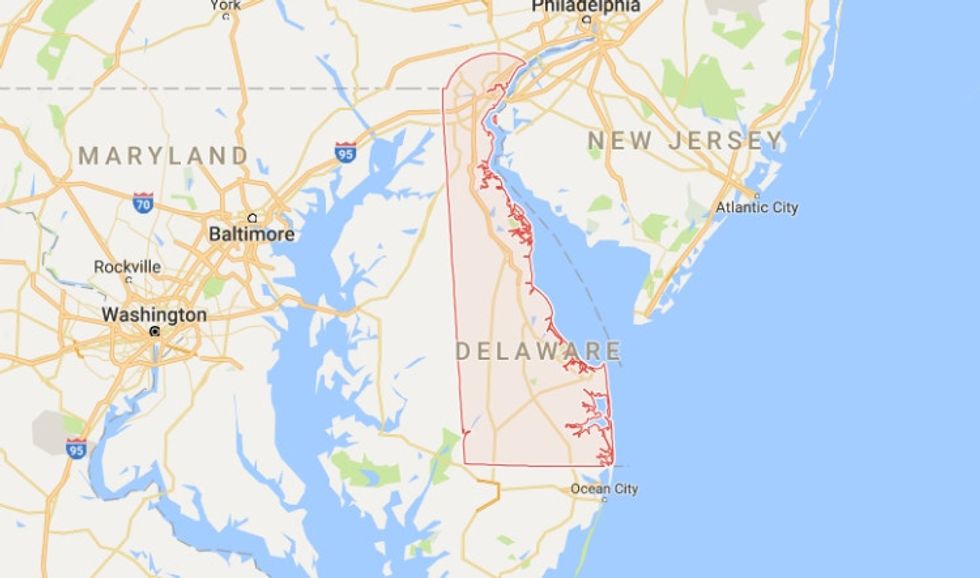 Image via Google Earth.
<p>Sure, Delaware might seem pretty small when you compare it to, say, Alaska or Texas. But a chunk of ice as large as Delaware — about 2,200 square miles, or over <em>seven times</em> the <a href="https://www.nytimes.com/aponline/2017/07/12/world/europe/ap-iceberg.html" target="_blank">size of New York City</a> — is simply enormous for what's basically one of Mother Earth's ice cubes.</p><h2>The iceberg is so big, you can see it from space. </h2><p>Imagery acquired by NASA on July 12, 2017, really helps put its size in perspective.</p><p class="shortcode-media shortcode-media-rebelmouse-image"><img type="lazy-image" data-runner-src="https://assets.rebelmouse.io/eyJhbGciOiJIUzI1NiIsInR5cCI6IkpXVCJ9.eyJpbWFnZSI6Imh0dHBzOi8vYXNzZXRzLnJibC5tcy8xOTUzNDM2NS9vcmlnaW4uanBnIiwiZXhwaXJlc19hdCI6MTY0MTA4MTgzMn0.OMasOztSJEfteiSQgxq7pv-Ya3l_6-ttyRkYWMTf12I/img.jpg?width=980" id="aa36a" class="rm-shortcode" data-rm-shortcode-id="376a15d23ee445c0b6833f38ba672be0" data-rm-shortcode-name="rebelmouse-image"><small class="image-media media-caption" placeholder="add caption...">This infrared image taken from space reflects a "false-color view" of the region, according to NASA; the darker the blue hue, the warmer the temperature. Image via NASA.</small></p><h2>To better understand why we have this humungous piece of floating ice on our hands, we have to go back three years. </h2><p>According to <a href="https://earthobservatory.nasa.gov/NaturalHazards/view.php?id=90557&amp;src=twitter-nh" target="_blank">NASA</a>, a crack that'd been slowly inching along Antarctica's Larsen C ice shelf suddenly began accelerating in size and scope in 2014. </p><p>In the GIF below, you can watch that crack — highlighted in pink — go from taking baby steps forward from 2006-2014, to suddenly chugging along several miles a year, 2014-2017.</p><iframe width="100%" height="150" scrolling="no" class="rm-shortcode twitter-embed-885172826243833856" id="twitter-embed-885172826243833856" type="lazy-iframe" data-runner-src="/res/community/twitter_embed/?iframe_id=twitter-embed-885172826243833856&amp;created_ts=1499876622.0&amp;screen_name=NASA_ICE&amp;text=An+iceberg+about+the+size+of+Delaware+has+split+off+from+Antarctica+-+scientists+wonder%3A+what+happens+next%3F%E2%80%A6+https%3A%2F%2Ft.co%2FOlVmuvSK9W&amp;id=885172826243833856&amp;name=NASA+ICE" frameborder="0" data-rm-shortcode-id="0OFI2F1559350554"></iframe><p>The crack eventually caused a rift deep and long enough, and that's what caused the iceberg to break off. </p><p>Dan McGrath, a glaciologist at Colorado State University, said <a href="https://earthobservatory.nasa.gov/NaturalHazards/view.php?id=90557&amp;src=twitter-nh" target="_blank">scientists aren't exactly sure</a> what changed in 2014 that allowed the rift to expand so rapidly, but, in all likelihood, human-created climate change didn't help.</p><p>"The Antarctic Peninsula has been one of the fastest warming places on the planet throughout the latter half of the 20th century," he said. "We haven't made a direct connection with the warming climate. Still, there are definitely mechanisms by which this rift could be linked to climate change, most notably through warmer ocean waters eating away at the base of the shelf."</p><h2>Although this iceberg has caused quite the stir, the <em>truly</em> telling developments will come later, experts believe. </h2><p>This latest iceberg removed more than 10% of that particular ice shelf, <a href="https://www.nytimes.com/aponline/2017/07/12/world/europe/ap-iceberg.html" target="_blank">The New York Times</a> reported, and that could speed up the flow of glacial water into the ocean.</p><p>To put it simply, that would not be good.</p><p>"It's significant as a sign of what is happening to Antarctica as a whole," former Vice President Al Gore <a href="https://www.youtube.com/watch?v=Ojlcvn42rb0" target="_blank">explained to Stephen Colbert</a> of what we can learn from the event. "This particular ice shelf, it's already floating, so it won't raise sea level, but if the others behind it also come off, that could release more land-based ice that would raise sea levels."</p><p>It's a big question NASA scientists are asking, too.</p><p>"The interesting thing is <a href="https://earthobservatory.nasa.gov/NaturalHazards/view.php?id=90557&amp;src=twitter-nh" target="_blank">what happens next</a>," said Kelly Brunt, a glaciologist at NASA's Goddard Space Flight Center and the University of Maryland. "Will the glaciers behind the ice shelf accelerate and have a direct contribution to sea level rise? Or is this just a <a href="https://www.asf.alaska.edu/blog/what-is-glacial-calving/" target="_blank">normal calving event</a>?"</p><p>Only time (and our collective desire to confront climate change) will tell.</p>