Back in 2013, Rachel Lapierre of Montreal, Canada, won the lottery.
She was to receive $1,000 a week — $52,000 a year — for the rest of her life. And what a difference that extra income has ended up making!

Well, not to her personally, really — but to lots of other people in need.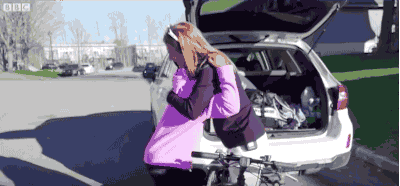 GIF via BBC News/YouTube.
<h2>Instead of keeping her lottery earnings, Lapierre has been giving it all away to charity — her <em>own</em> nonprofit. </h2><p>"You know, money is money," she explained to <a href="https://www.youtube.com/watch?v=AYwzOz784H0" target="_blank">BBC News</a>. "When you [are] born, you don't have anything. And when you go, you're going with nothing. But you're going with your memories."</p><p class="shortcode-media shortcode-media-rebelmouse-image"><img type="lazy-image" data-runner-src="https://assets.rebelmouse.io/eyJhbGciOiJIUzI1NiIsInR5cCI6IkpXVCJ9.eyJpbWFnZSI6Imh0dHBzOi8vYXNzZXRzLnJibC5tcy8xOTQ3ODEzNi9vcmlnaW4uZ2lmIiwiZXhwaXJlc19hdCI6MTYyMDAxMDA3NX0.3B8GEkICt9arGI-dfcHqTSYKuSAGaegclqZ0ylowtrI/img.gif?width=980" id="5d85e" class="rm-shortcode" data-rm-shortcode-id="5df05cbb9888ba1ef01356b48f7ef847" data-rm-shortcode-name="rebelmouse-image"><small class="image-media media-caption" placeholder="add caption...">GIF via BBC/YouTube.</small></p><p>Before winning the lottery, Lapierre — a former Miss Quebec beauty queen — already lived a relatively well-off life. Grateful for her privileges and good fortune, Lapierre had launched <a href="http://www.lebookhumanitaire.com/" target="_blank">Le Book Humanitaire</a> (The Humanitarian Book) — a nonprofit helping people not only in Canada, but countries like Haiti, Sengal, and India, as well. </p><h2>Lapierre has been giving all of her lottery income to The Humanitarian Book to help even more people in need.</h2><p>The nonprofit mostly runs off the generosity of volunteers and serves communities in a number of ways, she explained to Canadian talk show "<a href="https://www.youtube.com/watch?v=D4V5Axu0swc" target="_blank">Tout le Monde en Parle</a>" last year — from donating food to the hungry to helping cancer patients with cooking and cleaning around the house.  </p><p><strong>"We just try to promote good deeds," </strong>Lapierre <a href="https://www.youtube.com/watch?v=AYwzOz784H0" target="_blank">told the BBC</a>. "A good deed can be so many things. It can be [donating] a bike today, it can be food, it can be transport to go to the hospital, it can be just listening to someone on the phone because they're so lonely."  </p><p>If one good deed can go a long way, imagine what Lapierre's lifetime supply will do.</p><h2>Learn more about Lapierre's story and Le Book Humanitaire in the BBC video below: </h2><div><div data-card="youtube" data-reactroot=""><div><span style="display:block;position:relative;padding-top:56.25%;" class="rm-shortcode" data-rm-shortcode-id="66e82808e4a62eb7ba192688e53ab648"><iframe type="lazy-iframe" data-runner-src="https://www.youtube.com/embed/AYwzOz784H0?rel=0" width="100%" height="auto" frameborder="0" scrolling="no" style="position:absolute;top:0;left:0;width:100%;height:100%;"></iframe></span></div></div></div>