The name Jared Polis may not ring a bell. But by November 2018 it should.
As a gubernatorial candidate, the businessman and politician is championing a boldly blue platform in the traditionally purple state of Colorado. And he just took a big step toward the history books.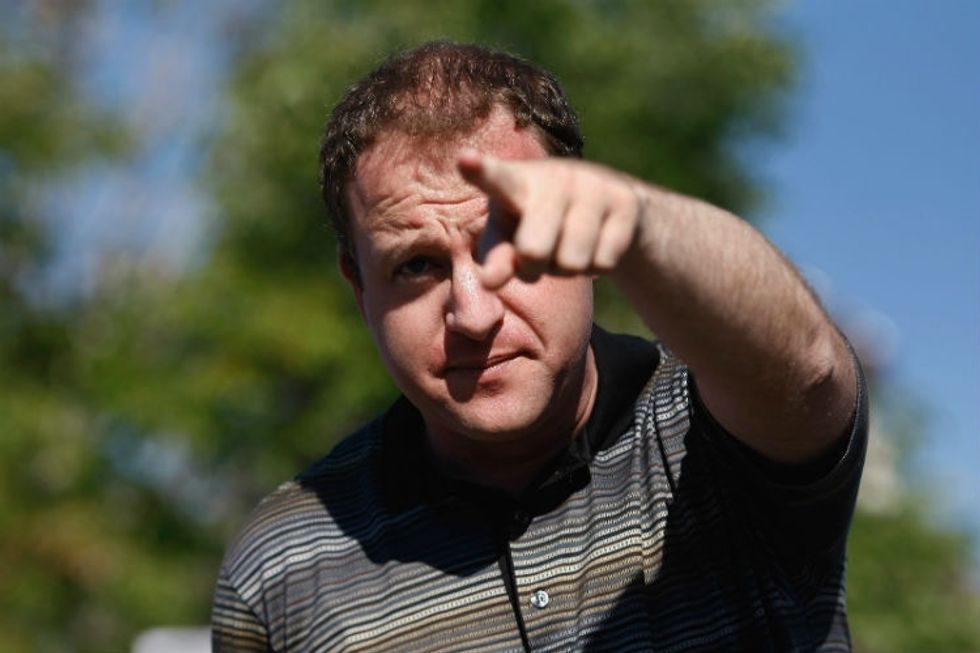 Photo by John Moore/Getty Images.
<p>On June 26, the 43-year-old father of two — who's focused his campaign on issues like Medicare for all and universal public preschool — <a href="https://www.bustle.com/p/jared-polis-wins-colorados-primary-could-become-americas-first-openly-gay-male-governor-9597266" target="_blank">defeated his Democratic primary challengers</a> and is headed to the general election with the wind at his back.</p><h2>If he succeeds in November, Polis would be the country's first openly gay man to be elected governor.</h2><p>Jim McGreevey, governor of New Jersey from 2002 to 2004, came out while serving, but only <a href="https://www.cnn.com/2013/10/17/us/jim-mcgreevey-fast-facts/index.html" target="_blank">during his resignation speech</a> after scandal ended his time in office. Oregon's Kate Brown, who is bisexual, became the <a href="https://www.oregonlive.com/politics/index.ssf/2016/05/gov_kate_brown_veers_from_typi.html" target="_blank">first openly LGBTQ person</a> to be elected governor in 2015. </p><p>Should Polis defeat Republican Walker Stapleton in the fall, he'd be the first male governor chosen by voters while being openly gay.</p><p class="shortcode-media shortcode-media-rebelmouse-image"><img type="lazy-image" data-runner-src="https://assets.rebelmouse.io/eyJhbGciOiJIUzI1NiIsInR5cCI6IkpXVCJ9.eyJpbWFnZSI6Imh0dHBzOi8vYXNzZXRzLnJibC5tcy8xOTQ3NzMyMy9vcmlnaW4uanBnIiwiZXhwaXJlc19hdCI6MTY2MjU5MzgyN30.k9fuYILuy9UgSxWZIDid--7WKf0IO9wxg9Ed1ggWWa8/img.jpg?width=980" id="e8e78" class="rm-shortcode" data-rm-shortcode-id="ffe978c245e1c25a9de13aa83bbfcfc9" data-rm-shortcode-name="rebelmouse-image"><small class="image-media media-caption" placeholder="add caption...">Polis, holding his son, Caspian, and Polis' husband, Marlon Reis, in 2013. Photo by Taylor Hill/Getty Images.</small></p><h2>"Leadership is not about dividing people — it's about finding ways to bring people together," Polis said during a June 26 <a href="https://www.youtube.com/watch?v=O43y7KiMb_A" target="_blank">speech</a> that largely rebuked President Donald Trump's agenda. </h2><p>Polis made it clear he's not fond of Trump's right-hand man either. </p><p>"I think [electing an LGBTQ governor] really gives Colorado an opportunity to stick a thumb in the eye of Mike Pence, whose view of America is not as inclusive as where America is today," Polis <a href="https://www.vox.com/2018/6/26/17492536/2018-midterms-jared-polis-colorado-first-openly-gay-elected-governor" target="_blank">said in a speech</a>. </p><p>That's putting it lightly. </p><p><strong>Watch Polis' speech accepting his party's nomination below:</strong></p><div><div data-card="youtube" data-reactroot=""><div><span style="display:block;position:relative;padding-top:56.25%;" class="rm-shortcode" data-rm-shortcode-id="ef2ba80906148c88d2a2e494d67e31bf"><iframe type="lazy-iframe" data-runner-src="https://www.youtube.com/embed/O43y7KiMb_A?rel=0" width="100%" height="auto" frameborder="0" scrolling="no" style="position:absolute;top:0;left:0;width:100%;height:100%;"></iframe></span></div></div></div>