When Maureen and Jim Nelis got married in January 2018, they had to decide what they'd do for a honeymoon.
For the couple from Derry, Ireland, the choice was a little different than for most. Both of them had been married and widowed, so they decided to forego a honeymoon completely and bring the party somewhere closer to home, where it would have a lasting impact.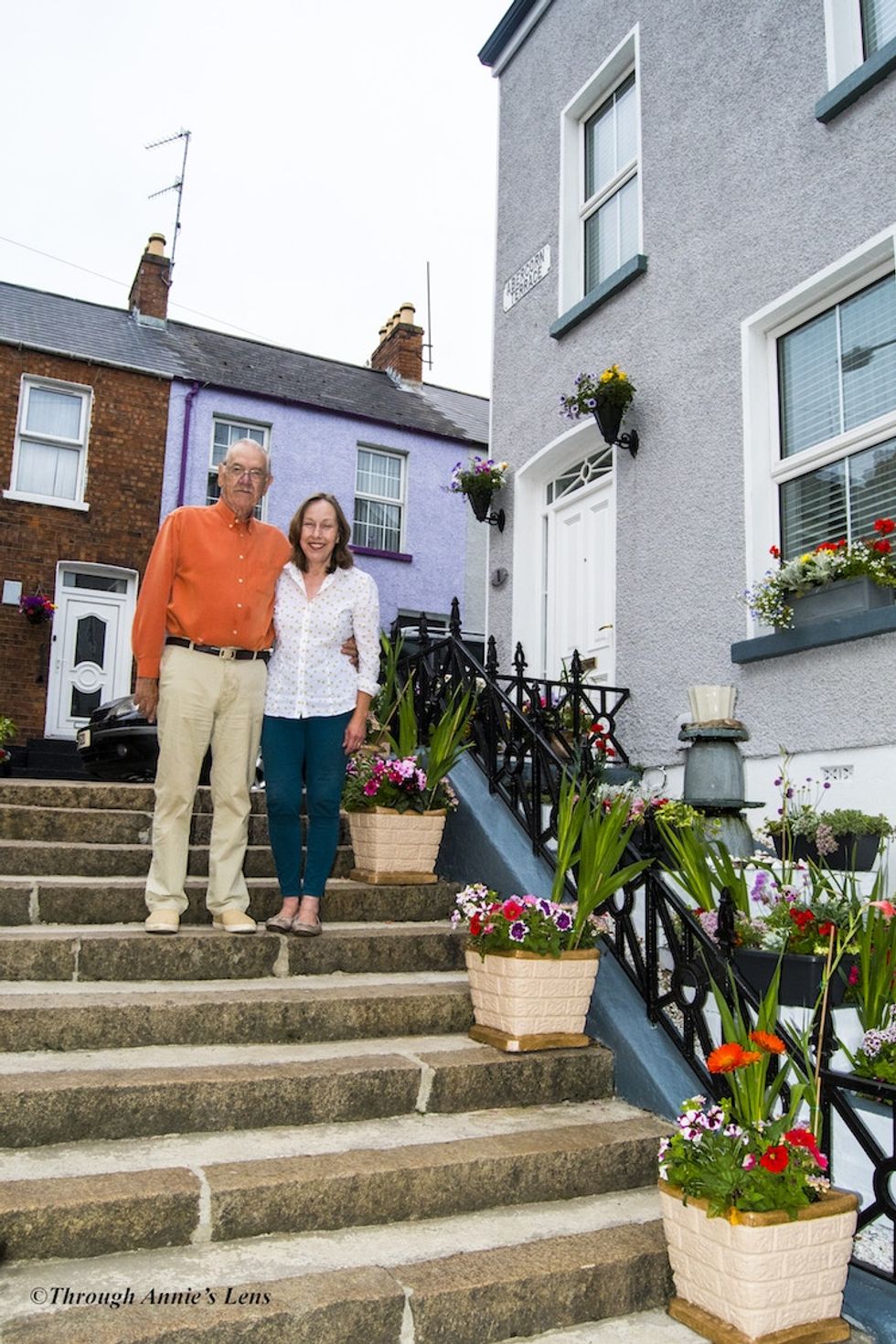 Maureen and Jim Nelis in front of their flowers. All photos courtesy of Anne McGrotty.
<h2>Instead of traveling, the couple covered their street in beautiful flowers. And then the neighbors got involved.</h2><p>Maureen has lived on Harding Street for more than 30 years, and she's had a long-standing tradition of decorating the Spanish steps that can be found there. When Jim moved in with her, they <a href="https://www.bbc.com/news/uk-northern-ireland-foyle-west-44729297" target="_blank">added his plants</a> to the decoration, livening the street with color. </p><p>But they had more plants than space to decorate. So, <a href="https://www.bbc.com/news/uk-northern-ireland-foyle-west-44729297" target="_blank">the BBC reports</a>, they started giving plants away to the people who were most special to them. Then, other neighbors asked if they could be given some plants too. And that's when the Nelises made their decision.</p><p>"Instead of going some place to look at something beautiful, and then come home and still not have any flowers here, we forgot about the honeymoon and put the money back into the neighborhood," Maureen told the BBC.</p><p>So: no more trip to Florence. The couple started planting instead. </p><p class="shortcode-media shortcode-media-rebelmouse-image"><img type="lazy-image" data-runner-src="https://assets.rebelmouse.io/eyJhbGciOiJIUzI1NiIsInR5cCI6IkpXVCJ9.eyJpbWFnZSI6Imh0dHBzOi8vYXNzZXRzLnJibC5tcy8xOTM0NzA2MS9vcmlnaW4uanBnIiwiZXhwaXJlc19hdCI6MTYxODA3MzE2MH0.J4JQEcg47Ckk3D0zSqS4z8cJzVrp_yspEsvImyLMWQE/img.jpg?width=980" id="6db73" class="rm-shortcode" data-rm-shortcode-id="89d5d1d7d5e5f81999112644e4c94368" data-rm-shortcode-name="rebelmouse-image"><small class="image-media media-caption" placeholder="add caption...">One of the window boxes Maureen and Jim gifted to the community.</small></p><h2>Maureen and Jim gifted their entire neighborhood with fresh blooms. And it's changed <em>everything</em>.</h2><p>Almost as soon as they'd made a decision to give everyone in their vicinity window boxes, hanging flowers, and other decorations, neighbors started congregating to look at each other's flowers and share tips on keeping them thriving with each other. </p><p>Anne McGrotty, a resident who lives down the street, told Upworthy that it's really changed the way neighbors connect. </p><p><strong>"The flowers [have] brought the neighbors closer together," </strong>she writes in an email. "They chat while out watering their flowers and have even got to know each other better. Some didn't know each other before this. It has given a sense of pride to the street."</p><p class="shortcode-media shortcode-media-rebelmouse-image"><img type="lazy-image" data-runner-src="https://assets.rebelmouse.io/eyJhbGciOiJIUzI1NiIsInR5cCI6IkpXVCJ9.eyJpbWFnZSI6Imh0dHBzOi8vYXNzZXRzLnJibC5tcy8xOTM0NzA2Mi9vcmlnaW4uanBnIiwiZXhwaXJlc19hdCI6MTU5OTk0ODQ3Mn0.ISiZpvlihrSWbs10EEclz3xntYGTer6CfesWtIvSw-w/img.jpg?width=980" id="70f92" class="rm-shortcode" data-rm-shortcode-id="7ac1abb6a0385a531007faa8594479c3" data-rm-shortcode-name="rebelmouse-image"><small class="image-media media-caption" placeholder="add caption...">Neighbors gathered on the Spanish steps on Harding Street.</small></p><h2>Maureen said that she never expected that the flowers would make such a difference or receive such attention. </h2><p>And though she would likely be reluctant to say this is the beginning of a movement — she just wanted to do something nice for her neighborhood! — how great would it be if more and more of us focused outward when it came to considering how to spend our leisure time?</p><p>Research shows that creating green spaces in communal spaces <a href="https://www.citylab.com/environment/2015/10/the-pretty-much-totally-complete-health-case-for-urban-nature/411331/" target="_blank">improves health</a>, <a href="https://www.citylab.com/solutions/2016/04/vacant-lots-green-space-crime-research-statistics/476040/" target="_blank">reduces crime</a>, and<a href="https://www.theguardian.com/sustainable-business/2015/apr/20/garden-cities-can-green-spaces-bring-health-and-happiness" target="_blank"> brings people of all backgrounds together</a>. What more could one hope for from a honeymoon? </p><p>Maureen and Jim Nelis — they know how to get things started right.</p>