Most Shared
The NSFW ads are unlike anything you've seen ... or are they?
A new, very NSFW ad campaign is turning one of the most played-out advertising tropes on its head in a brilliant way.
The campaign, by women's suit-maker Suistudio, is called "Not Dressing Men." The ads consist of sharply dressed, suit-clad women striking powerful poses while naked men lounge in the background, reduced to the role women have so often played in advertising: objects.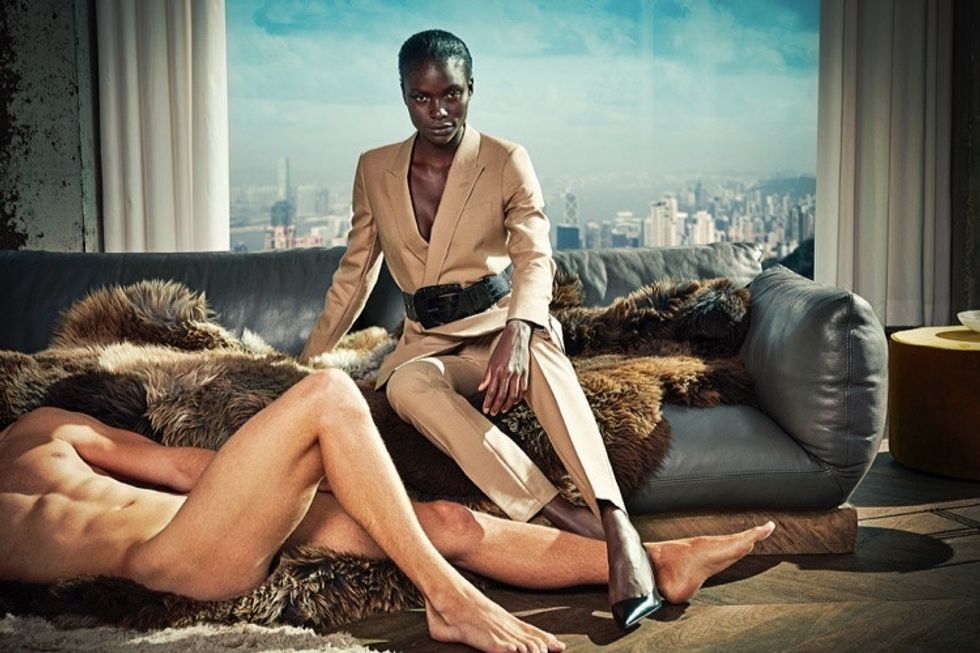 Photo courtesy of Suistudio.
<p>According to Suistudio USA vice president Kristina Barricelli, the company is simply filling an empty space left by advertising's very one-sided history of objectification.</p><p>"There is nothing wrong with sex, the naked human body, and the inclusion of that in a campaign. Sex is a big part of fashion," she writes over e-mail. "The problem is that in recent history, we haven't seen a naked man objectified in the background. How strange! Why not?"</p><p class="shortcode-media shortcode-media-rebelmouse-image"><img type="lazy-image" data-runner-src="https://assets.rebelmouse.io/eyJhbGciOiJIUzI1NiIsInR5cCI6IkpXVCJ9.eyJpbWFnZSI6Imh0dHBzOi8vYXNzZXRzLnJibC5tcy8xOTUzMjAyNi9vcmlnaW4uanBnIiwiZXhwaXJlc19hdCI6MTY1MTk1MjgwN30.lZ3xs4l97U1sTVp7RneYPqyWwREAFLfqzZeipKI590g/img.jpg?width=980" id="73afa" class="rm-shortcode" data-rm-shortcode-id="ccaff2ebedee0877a74abea58355cd17" data-rm-shortcode-name="rebelmouse-image"><small class="image-media media-caption" placeholder="add caption...">Photo courtesy of Suistudio.</small></p><p>Barricelli is careful not to call the campaign an attempt at gender-flipping, but instead, it's a call to viewers to reconsider the rigid gender roles reinforced through advertising over the years. That the campaign has to do with suits — clothing that is more typically coded as masculine — buoys Barricelli's vision.</p><h2>Filmmaker and activist <a href="http://www.jeankilbourne.com/" target="_blank">Jean Kilbourne</a> addressed the role ads play in objectifying women <a href="https://tedxinnovations.ted.com/2015/05/27/spotlight-tedx-talk-the-dangerous-ways-ads-see-women/" target="_blank">during her 2015 TEDx Talk</a>.</h2><p>"Women's bodies are dismembered in ads, in ad after ad, for all kinds of products, and sometimes the body is not only dismembered, it's insulted," said Kilbourne, outlining some of the many dangers of objectification.</p><p class="shortcode-media shortcode-media-rebelmouse-image"><img type="lazy-image" data-runner-src="https://assets.rebelmouse.io/eyJhbGciOiJIUzI1NiIsInR5cCI6IkpXVCJ9.eyJpbWFnZSI6Imh0dHBzOi8vYXNzZXRzLnJibC5tcy8xOTUzMjAyNy9vcmlnaW4uanBnIiwiZXhwaXJlc19hdCI6MTU5NzM5NDYzMn0.BPxwgKHRH9w-WYgt63uDXqK6RfBDmIpdTSo5c0zkfrU/img.jpg?width=980" id="66cbf" class="rm-shortcode" data-rm-shortcode-id="3324d638d767c207c3c62554c530dabe" data-rm-shortcode-name="rebelmouse-image"><small class="image-media media-caption" placeholder="add caption...">Examples of objectification in advertising from the 1970s: An ad for Mr. Leggs trousers via <a href="http://www.adweek.com/creativity/impress-your-tiger-rug-wife-mr-leggs-17486/">Adweek</a> (left) and Weyenberg Massagic Shoes via <a href="http://www.nydailynews.com/entertainment/tv/sexist-ads-mad-men-era-gallery-1.1050013?pmSlide=1.1050011">NY Daily News</a> (right).</small></p><p>"When women are objectified, there is always the threat of sexual violence, there is always intimidation, there is always the possibility of danger. And women live in a world defined by that threat, whereas men, simply, do not," Kilbourne explained. "The body language of women and girls remains passive, vulnerable, submissive, and very different from the body language of men and boys. Probably the best way to illustrate that is to put a man in a traditionally feminine pose: It becomes obviously trivializing and absurd."</p><h2>But simply flipping the role of which gender is being objectified won't solve advertising's sexism problem alone.</h2><p>In 2016, ad agency <a href="https://www.badgerandwinters.com/objectification-of-women" target="_blank">Badger and Winters</a> launched the #WomenNotObjects campaign to highlight some of the most absurd and ongoing examples of sexism in advertising. In the campaign's powerful launch video, models hold up copies of objectifying ads and offer sarcastic commentary.</p><div><div data-card="youtube" data-reactroot=""><div><span style="display:block;position:relative;padding-top:56.25%;" class="rm-shortcode" data-rm-shortcode-id="0e1b18b721a500f8edddd6c821c80cb9"><iframe type="lazy-iframe" data-runner-src="https://www.youtube.com/embed/5J31AT7viqo?rel=0" width="100%" height="auto" frameborder="0" scrolling="no" style="position:absolute;top:0;left:0;width:100%;height:100%;"></iframe></span></div></div></div><p>In <a href="http://www.cnn.com/style/article/women-not-objects-madonna-badger-feat/index.html" target="_blank">a 2016 interview</a> about the campaign, Badger and Winters co-founder Madonna Badger explained how she came to realize that this decadeslong practice was neither good for the well-being of women <a href="https://www.badgerandwinters.com/objectification-of-women" target="_blank">nor the brands themselves</a>.</p><p>"Agencies create advertising that promotes not only the product, but also the people who make it," <a href="http://www.cnn.com/style/article/women-not-objects-madonna-badger-feat/index.html" target="_blank">Badger told CNN</a>. "Ads should never 'use people' or take advantage of women and men in any way, shape or form. It should never show people as objects that have NO power NO possibility and certainly are NOT equals."</p><p>So while the Suistudio campaign does a great job of shining a light on the one-sidedness of advertising objectification, the ads aren't a solution in themselves — and to be fair, they don't claim to be. Maybe in the course of selling suits via an eye-catching campaign, however, these ads will have the pleasant side effect of encouraging people to get involved with groups like <a href="http://womennotobjects.com/" target="_blank">Women Not Objects</a>, the <a href="http://www.womensmediacenter.com/" target="_blank">Women's Media Center</a>, the <a href="https://seejane.org/" target="_blank">Geena Davis Institute on Gender in Media</a>, and <a href="http://therepresentationproject.org/about/" target="_blank">The Representation Project</a> in their fights for gender justice.</p>