More
In eight states, schools treat active shooter situations like natural disasters. What?
Fire drills, earthquake drills, and tornado drills are common in schools around the country (and world, really). They represent response to an unpredictable, unstoppable natural disasters.
And it's good to be prepared in these types of situations. Whether that means crouching down under desks or filing out the door, it's important to have a plan in these scenarios.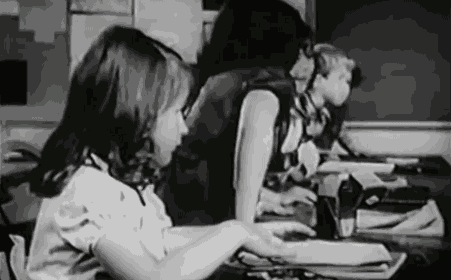 <p class="image-caption">Duck and cover. GIF via "Full Frontal with Samantha Bee"/YouTube.</p><h2>In response to near-weekly school shootings, educators in eight states now practice another kind of emergency plan with their students: active shooter drills.</h2><p>Since 2013, <a href="http://everytownresearch.org/school-shootings/" target="_blank">there have been more than 170 school shootings</a>. While it seems like the obvious focus should be on figuring out how to prevent shooters from accessing guns in the first place, we've kind of accepted this as the new normal, a disaster as unpredictable as a fire.</p><p><img type="lazy-image" data-runner-src="https://assets.rebelmouse.io/eyJhbGciOiJIUzI1NiIsInR5cCI6IkpXVCJ9.eyJpbWFnZSI6Imh0dHBzOi8vYXNzZXRzLnJibC5tcy8xOTUxNjY5Ni9vcmlnaW4uanBnIiwiZXhwaXJlc19hdCI6MTY0OTk1MDEzMH0.hfx1GihasS-Ou4ascfa6Hp0nGxQO4RbNb4NVHSEoNxk/img.jpg?width=980" id="03d8b" class="rm-shortcode" data-rm-shortcode-id="5e6e674ca0e847131bf64fcdb8e6e64e" data-rm-shortcode-name="rebelmouse-image"></p><p class="image-caption"><span class="redactor-invisible-space">Image via "Full Frontal with Samantha Bee"/YouTube.</span></p><h2>Last night's episode of "Full Frontal with Samantha Bee" gave viewers a look at these drills and the industry behind them.</h2><p>Bee met with <a href="https://www.actcert.com/bio.aspx?enc=A%2bvfetYeNNjY2T2jA2f0BQ%3d%3d" target="_blank">Alon Stivi</a><a href="https://www.actcert.com/bio.aspx?enc=A%2bvfetYeNNjY2T2jA2f0BQ%3d%3d">i</a>, a former Israel Special Forces Op, to better understand what these drills mean. Essentially, it's a lesson in how to turn classroom items into weapons. </p><p><img type="lazy-image" data-runner-src="https://assets.rebelmouse.io/eyJhbGciOiJIUzI1NiIsInR5cCI6IkpXVCJ9.eyJpbWFnZSI6Imh0dHBzOi8vYXNzZXRzLnJibC5tcy8xOTUxNjY5Ny9vcmlnaW4uanBnIiwiZXhwaXJlc19hdCI6MTYwNjAwODI4NX0.0AHZKcvpnVIsscRU6--BSqgFcIj-vJFoeVvXCSRbV_Y/img.jpg?width=980" id="abc32" class="rm-shortcode" data-rm-shortcode-id="94e3bc0e613bd19540a8ecbbc2e64ad2" data-rm-shortcode-name="rebelmouse-image"></p><p class="image-caption">Stivi shows Bee how to use a pencil to stab someone. Seriously. Image via "Full Frontal with Samantha Bee"/YouTube.</p><p>It's kind of terrifying.<br></p><h2>Do active shooter drills do anything to stop the ever-rising number of school shootings? </h2><p>No, and that's why they're not enough. All but two of the eight states (Illinois and New Jersey) have especially lax gun laws with wide loopholes that allow people to sidestep background checks in certain situations. In one of the states, <a href="http://articles.latimes.com/2013/feb/19/nation/la-na-nn-missouri-gun-control-felony-20130219" target="_blank">a bill was proposed</a> that would have made it a felony for lawmakers to even <em>try to enact gun control</em>.</p><p><img type="lazy-image" data-runner-src="https://assets.rebelmouse.io/eyJhbGciOiJIUzI1NiIsInR5cCI6IkpXVCJ9.eyJpbWFnZSI6Imh0dHBzOi8vYXNzZXRzLnJibC5tcy8xOTUxNjY5OC9vcmlnaW4uanBnIiwiZXhwaXJlc19hdCI6MTYzMjU1MTU5Nn0.2QTJi35Ss-9uU9WPN6Te7MC3MP46ponE0fZH11qyy4U/img.jpg?width=980" id="55d27" class="rm-shortcode" data-rm-shortcode-id="a6772f77754b991edf4ae4dfa7fd4aae" data-rm-shortcode-name="rebelmouse-image"></p><p class="image-caption">Family members of gun violence victims gather before the second anniversary of the shooting at Sandy Hook Elementary School. Photo by Win McNamee/Getty Images.</p><p>If lawmakers are serious about stopping school shootings, it's time they stand up to the gun lobby and the NRA.</p><p>Many politicians shy away from working on gun control legislation out of fear that they'll get a failing grade from the National Rifle Association and will lose their funding as a result. But maybe what they need to do is adopt the same type of bravery they're asking of kids in these situations and stand up to the organization.</p><p>If they, as a legislative body, stand up to the lobby and <a href="https://www.whitehouse.gov/the-press-office/2016/01/04/fact-sheet-new-executive-actions-reduce-gun-violence-and-make-our" target="_blank">pass common sense reforms</a> like background checks, waiting periods, and limits on the number of bullets a gun can fire before needing to reload, they can effectively strip the organization of its power.</p><h2>"Full Frontal" demonstrated this with a brilliant children's theater production about why lawmakers are scared into voting against gun control legislation.</h2><p>They point to Republicans — like New Mexico's <a href="https://www.nraila.org/articles/20160108/new-mexico-important-information-about-pre-filed-house-bill-91" target="_blank">Nate Gentry</a> — who've stood up to the NRA as examples to follow. In 2013, <a href="https://www.nraila.org/articles/20130129/new-mexico-house-bill-77-stalls-in-house-committee-for-now" target="_blank">Gentry pushed to close the "gun show loophole</a>" that allowed some people to sidestep background checks. Even though the NRA was opposed to the bill, Gentry was reelected.</p><p><img type="lazy-image" data-runner-src="https://assets.rebelmouse.io/eyJhbGciOiJIUzI1NiIsInR5cCI6IkpXVCJ9.eyJpbWFnZSI6Imh0dHBzOi8vYXNzZXRzLnJibC5tcy8xOTUxNjY5OS9vcmlnaW4uZ2lmIiwiZXhwaXJlc19hdCI6MTY1ODU0NTQzOH0.oITikZ-U8qfFVjIGSt1JnSZH3bJbwtEoWI6eS3PmHP0/img.gif?width=980" id="6ba51" class="rm-shortcode" data-rm-shortcode-id="0d53f6943f6ecd981d91f98f514e9f4e" data-rm-shortcode-name="rebelmouse-image"></p><p class="image-caption">The dreaded F rating from the NRA! GIF via "Full Frontal with Samantha Bee"/YouTube.</p><h2>School shootings are not natural disasters, and we don't need to just accept this as the new normal. It's odd that <a href="http://www.wsj.com/articles/u-s-leads-world-in-mass-shootings-1443905359" target="_blank">there's only one country where this happens again and again</a>, right? Let's change that.</h2><p>So while there's nothing wrong with students being prepared for the worst-case scenario when it comes to active shooter situations, we need to do more to prevent those events from even taking place. </p><p><img type="lazy-image" data-runner-src="https://assets.rebelmouse.io/eyJhbGciOiJIUzI1NiIsInR5cCI6IkpXVCJ9.eyJpbWFnZSI6Imh0dHBzOi8vYXNzZXRzLnJibC5tcy8xOTUxNjcwMC9vcmlnaW4uZ2lmIiwiZXhwaXJlc19hdCI6MTY1MDAzODI4OX0.h2FrtjD-YKLq8t3nWfEoEyGZo4D2CK0a3I2T79sVhxU/img.gif?width=980" id="4599c" class="rm-shortcode" data-rm-shortcode-id="08fe4096e1ed312273466e5a1c6da633" data-rm-shortcode-name="rebelmouse-image"><br></p><p class="image-caption">Right? It's pretty easy to understand. GIF via "Full Frontal with Samantha Bee"/YouTube.</p><h2>Watch Bee's segment on active shooter drills below.</h2><span style="display:block;position:relative;padding-top:56.25%;" class="rm-shortcode" data-rm-shortcode-id="1b8d3438407dbd7bc5b898ca8fb4600a"><iframe type="lazy-iframe" data-runner-src="https://www.youtube.com/embed/pxgEeTScnTw?rel=0" width="100%" height="auto" frameborder="0" scrolling="no" style="position:absolute;top:0;left:0;width:100%;height:100%;"></iframe></span>