Eric Church can be two things at once.
The 41-year-old country star is a proud gun owner and a "Second Amendment guy." He's also an American who's deeply concerned with the gun lobby's grip over our politics.

Those things aren't mutually exclusively, he wants you to know.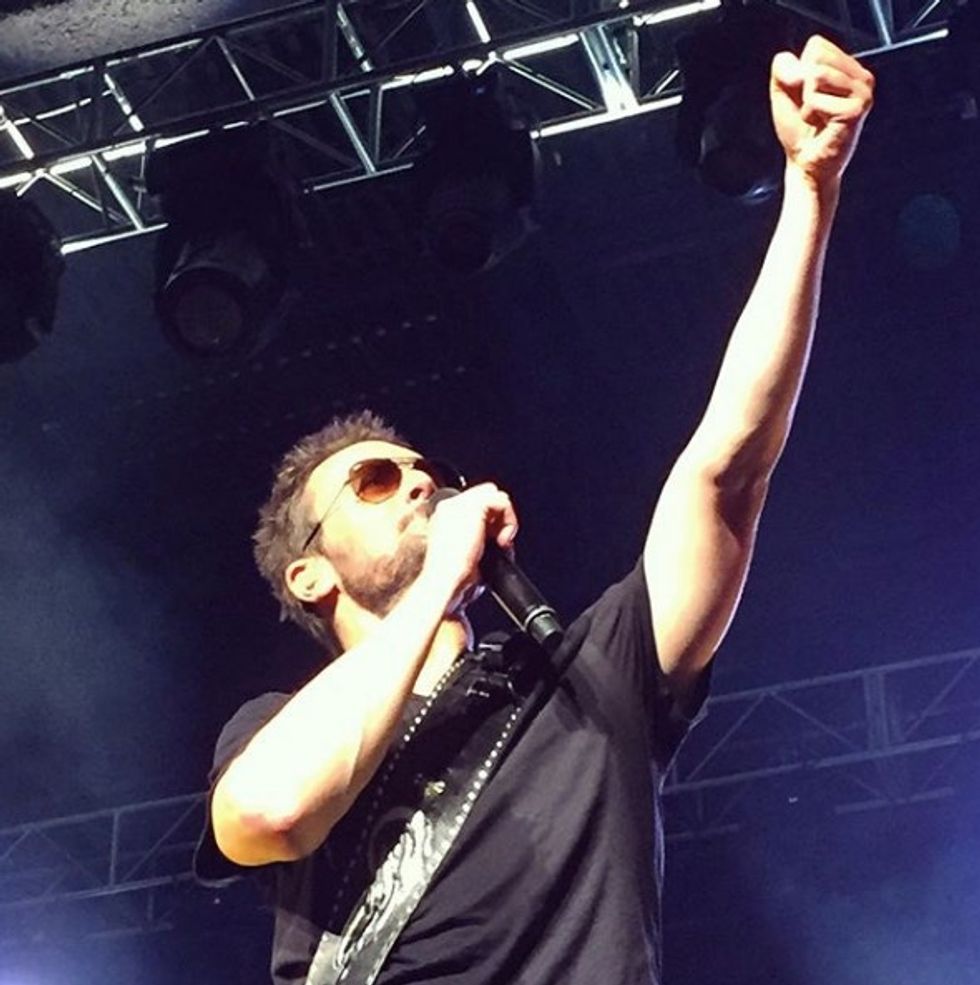 Photo via Eric Church/Instagram.
<p>In a new interview with <a href="https://www.rollingstone.com/music/music-features/eric-church-desperate-man-nashville-country-700750/" target="_blank">Rolling Stone</a>, Church got real about America's loose gun laws and why the National Rifle Association (NRA) is largely to blame. "I don't understand why we have to fear a group [like the NRA]," he told the magazine. "It's asinine."</p><p>A national tragedy last October — one that hit especially close to home for Church — further cemented the musician's belief that something needs to change.</p><h2>Church performed at the 2017 Route 91 Harvest music festival in Las Vegas two days before the event became the scene of the worst mass shooting in modern American history. </h2><p class="shortcode-media shortcode-media-rebelmouse-image"><img type="lazy-image" data-runner-src="https://assets.rebelmouse.io/eyJhbGciOiJIUzI1NiIsInR5cCI6IkpXVCJ9.eyJpbWFnZSI6Imh0dHBzOi8vYXNzZXRzLnJibC5tcy8xOTM0NjY3Mi9vcmlnaW4uanBnIiwiZXhwaXJlc19hdCI6MTYwNzU4MDAwM30.QxEB58GAIfEqfzyiz1gxAIypwKMaTXB44Y06SfOei90/img.jpg?width=980" id="8304e" class="rm-shortcode" data-rm-shortcode-id="b480d7e04a68e3cceea4c06b2eeba6e7" data-rm-shortcode-name="rebelmouse-image"><small class="image-media media-caption" placeholder="add caption...">Mourners attend a vigil after the 2017 mass shooting in Las Vegas. Photo by Drew Angerer/Getty Images.</small></p><p>Despite the horrors of the crime — <a href="https://www.cbsnews.com/feature/las-vegas-shooting/" target="_blank">58 people were killed</a> and hundreds more injured — no significant gun control measure passed through Congress or made it to the president's desk to help prevent further massacres. </p><p>The NRA, of course, has poured <a href="https://www.huffingtonpost.com/entry/nra-2016-spending_us_5a0dd3e6e4b0b17e5e14e636" target="_blank">hundreds of millions of dollars</a> into Washington in order to kill any such bill from becoming law.</p><p>"People come to see you play, then all of a sudden they die?" Church said, noting how terrified he'd been at the thought of his own fans caught up in the gunfire. "That is not an emotion that I was prepared to deal with. It wrecked me in a lot of ways."</p><h2>"I'm a Second Amendment guy," noted the musician, who owns several guns. "That's in the Constitution, it's people's right, and I don't believe it's negotiable." </h2><p>"But nobody should have that many guns and that much ammunition and we don't know about it," Church <a href="https://www.rollingstone.com/music/music-features/eric-church-desperate-man-nashville-country-700750/" target="_blank">continued</a>, astounded by the weapons the Vegas killer <a href="https://www.washingtonpost.com/news/morning-mix/wp/2017/10/02/police-shut-down-part-of-las-vegas-strip-due-to-shooting/" target="_blank">had at his disposal</a>. </p><p class="shortcode-media shortcode-media-rebelmouse-image"><img type="lazy-image" data-runner-src="https://assets.rebelmouse.io/eyJhbGciOiJIUzI1NiIsInR5cCI6IkpXVCJ9.eyJpbWFnZSI6Imh0dHBzOi8vYXNzZXRzLnJibC5tcy8xOTM0NjY3My9vcmlnaW4uanBnIiwiZXhwaXJlc19hdCI6MTY0Mjg2MjYwNH0.BVuIQcayiyqCeYDdfvs51Mcfa6qCr9q8a4VJL7WZvIQ/img.jpg?width=980" id="a2c23" class="rm-shortcode" data-rm-shortcode-id="52bbb96d28da2ed46a96466cbb2b0947" data-rm-shortcode-name="rebelmouse-image"><small class="image-media media-caption" placeholder="add caption...">Photo by David Becker/Getty Images.</small></p><p>The NRA certainly has blood on its hands, if you ask Church.</p><h2>"I blame the lobbyists. And the biggest in the gun world is the NRA," he said.</h2><p>He continued:</p><blockquote>"I don't care who you are – you shouldn't have that kind of power over elected officials. To me it's cut-and-dried: The gun-show [loophole] would not exist if it weren't for the NRA, so at this point in time, if I was an NRA member, I would think I had more of a problem than the solution. I would question myself real hard about what I wanted to be in the next three, four, five years."</blockquote><p class="shortcode-media shortcode-media-rebelmouse-image"><img type="lazy-image" data-runner-src="https://assets.rebelmouse.io/eyJhbGciOiJIUzI1NiIsInR5cCI6IkpXVCJ9.eyJpbWFnZSI6Imh0dHBzOi8vYXNzZXRzLnJibC5tcy8xOTM0NjY3NC9vcmlnaW4uanBnIiwiZXhwaXJlc19hdCI6MTYyMTMzMTA3NX0.c3hjFWWemsE5xhM9RTcQTkp25Pqw5UFXEvfL4ERhL94/img.jpg?width=980" id="8737e" class="rm-shortcode" data-rm-shortcode-id="18c00c8bd7fbfb1d8bb93d95f4c560f5" data-rm-shortcode-name="rebelmouse-image"><small class="image-media media-caption" placeholder="add caption...">Photo via <a href="https://www.instagram.com/p/50k5PHwwhB/?hl=en&amp;taken-by=ericchurchmusic">Eric Church/Instagram</a>.</small></p><h2>As an ardent Second Amendment supporter who also wants better gun laws, Church may seem unique. He's really not.</h2><p>Nearly all Americans believe in improving the background check system that keeps guns out of the hands of people who shouldn't own them, including a <a href="https://www.politifact.com/wisconsin/statements/2018/mar/02/tammy-baldwin/mostly-target-claim-97-percent-gun-owners-support-/" target="_blank">whopping 97%</a> of Americans who live in households with guns.</p><p>Most Americans agree <a href="http://time.com/5167216/americans-gun-control-support-poll-2018/" target="_blank">it's too easy to buy a gun</a>. Most Americans want to <a href="https://news.gallup.com/poll/220637/americans-widely-support-tighter-regulations-gun-sales.aspx" target="_blank">close the gun-show loophole</a>. Most Americans want to <a href="http://thehill.com/blogs/blog-briefing-room/news/355376-poll-82-support-a-ban-on-bump-stocks" target="_blank">ban bump stocks</a>. </p><p>These aren't radical ideas by politicians hellbent on <em>taking your guns away. </em>They're simple solutions to keep us all safer. And speaking out about them matters more to Church than staying silent to avoid ruffling feathers.</p><p>"I don't care," Church said, acknowledging his outspokenness <a href="https://www.rollingstone.com/music/music-features/eric-church-desperate-man-nashville-country-700750/" target="_blank">could lose him fans</a>. "Right's right and wrong's wrong."</p>