More
The true story of how Georgia's politicians came together to solve a major problem.
Sometimes it seems there's nothing that can bring Democrats and Republicans together, but Georgia state Rep. Scott Holcomb begs to differ.
On "Full Frontal With Samantha Bee," Holcomb shared the true story of how Democrats and Republicans joined forces to tackle a thorny issue: the state's massive backlog of untested rape kits.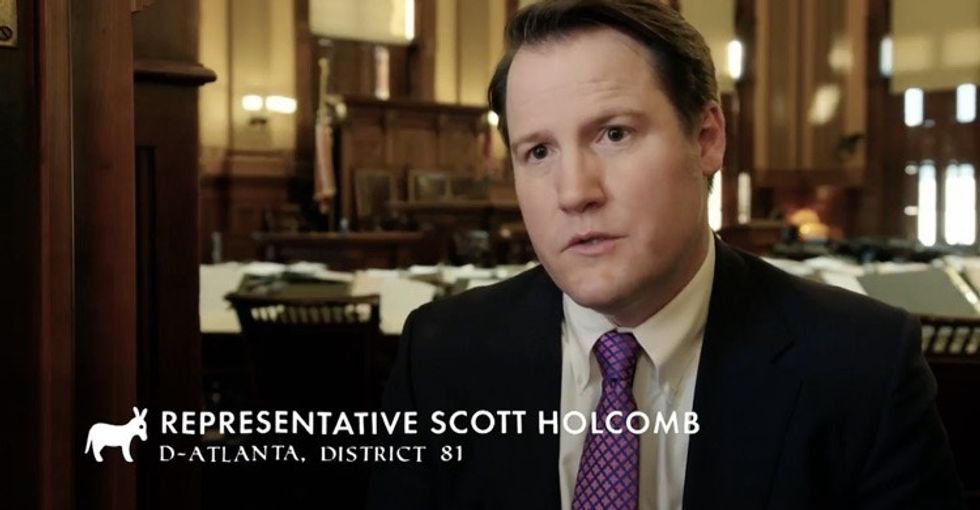 </div></div></div><p>If it seems ridiculous that law enforcement chooses not to analyze every sexual assault evidence kit, that's because it is.</p><p><div id="upworthyFreeStarVideoAdContainer"><div id="freestar-video-parent"><div id="freestar-video-child"></div></div></div></p><p>Sadly, <a href="http://www.upworthy.com/a-much-loved-tv-cop-speaks-out-to-celebrate-what-manhattans-da-decided-regarding-rape-kits">this problem is not confined to any one state</a>. Holcomb's bill, the <a href="http://www.myajc.com/news/state--regional-govt--politics/rape-kit-bill-that-was-nearly-blocked-now-set-become-georgia-law/0iyPXNB9768b4iB5kWylTN/" target="_blank">Pursuing Justice for Rape Victims Act</a>, did one very simple thing: It required law enforcement to test each and every rape kit collected. No longer would it be fair to deny a survivor justice because of cost.</p><p>"'<a href="https://www.youtube.com/watch?v=tyeJ55o3El0" target="_blank">Schoolhouse Rock!</a>' on steroids," Holcomb called the bipartisan effort. "That's a side of politics that people don't get to see very often, but it does happen," he said in the "Full Frontal" segment.</p><div><div class="push-wrapper--mobile" data-card="image" data-reactroot=""><img type="lazy-image" data-runner-src="https://assets.rebelmouse.io/eyJhbGciOiJIUzI1NiIsInR5cCI6IkpXVCJ9.eyJpbWFnZSI6Imh0dHBzOi8vYXNzZXRzLnJibC5tcy8xOTUyODk3NS9vcmlnaW4uanBnIiwiZXhwaXJlc19hdCI6MTY2NDk4NzAxMX0.enBlvvKORCztLU_LYTsCdpkW7kbdpWboiolwYUIXbXs/img.jpg?width=980" id="150a0" class="rm-shortcode" data-rm-shortcode-id="0b38a5e44ec9e78f76b75338b3c5149f" data-rm-shortcode-name="rebelmouse-image"></div></div><p>As time ran out, the bill made it through the necessary legislative hurdles, and Holcomb was showered with bipartisan applause. <strong>Gov. Nathan Deal, a Republican, signed the bill into law. </strong>With the law in effect, <a href="http://politics.blog.ajc.com/2016/12/06/gbi-more-than-4200-untested-rape-kits-analyzed-under-new-georgia-law/" target="_blank">more than 4,200 previously untested pieces of evidence will <em>finally </em>be analyzed</a>. </p><div><div class="push-wrapper--mobile" data-card="image" data-reactroot=""><img type="lazy-image" data-runner-src="https://assets.rebelmouse.io/eyJhbGciOiJIUzI1NiIsInR5cCI6IkpXVCJ9.eyJpbWFnZSI6Imh0dHBzOi8vYXNzZXRzLnJibC5tcy8xOTUyODk3Ni9vcmlnaW4uanBnIiwiZXhwaXJlc19hdCI6MTY2MDY1NTQ3NX0.j9QqdXgUWYOeU88KldoqTVVr5yLsqynqEkjIjwOMuGY/img.jpg?width=980" id="92968" class="rm-shortcode" data-rm-shortcode-id="f02ec285c0213f9783626740fcf3f8a1" data-rm-shortcode-name="rebelmouse-image"></div></div><h2>"It was an example of how people can come together to make a difference and to fix a very bad problem," Holcomb told "Full Frontal."</h2><p>The  story is a bright spot in a world that can sometimes seem so dark and divided. It also makes a powerful point that while we may disagree from time to time, there is almost always common ground to be found.</p><h2>If you're feeling down about politics, if you're feeling like we're just hopelessly divided, remember the story of Scott Holcomb and the Georgia state legislature: </h2><div><div data-card="youtube" data-reactroot=""><div><span style="display:block;position:relative;padding-top:56.25%;" class="rm-shortcode" data-rm-shortcode-id="7f8b016239ab53059a3ef32f78c53051"><iframe type="lazy-iframe" data-runner-src="https://www.youtube.com/embed/s5eILKG5oSE?rel=0" width="100%" height="auto" frameborder="0" scrolling="no" style="position:absolute;top:0;left:0;width:100%;height:100%;"></iframe></span></div></div></div>