More
Stepparents deserve a 'thank you' every now and then too.
Audrey Loving, her daughter Riley, Riley's father Corey, and his girlfriend Whitney are just one example of a functional family.
They may not look like a traditional family, but not many families in America do these days. According to a 2014 Pew study, less than half of kids in the United States today live in "traditional" households with two married, heterosexual parents.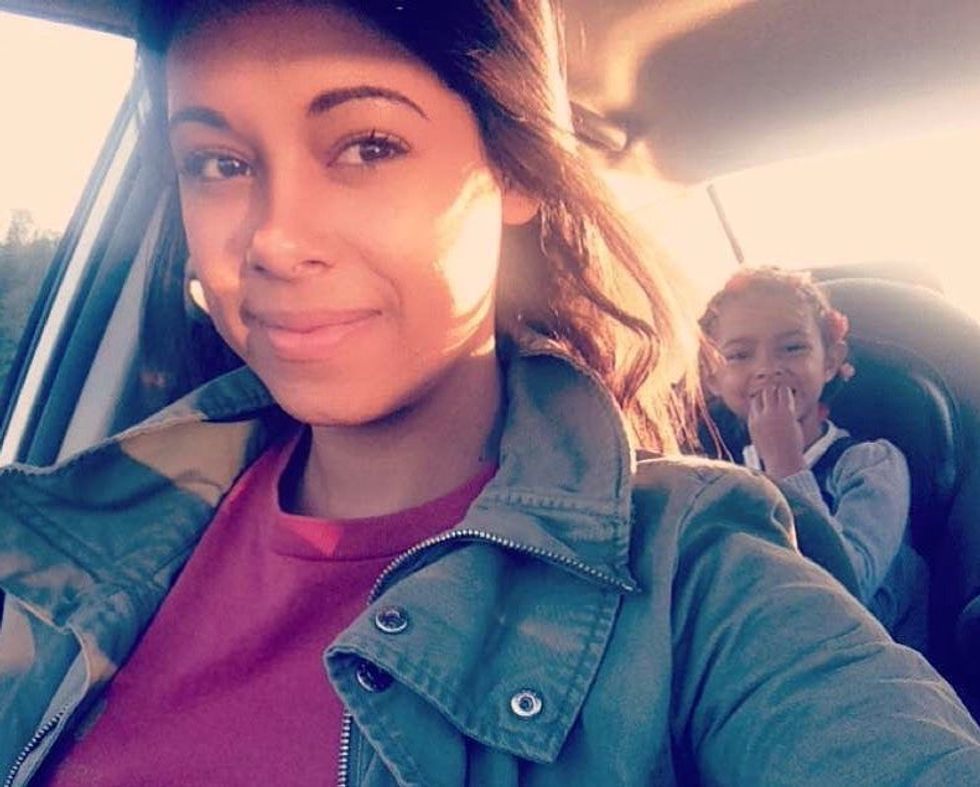 </div></div></div><p>Loving and Corey had Riley during their long-distance relationship, which spanned several years, though they never married. The distance ultimately separated them, but today they both take care of their daughter amicably, and, yes, that often includes help from Corey's girlfriend, Whitney. </p><h2>While the expectation might be that relationships between moms and new stepmoms will be tense, that's not how things are for this family.</h2><p>"I've always had a good relationship with [Whitney]," Loving writes in a Facebook message. "My parents raised me to love and like all. I hit it off with her instantly. She's a doll."</p><p>Loving herself grew up in a blended family, complete with stepparents and stepsiblings, so she's familiar with how easily a stepmom can be labeled negatively. However, she also had loved ones who taught her a family doesn't have to look any one way.</p><p>"I don't want someone to feel awkward or unwelcome, because I've felt it before, and it doesn't feel good. So I showed her the love I was taught growing up," she writes.</p><h2>To show how grateful she is that Riley has such a wonderful second mom, Loving wrote Whitney a thank-you note on Facebook. </h2><p>She wanted the world to see just how much love can exist in a nontraditional family. </p><div><div data-card="facebook" data-reactroot=""><div class="fb-post" data-href="https://www.facebook.com/photo.php?fbid=1008456879263333" data-width="552"><blockquote cite="https://www.facebook.com/photo.php?fbid=1008456879263333&amp;set=a.109631509145879.16100.100002970920591&amp;type=3" class="fb-xfbml-parse-ignore"><p>This is my daughters fathers gf. The sweetest thing ever! I'm super thankful for her because when she visits her dad she...</p>Posted by <a href="#" role="button">Audrey Nicole</a> on <a href="https://www.facebook.com/photo.php?fbid=1008456879263333&amp;set=a.109631509145879.16100.100002970920591&amp;type=3">Wednesday, November 2, 2016</a></blockquote></div></div></div><p><strong>Here's the crux of her touching message:</strong></p><blockquote>"No one said it was easy trying to be a mother to a kid you didn't have. So when there is someone trying, don't push them away! Because they don't need the drama, they will leave, and then you're stuck with someone who is the evil stepmom. Yes they exist! I see them everywhere! A kid can have two moms, because, in my eyes, the more people that love her, I'm happy!!! I would never make her feel like an outsider. I'm extremely thankful for this girl."</blockquote><p>Loving's original post has been Liked over 351,000 times and shared over 145,000 times. Many of the tens of thousands of comments are from <a href="https://www.facebook.com/audrey.nicole.792/posts/1008459852596369?comment_id=1443539682330742&amp;comment_tracking=%7B%22tn%22%3A%22R9%22%7D&amp;pnref=story" target="_blank">parents</a> and <a href="https://www.facebook.com/audrey.nicole.792/posts/1008459852596369?comment_id=988814861246524&amp;comment_tracking=%7B%22tn%22%3A%22R9%22%7D" target="_blank">stepparents</a> who've been in similar situations and share her sentiment 100-fold.</p><h2>Loving hopes her message will resonate with her daughter most of all.  "If we start teaching [love and respect] early, it will just go down the line," she writes. </h2><div><div class="push-wrapper--mobile" data-card="image" data-reactroot=""><img type="lazy-image" data-runner-src="https://assets.rebelmouse.io/eyJhbGciOiJIUzI1NiIsInR5cCI6IkpXVCJ9.eyJpbWFnZSI6Imh0dHBzOi8vYXNzZXRzLnJibC5tcy8xOTUyNjQ3My9vcmlnaW4uanBnIiwiZXhwaXJlc19hdCI6MTYzMzEwMjY2OX0.V5KR_8or3BpvzeHARljYOcoml8qbnoYI8hcPHBH3Ri8/img.jpg?width=980" id="36664" class="rm-shortcode" data-rm-shortcode-id="834f4479fe886e85d94fd8abbfc00201" data-rm-shortcode-name="rebelmouse-image"><div class="image-caption"><p>Photo by Audrey Loving, used with permission.</p></div></div></div><h2>The amount of love a family has to share has nothing to do with its size or shape. Love is love is love is love.</h2><p>"I'm lucky to have the family and friends that I do," Whitney wrote in response to Loving's Facebook note. It just goes to show how important it is to take time to show appreciation for the people in our lives who might get overlooked, or who might find themselves the target of unfair stereotypes and assumptions because of the role they play in it. </p><p>Of course, not every family functions or co-parents as amicably as Loving, her ex, and his girlfriend do, but their story is a wonderful reminder that there's no one way to build a family. If you happen to have someone who could use such a reminder or a note of appreciation, there's no better time than the present. </p>