In a move that baffled much of the world, the U.S. tried to shut down a global resolution to encourage breastfeeding.
For decades, research has tended to show that human breast milk — when it's possible to use it — is the safest, healthiest food for babies around the world. A 2016 series in the British medical journal The Lancet — the most in-depth analysis of the health impact of breastfeeding to date — concluded that more than 800,000 babies and 20,000 mothers' lives could be saved each year with universal breastfeeding, at a cost savings of $300 billion.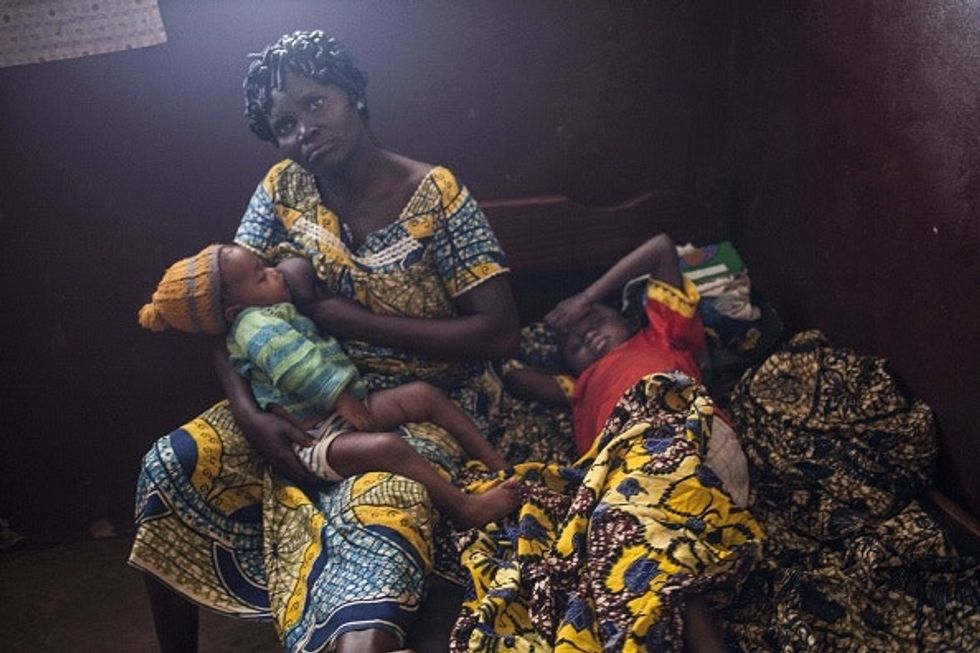 A mother in the Central African Republic breastfeeds her child while they wait to see the doctor in a clinic with no running water. Photo via Florent Vergnes/Getty Images.
<p>So when the U.S. delegation to the World Health Assembly <a href="https://www.nytimes.com/2018/07/08/health/world-health-breastfeeding-ecuador-trump.html" target="_blank">voiced strong opposition</a> to a resolution that encourages breastfeeding — not barring access to formula or curtailing mothers' choices in feeding their children but just <em>encouraging</em> breastfeeding — many were understandably flummoxed. The purpose of the resolution was to prevent misleading marketing of breast milk substitutes and limit the promotion of formula in hospitals around the world. </p><p>But at the spring 2018 World Health Assembly, the U.S. tried to shut the resolution down, even going so far as to threaten small countries proposing the measure with trade punishments and military aid withdrawal. </p><p>Threatening other nations. Over breastfeeding. <a href="https://www.good.is/articles/u-s-blocks-u-n-global-breast-feeding-health" target="_blank">Yes, really</a>.</p><h2>President Donald Trump retorted to the Times report with a tweet, displaying a stunning lack of knowledge on the subject.</h2><p>"The failing NY Times Fake News story today about breast feeding must be called out," Trump wrote. "The U.S. strongly supports breast feeding but we don't believe women should be denied access to formula. Many women need this option because of malnutrition and poverty."</p><div id="bea8a" class="rm-shortcode" data-rm-shortcode-id="M1UBIG1559347470"><blockquote class="twitter-tweet twitter-custom-tweet" data-twitter-tweet-id="1016367395294908421" data-partner="rebelmouse"><div style="margin:1em 0">The failing NY Times Fake News story today about breast feeding must be called out. The U.S. strongly supports brea… https://t.co/8ES1Zoxmvg</div> — Donald J. Trump (@Donald J. Trump)<a href="https://twitter.com/realDonaldTrump/statuses/1016367395294908421">1531155844.0</a></blockquote></div><p><strong>Each sentence of that tweet contains falsehoods:</strong></p><p>1. The New York Times has <a href="https://www.bloomberg.com/news/articles/2018-05-29/trump-obsession-delivers-win-for-mexico-s-slim-on-failing-nyt" target="_blank">doubled its stock shares</a> since the 2016 election. It has also won <a href="https://fivethirtyeight.com/features/do-pulitzers-help-newspapers-keep-readers/" target="_blank">more Pulitzer prizes</a> — the highest award in journalism — than any other news outlet. By no measure is it "failing."</p><p>2. Nothing in the breastfeeding resolution suggested denying women access to formula. Formula is sometimes necessary, and women should definitely have the option to choose how they feed their babies — but nothing in the resolution would prevent that. It was about limiting the misleading and predatory <a href="https://www.theguardian.com/business/2018/feb/01/nestle-under-fire-for-marketing-claims-on-baby-milk-formulas" target="_blank">marketing and promotion<em> </em>of formula</a>. </p><p>3. Malnutrition and poverty are exactly why formula <a href="http://www.who.int/elena/bbc/regulation_breast-milk_substitutes/en/" target="_blank">should not<em> </em>be heavily marketed to mothers</a>, especially in developing nations. Formula is expensive, requires clean water to make, and requires bottles to be sanitized. When moms can't afford it long term, formula gets diluted, and babies don't get the nutrients they need. And unless it's severe, a mother's malnutrition <a href="https://www.dispensaire.ca/en/article/impact-of-malnutrition-on-breastfeeding/" target="_blank">doesn't affect the quantity or quality</a> of her breast milk, so in places where poverty and moderate malnutrition are prevalent breastfeeding is especially important.</p><h2>So why oppose a measure designed to promote the health and save the lives of infants and mothers? Follow the money.</h2><p><a href="https://www.washingtonpost.com/archive/politics/1981/05/21/us-almost-alone-casts-ballot-against-code-on-baby-formula/818c3212-6a5c-46ea-93ea-617d6291f21b/?utm_term=.a7ae7ce4eecb" target="_blank">Since the early 1980s</a>, health advocates have fought to protect vulnerable mothers from predatory baby formula marketers, especially in developing nations. Many resolutions have been passed over the years to promote breastfeeding education and limit such marketing tactics. </p><p>But it's not in the baby formula companies' interest to have their product promotion hampered. <strong>When the U.S. so clearly puts the interests of corporations over the health of moms and babies, we're in a world of hurt. </strong></p><p class="shortcode-media shortcode-media-rebelmouse-image"><img type="lazy-image" data-runner-src="https://assets.rebelmouse.io/eyJhbGciOiJIUzI1NiIsInR5cCI6IkpXVCJ9.eyJpbWFnZSI6Imh0dHBzOi8vYXNzZXRzLnJibC5tcy8xOTM5NzY3Ny9vcmlnaW4uanBnIiwiZXhwaXJlc19hdCI6MTYzMTE5MDk3OH0.5wxuAyso_drScVBfPO6bbL8G4gaUkBhsmvhCDno67bA/img.jpg?width=980" id="802e2" class="rm-shortcode" data-rm-shortcode-id="8a6ab722c018223ac061c779cc61138b" data-rm-shortcode-name="rebelmouse-image"><small class="image-media media-caption" placeholder="add caption...">Photo via Noel Celis/Getty Images.</small></p><h2>To be fair, the Trump administration is not the first to put corporate interests ahead of the public. </h2><p>Kowtowing to big business isn't new to American politics. A <a href="https://www.usnews.com/opinion/blogs/charles-wheelan/2014/04/22/study-shows-wealthy-americans-and-businesses-control-politics-and-policy" target="_blank">landmark 2014 study</a> from Princeton and Northwestern researchers concluded that "economic elites and organized groups representing business interests have substantial independent impacts on U.S. government policy, while mass-based interest groups and average citizens have little or no independent influence."</p><div id="dd3de" class="rm-shortcode" data-rm-shortcode-id="WUQGRD1559347471"><blockquote class="twitter-tweet twitter-custom-tweet" data-twitter-tweet-id="1016368024973004810" data-partner="rebelmouse"><div style="margin:1em 0">@realDonaldTrump The Trump administration prevented the World Health Organization from passing a resolution on brea… https://t.co/dFowbVpY1W</div> — Eugene Gu, MD (@Eugene Gu, MD)<a href="https://twitter.com/eugenegu/statuses/1016368024973004810">1531155995.0</a></blockquote></div><p><strong>While the U.S. has <a href="https://www.huffingtonpost.com/bruce-e-levine/the-myth-of-us-democracy-corporatocracy_b_836573.html" target="_blank">been a corporatocracy</a> for much longer than two years, this administration has been far more <a href="https://www.newyorker.com/news/john-cassidy/the-real-trump-agenda-helping-big-business" target="_blank">bold and brazen</a> about it than most. </strong>Trump's cabinet has more big business leaders <a href="http://www.pewresearch.org/fact-tank/2017/01/19/trumps-cabinet-will-be-one-of-most-business-heavy-in-u-s-history/" target="_blank">with no government or public service experience</a> than any other president's. <a href="https://www.nytimes.com/interactive/2016/us/politics/donald-trump-administration.html" target="_blank">Some of them </a>have been leading departments that they directly or indirectly opposed when they were in the private sector. Some (*cough* Ben Carson) have been leading departments they had no experience with. There are real-world consequences to such elections and appointments. </p><h2>The move to halt the breastfeeding resolution, like so many other moves influenced by corporate money, would have gone unnoticed if not for the Times report. </h2><p>For a long time, our lawmakers have placed corporate interests above the will of the people — a fact that we would not know were it not for journalists shedding light on what's happening under the radar. </p><p>People's faith and trust in the news media has taken a beating with the constant barrage of attacks from Trump and others. <strong>But how are we supposed to place faith in our government when we know that policy is being bought and paid for by profit-driven industries? </strong></p><p>The press must keep playing its vital role in our democracy — or rather, our corporatocracy — to preserve whatever power the people have left. And the people must use our power at the ballot box if we don't want to continue to be ruled by big business. </p>