Most Shared
'Downward Dog' is a delightful, must-watch show with a powerful message.
There are lots of life lessons we can learn from our four-legged friends — but ABC's "Downward Dog" takes it to the next level.
"Downward Dog" is a heart-meltingly cute show that premiered earlier this year about a woman named Nan and her dog, Martin. Each episode centers on Martin as he learns a bit about himself and the world around him. Oh, and he can talk — at least in the "breaking the fourth wall" way (meaning he doesn't talk to Nan, but he does talk to the audience in a hilarious, droll voiceover), narrating his journey.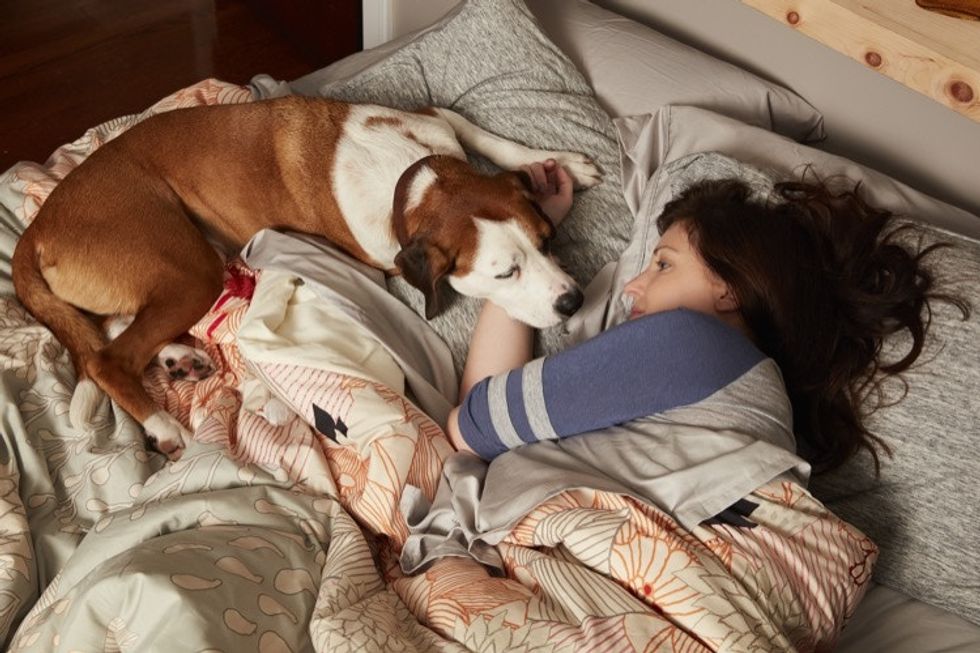 Allison Tolman (who plays Nan) and Ned (who plays Martin). Photo courtesy of ABC.
<h2>Cuteness aside, there are some phenomenally simple, beautiful, and relatable life lessons peppered throughout the first season. </h2><p>Even if you haven't watched the show (which you totally should), the observant Martin gives some incredible advice on how to confidently navigate this world — especially on the tough days.</p><p><strong>Here are eight of those totally awesome moments of self-love and acceptance.</strong></p><h2>1. It's OK to communicate your needs in a relationship. In fact, it's really, really important.</h2><p>The pilot episode focuses on Martin and Nan's relationship. As Nan struggles with some trouble in her love life and a boss who just doesn't get it, Martin feels a bit neglected but realizes that maybe he's not just communicating his needs especially well.</p><blockquote>"I don't think Nan has any idea how packed my days are. I actually have a lot to accomplish. For one thing, the fact that I need 14 hours of sleep is not something I should have to feel bad about. Sleep is the foundation of a productive day." <br>— Martin<br></blockquote><p class="shortcode-media shortcode-media-rebelmouse-image"><img type="lazy-image" data-runner-src="https://assets.rebelmouse.io/eyJhbGciOiJIUzI1NiIsInR5cCI6IkpXVCJ9.eyJpbWFnZSI6Imh0dHBzOi8vYXNzZXRzLnJibC5tcy8xOTUyOTI5MS9vcmlnaW4uZ2lmIiwiZXhwaXJlc19hdCI6MTU5NDY3MDk5Nn0.otARDDwGsQOilErGrD1MA07ofb_wl9rKoe_pvOX9NRQ/img.gif?width=980" id="8982c" class="rm-shortcode" data-rm-shortcode-id="495fa3730e9c62c627b77ab3bc17a672" data-rm-shortcode-name="rebelmouse-image"><small class="image-media media-caption" placeholder="add caption...">All GIFs from "Downward Dog"/ABC.</small></p><h2>2. Get out of your comfort zone. </h2><p>Rules are important, but it's OK to challenge yourself by trying new things.</p><p>When Martin gets a new collar-activated doggy door, he makes that all-too-common mistake of letting his newfound power — being able to go outside on his own — get to his head. From there, he pushed the rules.</p><blockquote>"I thought there was a path laid out for me. I was supposed to walk when Nan and Jason said, like some passive supplicant thankful for any walk at all, but I see it now. There isn't a path. There aren't any boundaries. I can go wherever I want. I'm the one in charge."</blockquote><p class="shortcode-media shortcode-media-rebelmouse-image"><img type="lazy-image" data-runner-src="https://assets.rebelmouse.io/eyJhbGciOiJIUzI1NiIsInR5cCI6IkpXVCJ9.eyJpbWFnZSI6Imh0dHBzOi8vYXNzZXRzLnJibC5tcy8xOTUyOTI5Mi9vcmlnaW4uZ2lmIiwiZXhwaXJlc19hdCI6MTYzOTYzNDc4OH0.JBpWj4_wMgTpP8M7ezJs9oCf0V6a6ik-OMWNmqgkGlU/img.gif?width=980" id="7fabf" class="rm-shortcode" data-rm-shortcode-id="eb7855975d1996eedd59b0630ab500e3" data-rm-shortcode-name="rebelmouse-image"><small class="image-media media-caption" placeholder="add caption..."></small></p><h2>3. Don't write people off as being either purely "good" or "bad" — especially yourself. Life's more complicated than that.</h2><p>Martin struggles with his own feelings of loyalty to Nan during the show's third episode and begins to wonder whether wanting to play with others makes him a bad dog. But maybe there's no such thing as a "good dog" or "bad dog" at all.</p><blockquote>"Sometimes, I think people get caught up in believing you're either good or bad and that it's black or white, loyal or disloyal — but I think that's kind of maybe reductionistic."</blockquote><p class="shortcode-media shortcode-media-rebelmouse-image"><img type="lazy-image" data-runner-src="https://assets.rebelmouse.io/eyJhbGciOiJIUzI1NiIsInR5cCI6IkpXVCJ9.eyJpbWFnZSI6Imh0dHBzOi8vYXNzZXRzLnJibC5tcy8xOTUyOTI5My9vcmlnaW4uZ2lmIiwiZXhwaXJlc19hdCI6MTYxODM1NDk1NX0.aB3skY8cqjljCZZZNb15CUZWj8Wh8F_LTr4fc-NaTMw/img.gif?width=980" id="4b1a9" class="rm-shortcode" data-rm-shortcode-id="62a9c62ca31a53c168dfeab38795aee9" data-rm-shortcode-name="rebelmouse-image"><small class="image-media media-caption" placeholder="add caption..."></small></p><h2>4. You don't need to be perfect, even in the eyes of someone you love.</h2><p>After struggling during a training session with another dog, Martin finds himself feelings really low, his confidence shot. He's worried he's not good enough for Nan, but it turns out that you don't need to be "the full package." When someone loves you, they love <em>you</em>. Near the end of the episode, Nan comes to Martin's defense.</p><p>(And OK, this is a quote from Nan, not Martin. But it reflects how they feel about each other!)</p><blockquote>"Martin is my dog, OK, and I really don't care if he's, like, the best-trained dog, and I don't even care if he craps on the floor now and then. I just want him to be happy."</blockquote><p class="shortcode-media shortcode-media-rebelmouse-image"><img type="lazy-image" data-runner-src="https://assets.rebelmouse.io/eyJhbGciOiJIUzI1NiIsInR5cCI6IkpXVCJ9.eyJpbWFnZSI6Imh0dHBzOi8vYXNzZXRzLnJibC5tcy8xOTUyOTI5NC9vcmlnaW4uZ2lmIiwiZXhwaXJlc19hdCI6MTYwNjA2MTcwMH0.JDXVWIKoy_XoVagNvWi8xMmF35C60c0tDrkVhuLdK50/img.gif?width=980" id="99242" class="rm-shortcode" data-rm-shortcode-id="801584d24ced8a9eadffd396f83aba90" data-rm-shortcode-name="rebelmouse-image"><small class="image-media media-caption" placeholder="add caption..."></small></p><h2>5. Don't be afraid to love the things that make you weird.</h2><p>While Nan is, in Martin's words, "uptight and pious" for not liking trash, Martin knows what he likes and is unapologetic about it.</p><blockquote>"I'm just edgier and less ruled by societal norms. For instance, part of me has always just really, really liked trash. Just, getting into it. And I actually like that about myself."</blockquote><p class="shortcode-media shortcode-media-rebelmouse-image"><img type="lazy-image" data-runner-src="https://assets.rebelmouse.io/eyJhbGciOiJIUzI1NiIsInR5cCI6IkpXVCJ9.eyJpbWFnZSI6Imh0dHBzOi8vYXNzZXRzLnJibC5tcy8xOTUyOTI5NS9vcmlnaW4uZ2lmIiwiZXhwaXJlc19hdCI6MTY0MTM3MDA5MX0.78JBQrgjNlw716QZQ4HYsSxIUkznXcCINZ4Hq-OR-z4/img.gif?width=980" id="e0ac9" class="rm-shortcode" data-rm-shortcode-id="56752586d19f6f639ba1f7ccb1c10101" data-rm-shortcode-name="rebelmouse-image"><small class="image-media media-caption" placeholder="add caption..."></small></p><h2>6. Hiding who you are isn't good for you <em>or </em>the world.</h2><p>Martin is tired of holding back his love for trash.</p><blockquote>"I'm tired of hiding who I am. By living in the shadows, I've actually been buying into her puritanical narrative that trash is bad and unhealthy and shameful. I'm not hiding anymore. There's a big, beautiful, trashy world out here, and I'm gonna taste every fetid, moldy scrap of it."</blockquote><p class="shortcode-media shortcode-media-rebelmouse-image"><img type="lazy-image" data-runner-src="https://assets.rebelmouse.io/eyJhbGciOiJIUzI1NiIsInR5cCI6IkpXVCJ9.eyJpbWFnZSI6Imh0dHBzOi8vYXNzZXRzLnJibC5tcy8xOTUyOTI5Ni9vcmlnaW4uZ2lmIiwiZXhwaXJlc19hdCI6MTU5Mjk0ODUwN30.B79fcXD0lwEB5FcylQhw-IWaOAOH7FKEt07OPpqtpkw/img.gif?width=980" id="d0b2f" class="rm-shortcode" data-rm-shortcode-id="cbe3df16a5c793fa3ad0c5ad4d6c933b" data-rm-shortcode-name="rebelmouse-image"><small class="image-media media-caption" placeholder="add caption..."></small></p><h2>7. It's OK to be scared of growing up.</h2><p>Martin doesn't like puppies. His reason, however, doesn't have anything to do with puppies, and a lot more to do with himself and his own fears.</p><blockquote>"Maybe I'm not so chill about getting older, OK? That puppy has his youth, he has his beauty, he has a whole lifetime of toys in front of him — and this could be one of the last toys I ever get."</blockquote><p class="shortcode-media shortcode-media-rebelmouse-image"><img type="lazy-image" data-runner-src="https://assets.rebelmouse.io/eyJhbGciOiJIUzI1NiIsInR5cCI6IkpXVCJ9.eyJpbWFnZSI6Imh0dHBzOi8vYXNzZXRzLnJibC5tcy8xOTUyOTI5Ny9vcmlnaW4uZ2lmIiwiZXhwaXJlc19hdCI6MTYwMTcxNDgwNH0.YZghAzHyZr-uGmTvrBV3tGsKGzGRBmPa3U_rxvU9bIo/img.gif?width=980" id="a1307" class="rm-shortcode" data-rm-shortcode-id="49435c2af8651d51efe12e2aa8b0c720" data-rm-shortcode-name="rebelmouse-image"><small class="image-media media-caption" placeholder="add caption..."></small></p><h2>8. Don't take yourself too seriously.</h2><p>The season finale is about Martin coming to grips with the fact that maybe he's not always going to be the most impressive dog in the world, and maybe he's not as cool as he thinks he is. Maybe he's just a silly dog, and maybe that's OK.</p><p class="shortcode-media shortcode-media-rebelmouse-image"><img type="lazy-image" data-runner-src="https://assets.rebelmouse.io/eyJhbGciOiJIUzI1NiIsInR5cCI6IkpXVCJ9.eyJpbWFnZSI6Imh0dHBzOi8vYXNzZXRzLnJibC5tcy8xOTUyOTI5OC9vcmlnaW4uanBnIiwiZXhwaXJlc19hdCI6MTY0Njk3OTU0NH0.cdTs1ROJCbnhLVp2QD82DkcLm2g8k0PqPSSDPSl9efM/img.jpg?width=980" id="bdf1b" class="rm-shortcode" data-rm-shortcode-id="3b13f0d6a1d34e0910b6b7f88f23e6ed" data-rm-shortcode-name="rebelmouse-image"><small class="image-media media-caption" placeholder="add caption...">Hodges, Tolman, and Ned. Photo courtesy of ABC.</small></p><p>It's that lesson that resonated the most with Samm Hodges, the show's co-creator and voice of Martin.</p><p>"I think for me, it was a trick of the ego," he says, explaining there were times when people would zone out upon hearing that this exciting new project he was working on was about a talking dog. "They just kind of judge you for it. I think ... that [lesson] speaks a lot to me."</p><h2>Some of life's most important lessons are also the most simple, and that's what "Downward Dog" is all about.</h2><p>It's easy to overthink things and overcomplicate things. But that thing you've been stressing out about is going to turn out OK. You don't have the answers to everything. You don't need to be perfect.</p><p><strong>Be you. Try your best. Be kind. Share a little hope with others. </strong></p><p>Every day is a new chance to grow as a person, to learn something new, and to make your own impact on the world. This heartwarming little show and its lead pup are there to help remind us what really matters.</p><p class="shortcode-media shortcode-media-rebelmouse-image"><img type="lazy-image" data-runner-src="https://assets.rebelmouse.io/eyJhbGciOiJIUzI1NiIsInR5cCI6IkpXVCJ9.eyJpbWFnZSI6Imh0dHBzOi8vYXNzZXRzLnJibC5tcy8xOTUyOTI5OS9vcmlnaW4uZ2lmIiwiZXhwaXJlc19hdCI6MTYyNzk1ODg5MH0.F2M9Qph2oTehwJqzD2YzWtL4GfqG6Kb5hrF0c4PfwdU/img.gif?width=980" id="e90c8" class="rm-shortcode" data-rm-shortcode-id="e02cdf7ef2aaa249ef4e3cf5bedcaf25" data-rm-shortcode-name="rebelmouse-image"><small class="image-media media-caption" placeholder="add caption..."></small></p>