Heroes
This is the best thing I've seen in a long time.
Did you know that blindness is 500% more prevalent in developing countries?
Whoa, that is a lot. And not only that, but about half of the blind kids and adults in the developing world could get their eyesight back with a relatively straightforward surgery.
National Geographic brings us the story of sisters Anita and Sonia, who come from a very poor family in India.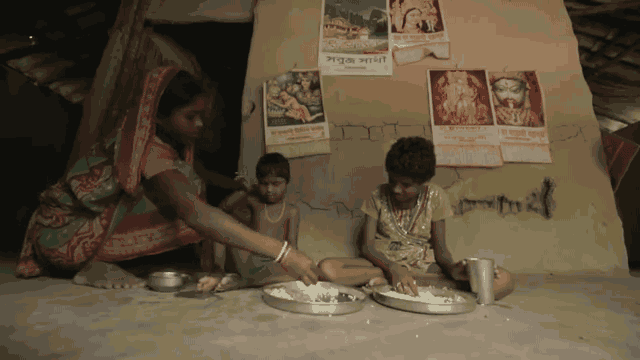 <p class="image-caption">All GIFs via <a href="https://www.youtube.com/watch?v=EltIpB4EtYU" target="_blank">National Geographic/YouTube</a>.</p><h3>They've been blind since birth.</h3><p> <img type="lazy-image" data-runner-src="https://assets.rebelmouse.io/eyJhbGciOiJIUzI1NiIsInR5cCI6IkpXVCJ9.eyJpbWFnZSI6Imh0dHBzOi8vYXNzZXRzLnJibC5tcy8xOTQ5OTczNS9vcmlnaW4uZ2lmIiwiZXhwaXJlc19hdCI6MTYzNTYzODExMH0.nhQY34IRU_DQzvaXP2gJjURSL4ijOGErrP2WBuQ0Pb0/img.gif?width=980" id="b7569" class="rm-shortcode" data-rm-shortcode-id="9b4e8ba8d5db5fbb99d6ba55e516de2d" data-rm-shortcode-name="rebelmouse-image"><br></p><h3>When kids from acutely poor families remain blind for life, their families often send them to beg on the street. But there is an amazing way out.</h3><p> Like an "in-15-minutes-you'll-have-eyesight" way out.</p><p> <img type="lazy-image" data-runner-src="https://assets.rebelmouse.io/eyJhbGciOiJIUzI1NiIsInR5cCI6IkpXVCJ9.eyJpbWFnZSI6Imh0dHBzOi8vYXNzZXRzLnJibC5tcy8xOTQ5OTczNi9vcmlnaW4uZ2lmIiwiZXhwaXJlc19hdCI6MTY2MTYwOTEzNH0.Oh9vG5tDGXALRiFd_4WFnUISNgrKE8AHGw8OnLBR0xA/img.gif?width=980" id="4f151" class="rm-shortcode" data-rm-shortcode-id="ad306ad7e6019c54500c53d7cc69a4bc" data-rm-shortcode-name="rebelmouse-image"></p><h3>See, there's this miracle surgery that can restore the eyesight of a blind child in 15 minutes. </h3><p> 15 MINUTES! <strong>And the organization 20/20/20 is helping thousands of kids receive the treatment for free.</strong><strong></strong></p><p> <img type="lazy-image" data-runner-src="https://assets.rebelmouse.io/eyJhbGciOiJIUzI1NiIsInR5cCI6IkpXVCJ9.eyJpbWFnZSI6Imh0dHBzOi8vYXNzZXRzLnJibC5tcy8xOTQ5OTczNy9vcmlnaW4uZ2lmIiwiZXhwaXJlc19hdCI6MTY1NzcyOTIxN30.Jb0vAX1Y8Wg1VFeRI7XU2hSxNJohFjie6W3Qn9ptHrY/img.gif?width=980" id="37744" class="rm-shortcode" data-rm-shortcode-id="2b2b434534f173f39692be44ae462c1f" data-rm-shortcode-name="rebelmouse-image"></p><h3>Imagine giving someone the gift of sight. I'm getting goosebumps just thinking about it.</h3><p> Anita and Sonia were able to get the surgery. Their reactions after the bandages came off? Incredible.</p><p> <img type="lazy-image" data-runner-src="https://assets.rebelmouse.io/eyJhbGciOiJIUzI1NiIsInR5cCI6IkpXVCJ9.eyJpbWFnZSI6Imh0dHBzOi8vYXNzZXRzLnJibC5tcy8xOTQ5OTczOC9vcmlnaW4uZ2lmIiwiZXhwaXJlc19hdCI6MTY2Mjg5MjQ2NH0.3p9MdfQ5Cn577gEDemrP66OU7JLOyRhnbtbR3bxUyzE/img.gif?width=980" id="a8b69" class="rm-shortcode" data-rm-shortcode-id="7ccd5b6a445eb877f78e69f06c23ec59" data-rm-shortcode-name="rebelmouse-image"><strong></strong></p><p><strong> To see Anita and Sonia's full story and hear from their parents and doctor, check out the video below.</strong></p><span style="display:block;position:relative;padding-top:56.25%;" class="rm-shortcode" data-rm-shortcode-id="1dc8e3061bcb6675b0d1ac591e510a39"><iframe type="lazy-iframe" data-runner-src="https://www.youtube.com/embed/EltIpB4EtYU?rel=0" width="100%" height="auto" frameborder="0" scrolling="no" style="position:absolute;top:0;left:0;width:100%;height:100%;"></iframe></span>