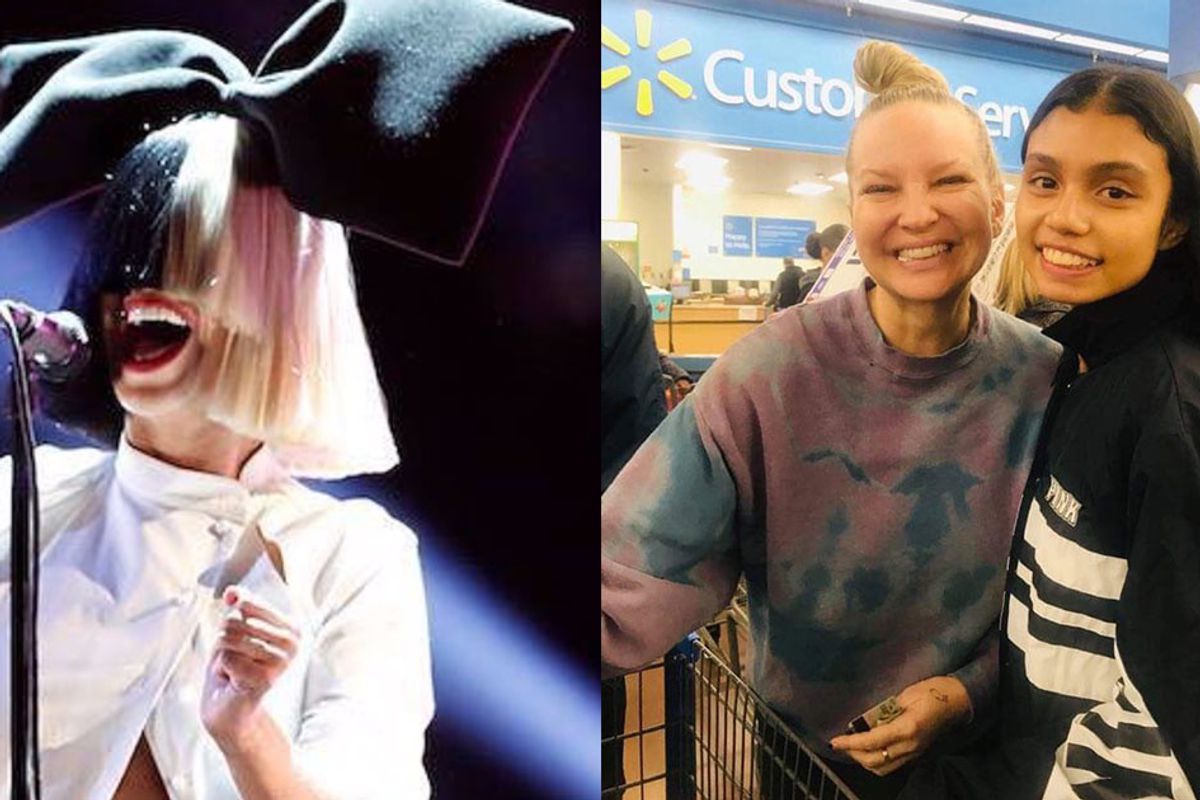 Instagram / Sia & Twitter / gisellenjh
The holidays are all about counting our blessings and giving to others for no reason other than it's the right thing to do. Recently, Sia captured the essence of the season by taking a shopping spree like no other.
The day before Thanksgiving, Sia went into a Palm Springs Wal-Mart and payed for the purchases of several shoppers. Sia's real name is Sia Kate Isobelle Furler, but on that fateful day, she told shoppers her name was CiCi and had just won the lottery, which was why she was in a giving mood.
---
A video shows Sia hugging shoppers and posing for photos at the checkout line.
At the Wal-Mart, Sia swiped her card, paying for the items of one customer, then asked the grateful shoppers, "Who's next?" One woman gave Sia flowers as a way to say thank you for buying her groceries.

Sia is known for covering her face with a giant wig, so she was able to commit her random act of kindness without being recognized. Some fans had no idea the person purchasing their products was the Australian singer until they checked the news.
But she wasn't able to fool everyone. Some fans were able to figure out that the person picking up their tab was the "Chandelier" singer. "So @Sia paid for my groceries today thank you so much!! The heart and beautiful soul you have for paying for everyone!! I'm sorry for telling everyone once I realized who you were !! But this kindness must be acknowledged!!!" wrote on fan on Twitter.

Sia also pulled the same stunt at TJ Maxx.

Even fans who weren't there were touched by Sia's random act of kindness.
Even Wal-Mart was thankful for Sia's generosity.

One fan wondered if Sia was also behind an anonymous $1 million donation to the Ehlers-Danlos Society. Sia, along with Lena Dunham and Jameela Jamil, has Ehlers-Danlos syndrome, which is a group of inherited disorders affecting the connective tissues. People who normally have Ehlers-Danlos syndrome have overly flexible joints and fragile skin.

It's majorly cool of Sia to take the time to do something nice like this. Those people must have had a lot to be thankful for when they sat down for turkey the next day!