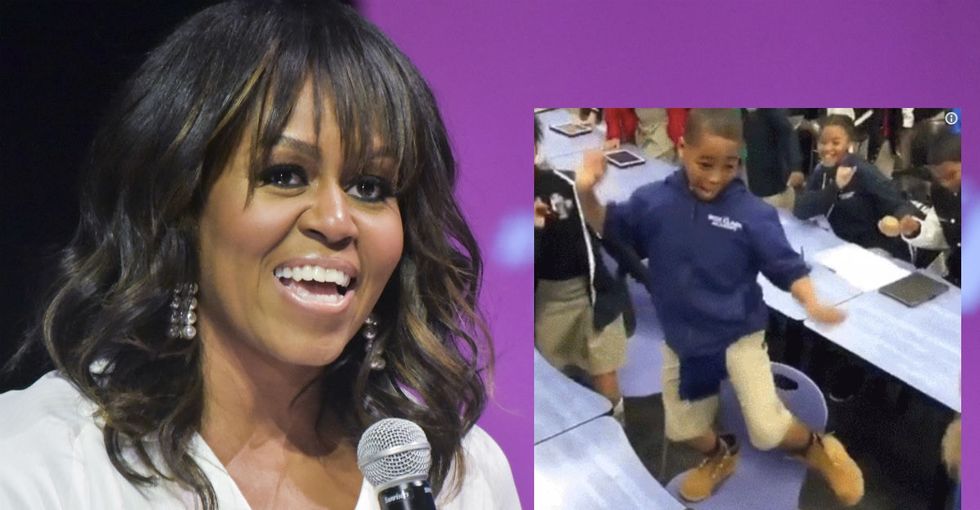 Do you desperately miss the Obamas?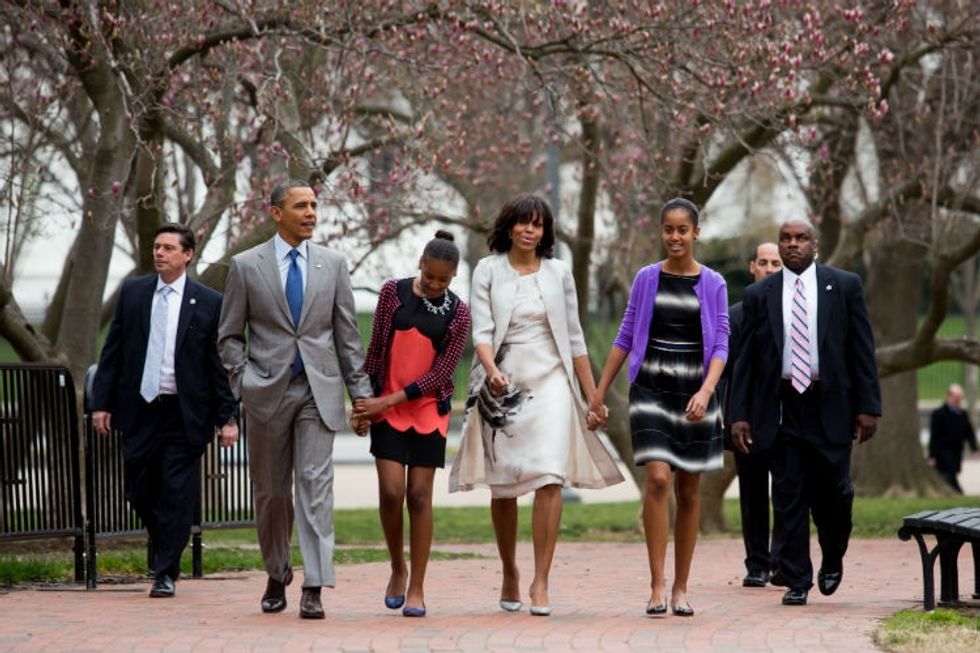 Photo by Drew Angerer-Pool/Getty Images.
Welcome to the club!
---
There's a reason the whole internet seems to melt every time Barack or Michelle tweets a throwback pic or speaks out on the state of current affairs: Many of us desperately miss the good old days.
So when the cover of Michelle Obama's new memoir, "Becoming," was shared by the former first lady, people (unsurprisingly) freaked out.
As I prepare to share BECOMING this fall, I hope you'll also think about your own story, and trust that it will hel… https://t.co/27U32EtXxn

— Michelle Obama (@Michelle Obama)1527168890.0
Like, really freaked out.
@MichelleObama I can't wait I can't wait I can't wait

— Nerissa (@Nerissa)1527177599.0
One common response? Please come back and save us all.
@MichelleObama Can you 'become' our next president ? We need you more than ever

— Roland Scahill (@Roland Scahill)1527168951.0
Other pun-lovers used the memoir's title to express their adoration.
@MichelleObama Beautiful woman - inside and out. Thank you for 'becoming' our First Lady

— San Diego RN (@San Diego RN)1527178056.0
Some admitted to not being big readers — but they'd certainly make an exception for his one.
@MichelleObama Not counting my mom and wife, you are true one of the most awesome woman the planet has ever seen. N… https://t.co/WHg6tsr7Au

— Higgout (@Higgout)1527177373.0
When words failed to express their excitement, a good GIF did the trick.
@MichelleObama @AshleyBBarnes https://t.co/JtMWNZVjUT

— Pamela W. (@Pamela W.)1527173970.0
Some celebs — like actor Maureen McCormick — were fan-girling too.
@MichelleObama I love you! You are such an inspiration! Can't wait to read your book ❤️💓

— Maureen McCormick (@Maureen McCormick)1527179117.0
Members of Congress, like Sheila Jackson Lee of Texas, recalled one of Obama's most famous lines to celebrate the news.
"When they go low, we go high." We love you, @MichelleObama and we miss you. Congratulations on the upcoming memoi… https://t.co/R5kEggBALy

— Sheila Jackson Lee (@Sheila Jackson Lee)1527178120.0
"That cover is like a big, full jug of water in the desert," someone chimed in.
Agreed.
@yashar That cover is like a big, full jug of water in the desert.

— PJ Irwin (@PJ Irwin)1527177731.0
Clearly, Obama's legacy still means a whole lot to many folks. But don't fret: Michelle's not retiring anytime soon.
No, she won't ever be president (at least, if you believe her ardent disdain for the very idea is genuine). But she's changing the world in her own ways.
She's fighting to get more women at the table in STEM (science, technology, engineering, and math) fields. She continues to speak out about the importance of keeping our kids healthy and active. She's still just as passionate as ever about getting more girls in school around the globe. And she's helping give opportunities to tomorrow's leaders through the Obama Foundation.
Even beyond her more tangible work, though, Michelle Obama's story remains an inspiration to many. And she hopes sharing it through her new memoir will help us discover our best selves.
"I hope you'll also think about your own story, and trust that it will help you become whoever you aspire to be," she wrote in the tweet sharing the cover. "Your story is what you have, what you will always have. It is something to own."
Miss you, Michelle.