Family
A viral post helps explain what to say - and what not to say - to a parent who has lost a child.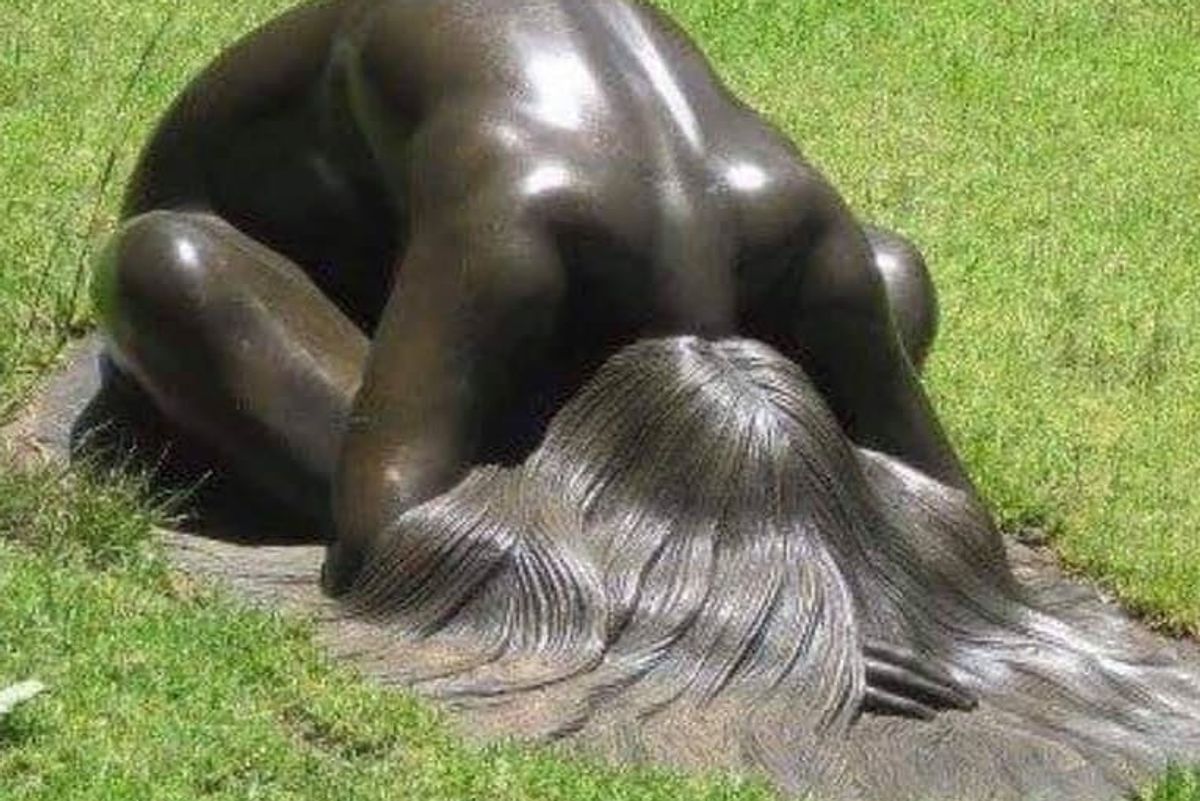 No parent can prepare for the death of a child, and no one can take away the pain and grief that comes with such tragedy.
We try, though, bless us. We try so hard to say the right thing, to offer words of hope or support, to take even a fraction of the pain away from our loved ones who have endured every parent's nightmare.
We try, but we fail. Because there's really nothing you can say to a mother or father who has had to bury a child, especially if you haven't experienced it yourself. There are no magic words that can heal such a wound.
I promise, all of those words we think might help fall woefully short. We can honestly say, "I can't imagine," because we can't. Most of us won't even allow ourselves to try to imagine it.
---
I have friends and family who have lost children—to accidents, to suicide, to disease—and words fail me every time. I put words together for a living, but never feel like I have the right ones for moms and dads grieving the loss of a child.
A powerful message to bereaved parents, written by Susi Costello and originally published as "What I Wanted to Say" on the website A Bed for My Heart, drives home how inadequate language is under such circumstances:
"Today I wrote a note to a bereaved mother. I wanted to say don't believe all those sympathy cards. The ones that say "time heals" and "God only takes the best" and "may your sorrows be lessened." You'll only be disappointed. I wanted to say this is the most heart-wrenching, chest crushing, breath stealing tragedy on earth. I wanted to tell her there will be days she wants to die, and friends who will not understand some of the things she does or says.

I wanted to tell her she will still feel her child's presence at times, sometimes so strongly that it is as if they are dancing just at the edge of whatever activity is going on. And other times she might not feel their presence at all.

I wanted to tell her that her life will not go back, that she will never be the same, because a piece of her left with her child. And that even though the pain does not go away, somehow her soul will eventually make enough room so she can hold it all– the grief, the pain, the joy and the love.

I wanted to tell her… but I didn't. Instead, I wrote this: I'm sending love, for words are pointless right now. And that is the truth."
When we don't have the words, it's okay to say so. In fact, it's often preferable to offering platitudes and cliched phrases that we think sound inspiring or helpful. A child's death is not the time for quotes you might put on a meme. It's not the time to preach or to tell a parent that it will get better. That doesn't mean you shouldn't say anything—grieving parents definitely need support—but acknowledging their pain and offering to sit with them in their grief may be more helpful than trying to offer words of hope or inspiration.
Beth Halleck, a mom who lost her son Galen to suicide when he was 15, told Upworthy the most helpful words came from those who shared that they had been through the death of a child or suicide of a loved one. But she also said that one wordless act stood out to her.
"The most powerful communication of compassion and understanding was completely anonymous," Halleck said. "Someone mailed us a gift card to the local grocery store: no name, no return address. They made it impossible for us to feel any sense of obligation/responsibility/expectation/burden to express our thanks. This person understood how even the simplest social norm of thanking for a donation, flowers, or food can add to the sense of feeling overwhelmed by the simple act of being alive. Weeks later when I pulled the gift card out of my wallet at the check-out, it was all I could do to hold back the tears of grief—and gratitude."
My friend Krista's son Griffin was struck by a car and killed during his freshman year of college. She told Upworthy, "The most helpful thing has just been people who showed up. They didn't wait for me to ask, they didn't say, 'Let me know if you need anything.' They provided support unconditionally from minute one. The people that STILL talk about him, that bring him up and say his name, that tell stories, or send photos with just a quick 'this reminded me of Griffin.' That has been the most helpful."
Krista said she attended a school function for one of her younger kids shortly after the accident and the high schoolers' responses were perfect. "Most of them said something along the lines of 'I don't even know what to say, but we love you.' THIS! THIS was amazing. These 16-year-olds who had the courage to face it, to join it, to feel it with us blew me away. I have had adults that have completely pulled away from me, as if its too painful for them."
She added that people have equated her loss with their own loss of a pet, or with their not being able to see their child on a holiday because they were sick. Yeesh. Yeah, don't do that.
"Also, I have had a large number of people that either A) have never mentioned it to me and just carry on as if nothing happened, which is so weird, or B ) have literally avoided eye contact with me from the first time I saw them post-accident," she said. "They turned away from me and didn't even acknowledge I was standing there, as if it were contagious. These have been the most hurtful, as if he didn't exist."
She added, "The most helpful thing, though, has been people who let me be whatever I am on any given day. If it's happy, or broken, they see me where I am, and they join me where I am. Still, to this day, the people who just allow me to be without judgment."
It's okay to let grief happen. It's okay to say you don't know what to say. Nothing will make it all better, nothing will take it away, and it's okay—even preferable—to support a heartbroken parent without trying to find just the right words.
Update: The words of Susi Costello were originally published on the website A Bed for My Heart. This article has been updated to include credit to the original publisher. You can read the original post here and see it shared on A Bed for My Heart's Facebook page here.