Heroes
Read Obama's truly beautiful tribute letter to civil rights icon John Lewis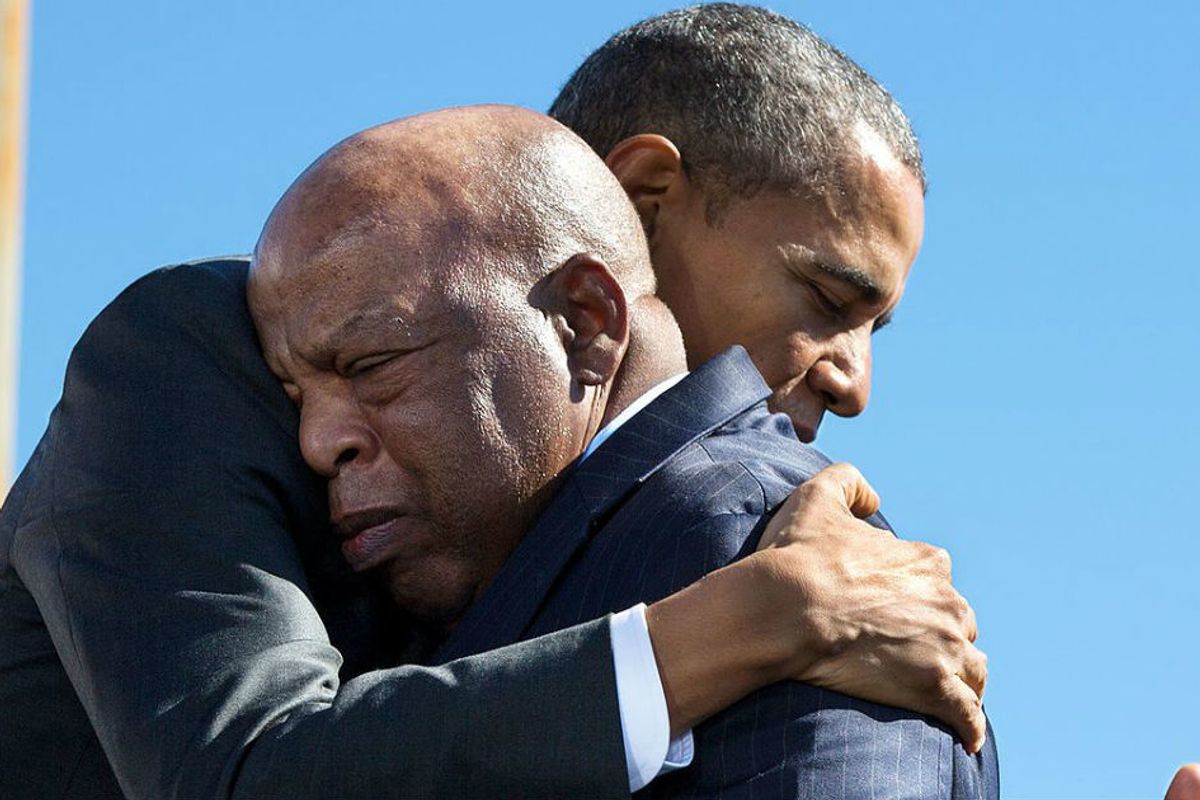 Today, America lost one of its true political heroes with the passing of John Lewis. For more than 30 years, Lewis served in the U.S. House of Representatives representing the state of Georgia. He took part in many key historic votes and fights over legislation that have shaped our country and world over the past two generations. But for most Americans, his legacy stretches back to the fight for civil rights, where Lewis marched alongside Dr. Martin Luther King Jr. and other leaders.
His personal bravery was truly exceptional. In 1963, Lewis was one of the key organizers of the landmark March on Washington where King gave his famous "I have a dream" speech. Lewis has rightfully been heralded by Democrats and Republicans alike for honoring the legacy of non-violent protests. At just 21-years-old, he was brutally assaulted by two white men in South Carolina while peacefully attempting to enter a whites only waiting room. In recent years, Lewis described how he stayed true to his principles of non-violence in the face of hatred and real violence: "We were determined not to let any act of violence keep us from our goal. We knew our lives could be threatened, but we had made up our minds not to turn back."
One of the many Americans inspired by Lewis is former President Barack Obama. The direct line between the leadership Lewis demonstrated and the historic presidency of Obama is clear to anyone. So, it's not surprising that Obama has written an incredibly powerful essay in honor of Lewis and his life.
---
"He loved this country so much that he risked his life and his blood so that it might live up to its promise. And through the decades, he not only gave all of himself to the cause of freedom and justice, but inspired generations that followed to try to live up to his example," Obama writes in his essay published on Medium.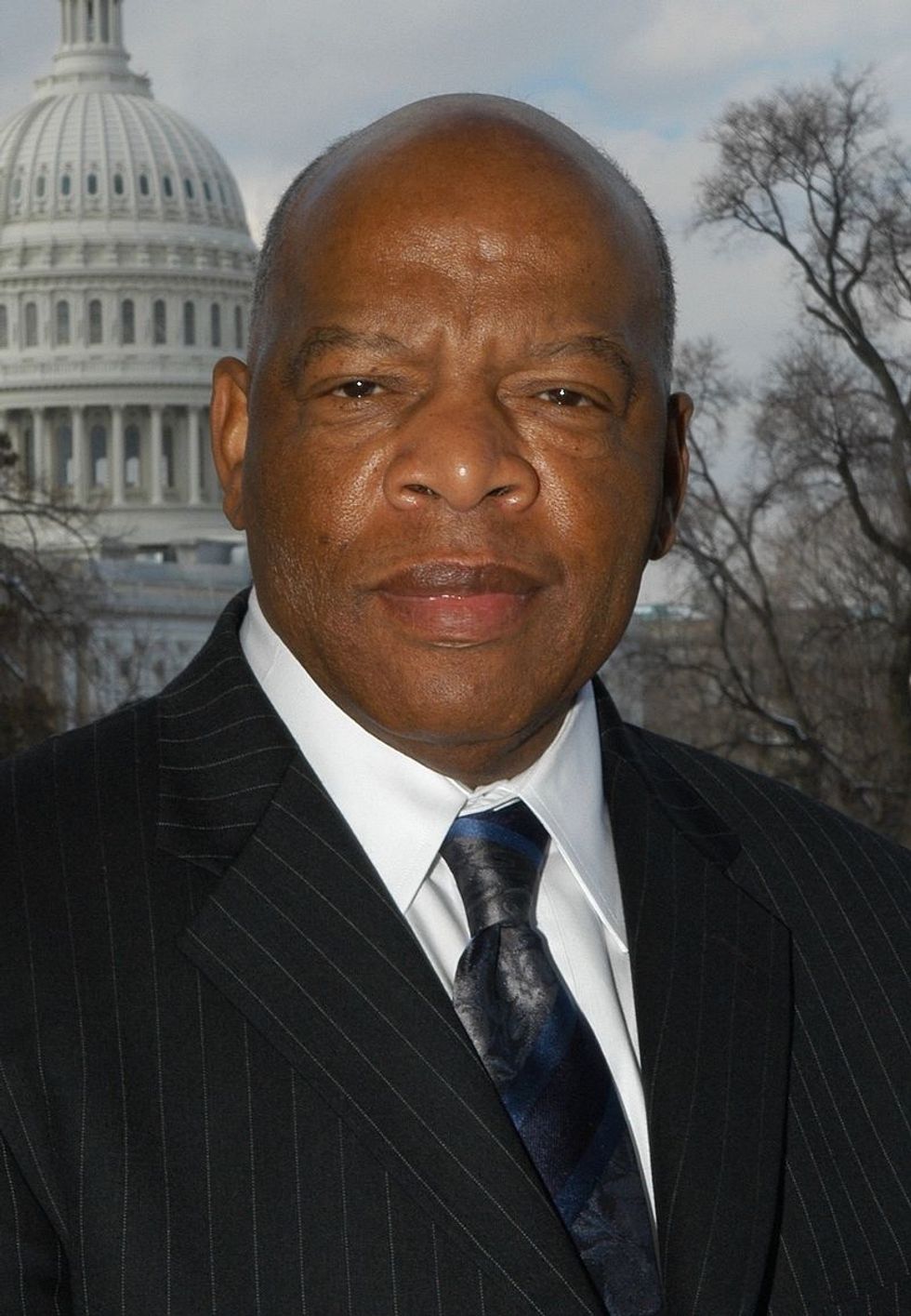 Today you will hear many accounts of Lewis the lion, how he bravely stood up in the face of hatred and discrimination. All of that praise is deeply earned. However, Obama writes that another aspect of Lewis' character that had a deep impact on him was how humble the icon remained, even knowing he was a living part of American history:
"Considering his enormous impact on the history of this country, what always struck those who met John was his gentleness and humility. Born into modest means in the heart of the Jim Crow South, he understood that he was just one of a long line of heroes in the struggle for racial justice. Early on, he embraced the principles of nonviolent resistance and civil disobedience as the means to bring about real change in this country, understanding that such tactics had the power not only to change laws, but to change hearts and minds as well," Obama writes.

Lewis remained active in politics right up until his passing on July 17, finally leaving this world after a battle with cancer. Although our nation is embroiled in a series of unnecessary crises: the coronavirus, a subsequent economic meltdown and the ongoing protests for racial equality, Obama says Lewis was inspired by the action the younger generations were taking to keep the forceful yet peaceful fight going for true equlity:
"Afterwards, I spoke to him privately, and he could not have been prouder of their efforts — of a new generation standing up for freedom and equality, a new generation intent on voting and protecting the right to vote, a new generation running for political office. I told him that all those young people — of every race, from every background and gender and sexual orientation — they were his children. They had learned from his example, even if they didn't know it. They had understood through him what American citizenship requires, even if they had heard of his courage only through history books."
Not many of us get to live to see our own legacy play out in such a meaningful, remarkable way. John Lewis did: https://t.co/KbVfYt5CeQ

— Barack Obama (@Barack Obama) 1595049925.0
Today, America sees the ending of a life permanently tethered to our deeply imperfect fight for equality for all its citizens. But the legacy of John Lewis will only grow stronger as his memory cements itself into our living history. There's no greater time to honor his life's work and to contribute what we can in our own way to the cause of justice. And as Obama wisely notes, doing it with a dash of humility and humanity is an even better way to honor people like John Lewis who worked so hard to help move the needle of justice toward the light.