Joy
She asked an older neighbor to watch her pets. His letter of gratitude is everything.
"They gave me the motivation to restart my life again."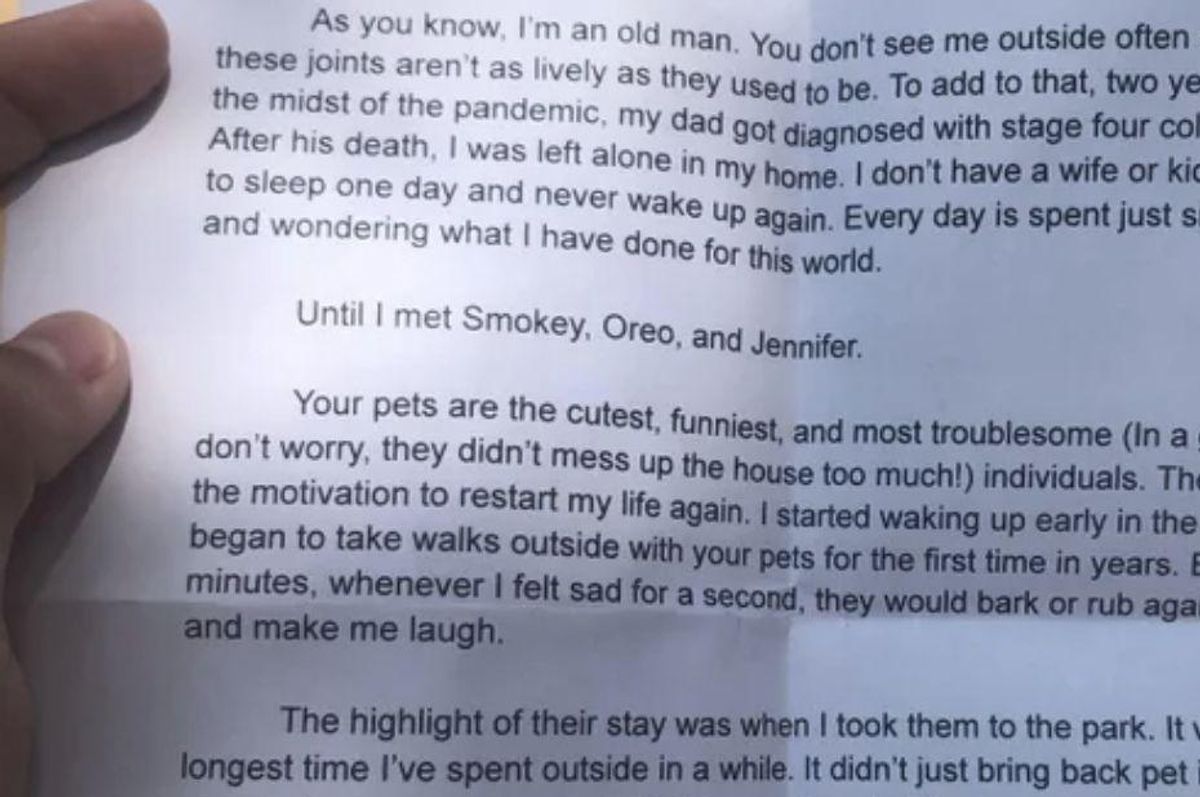 Sometimes when we're in the younger, busier time of our lives it's easy to forget—or not even realize—that our elderly friends and neighbors might be lonely. But very often, people who have long been retired, who may have already said goodbye to many of their friends or who have physical limitations that make it difficult to get out to visit people can find themselves alone most of the time. Feelings of loneliness can lead to depression and other health risks, in addition to simply being not very enjoyable.
A viral Reddit post offers a good reminder of this fact, but in the most heartwarming way.
Reddit user u/SnooCupcakes8607 shared a photo of a typed letter with the caption: "I went on a vacation 2 weeks ago, and let my neighbor babysit my pets. Shortly after I got back home, I received this letter from him in the mail that made me smile and cry. I'd like to share it here."
---
"Good afternoon," the letter begins. "This letter is regarding your vacation two weeks ago, and how you let me babysit Smokey, Oreo, and Jennifer. I'd just like to give you a letter of thanks."
(The letter doesn't specify what kind of pets Smokey, Oreo and Jennifer are, but the original poster later shared that they are a German shepherd, "the crankiest little beagle you've seen in your life," and a cat named Oreo.)
Then he continued:
"As you know, I'm an old man. You don't see me outside often anymore, as these joints aren't as lively as they used to be. To add to that, two years ago, in the midst of the pandemic, my dad got diagnosed with stage four colon cancer. After his death, I was left alone in my home. I don't have a wife or kids. I could go to sleep one day and never wake up again. Every day is just sitting around and wondering what I have done for this world.
Until I met Smokey, Oreo, and Jennifer.
Your pets are the cutest, funniest, and most troublesome (In a good way, don't worry, they didn't mess up my house too much!) individuals. They gave me the motivation to restart my life again. I started waking up early in the mornings. I began to take walks outside with your pets for the first time in years. Every 10 minutes, whenever I felt sad for a second, they would bark or rub against my leg and make me laugh.
The highlight of their stay was when I took them to the park. It was the longest time I've spend outside in a while. It didn't just bring back pet interaction, I also met other people, started talking, and made friends with a handful of fellow human beings. I was so happy to finally be able to talk with friends again, interact with others, and feel like I'm part of the human race.
I realize I sound very existential right now, but I'm telling the truth. It's nice knowing that I'm doing something for someone, even if it's my neighbor.
I adopted two dogs soon after. (You may have been hearing noise from my home, pardon them!) I now take regular walks to the park with them and talk with friends I made there. Anyways, I'd just like to say: thank you so much. You brought back meaning to my life. And that's all that matters.
Sincerely,
Robert (P.S. I think it's time for you to mow the lawn, haha!)"
People absolutely loved Robert's letter—and Robert himself, judging from some of the comments:
"Robert is a national treasure and I take anything less to be an insult!"
"I wouldn't just mow my lawn, but Robert's too. Forever."
"Robert really is the good in all of us. He must be protected at all costs."
Some people related to Robert, having found a new zest for life after getting pets of their own. Others joked that the whole letter was just an elaborate, "Midwest-nice" way to tell the poster their lawn needed attention. Some doubted the veracity of the letter, but even if it's not real, the comments from people sharing how their elderly loved ones had been helped by neighbors sharing their pets with them show that animals really can help people who are lonely find more connection and purpose in their lives.
It's a good reminder to check in with older folks around us and to share the joy of our pets with people who might be lonely. You never know whose life you might touch with your furry friends.